From business owners to technology experts, cybersecurity is the top-most concern for all. According to a report by CBS Money Watch, around 80% of U.S businesses have been hacked proving that hackers are aware of common vulnerabilities that organizations are subject to. Fortune 100 and 500 companies rely greatly on (ISC)2 certified cybersecurity professionals to run effective cybersecurity programs and secure critical business assets at the time of a data breach. This keeps the security professionals on their toes at all times. Their proven expertise helps safeguard the data and technology offering us access and convenience, enabling us to lead the lives we want to lead.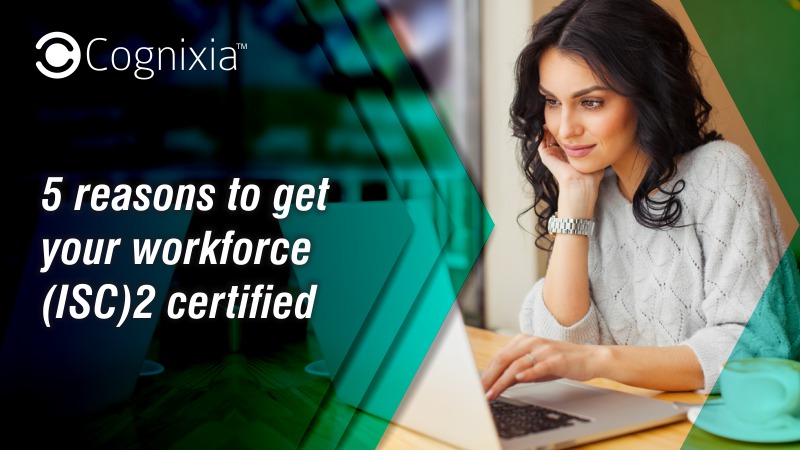 (ISC)2 certified cybersecurity professionals can help organizations to prepare for, prevent, and recover from cyberattacks. Here are five reasons to get workforce trained and (ISC)2 certified:
Protect your organization against internal and external threats

According to the Cybersecurity Workforce Study by (ISC)2, 59% of organizations are at extreme or moderate risk due to shortage of skilled cybersecurity professionals. In an increasingly complex cyber world with extreme threats, there is an increasing short-supply of dedicated cybersecurity professionals. This imbalance between demand and supply of skilled professionals continue to leave companies vulnerable.

Support professional development and employee retention

It is reported that there is a shortage of nearly 3 million skilled cybersecurity professionals. This gives (ISC)2 professionals an added competitive advantage. (ISC)2 certifications are created to measure an employee's knowledge, experience, and critical thinking skills to be effective at protecting critical assets. Supporting employees by giving them an opportunity to get trained and certified will ensure their professional development and in turn, motivate them to work hard to protect the organization.

Ensure employees stay current and updated

An upsurge in the demand for implementing emerging technologies has resulted in an increase in the number of threats. Due to this, it is important to ensure that employees stay relevant and updated on emerging threats, technologies, regulations, standards, and practices. The evolving trends in the cybersecurity space result in a constant update of the courseware by the official (ISC)2 Certification Common Body of Knowledge (CBK). These changes are reflected in the official training materials developed and maintained by (ISC)2 and offered only through official channels to help candidates prepare for the exam.

Ensure employees use a universal language

It is crucial for IT security professionals to avoid ambiguity by learning the industry-accepted terms and practices. The (ISC)2 certification training programs are highly regarded and endorsed by the DoD, US.  The trainers for these programs are recognized security experts, authorized by (ISC)2 to deliver the most relevant, up-to-date course content developed by (ISC)2.

Promote a culture of information security innovation for long-term organizational viability and profitability

In this increasingly complex cyber world, cybersecurity touches almost everyone in an organization. From finance to operations and marketing to legal, employees are getting increasingly aware of how the data flows through the organization and what it takes to keep it secure. Meanwhile, IT (IT/ICT) professionals are often responsible for securing their organization's critical assets but don't have a formal information security title. This is why (ISC)2 certifications are taking a broader look at cybersecurity and how to address its challenges.


By supporting and encouraging workforce focused on cybersecurity, organizations can build increased cyber resiliency across their operations. As professionals gain on-the-job cybersecurity work experience, organizations can do their bit providing more training opportunities and focusing on the types of training that those already in the cybersecurity field find the most helpful. We, at Cognixia, help participants prepare for the test day, but never lose sight of the bigger picture – inspiring a safe and secure cyber world and upskilling professionals who can better secure their organizations. As an official training partner for (ISC)2, our trainings ensure your workforce transforms into highly effective information security professionals and set up for success while maximizing ROI, in turn helping organizations proceed ahead, safely and securely, on their digital transformation journeys.