Reimagining the Possible
Industry 4.0 is riding strong on the wings of the innovative emerging technologies, such as IoT, Artificial Intelligence, Cloud Computing and Blockchain. These technologies are changing our lives every day.
Of these emerging technologies, IoT and Blockchain could come together to form an immutable, verifiable, secure and permanent method of recording healthcare data. There are countless data transactions that happen each day between various healthcare institutions, service providers, HIE platforms, etc. Obviously, the data custodianship keeps passing from one entity to the next. On the other hand, the transactions that take place over blockchain are more transparent, and can also be tracked and analysed by authorities connected to Blockchain.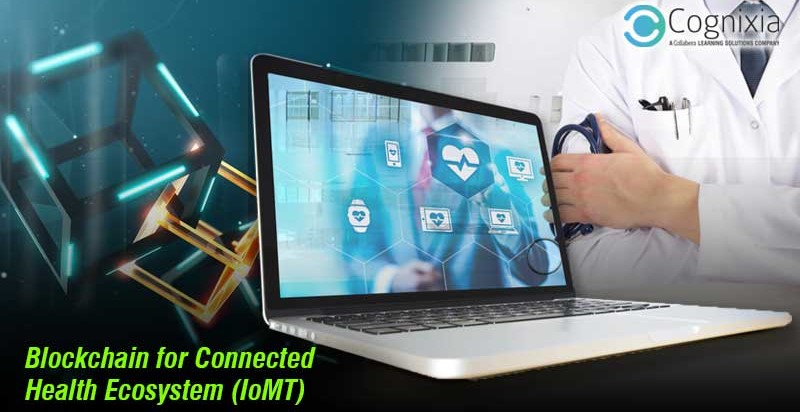 As the number of connected devices keeps going up, the risk of cyberattacks on medical devices also goes up. This is something all OEMSs (Original Equipment Manufacturers) must take note of. USFDA has even published a new guidance document focusing on the post-market management of cybersecurity in medical devices. Keeping in mind the risk of cyberattacks and theft of valuable patient data, it is important that providers choose a cutting-edge technology to combat these threats. Today, only about 30% of medical devices are connected to IoT owing to possibilities of encountering privacy and security issues. It is also a fact that current healthcare data management systems are inefficient and unreliable, especially when tracking of failures and accountability is considered.
When Blockchain technology is employed for IoT healthcare devices, loads of security vulnerabilities that would otherwise pose a serious risk to sensitive patient data and confidential medical reports, can be detected and mitigated, diffusing the risk of possible cyberattacks.
With the coming together of the revolutionary technologies – Artificial Intelligence and Digital Ledger Technology, healthcare organizations, vendors, doctors, and even patients – all are empowered to keep an audit trail of every activity that takes place. Moreover, with the usage of Big Data analytics and predictive modelling, the overall healthcare experience can be improved significantly, while bringing down the costs involved. The result of the application of all these technologies is the Blockchain based Internet of Medical Things (IoMT), which has the potential to transform the healthcare sector and deliver positive results for all stakeholders.