Millions of professionals globally use ITIL® to co-create value and improve service management in their organizations. Businesses are built on ITIL®. ITIL® helps organizations and individuals gain optimal value from IT and digital services. It helps them define a direction with a clear capability model and aligns them to a business strategy and customer needs.
ITIL® is also a professionally recognized certification scheme that provides comprehensive, practical, and proven guidance for establishing a service management system. ITIL also provides a common glossary of terms that businesses can use for their IT-enabled services.
In a nutshell, it can be said that ITIL is a framework of best practices for delivering IT services. ITIL's systematic approach to ITSM helps enterprises manage risks, strengthen relationships with stakeholders, establish cost-effective processes and practices, and build a stable IT environment that promotes growth, scale, and change.
How did ITIL begin?
Originally developed by the British Government's Central Computer and Telecommunications Agency, abbreviated as CCTA, in the 1980s. ITIL initially comprised of 30 books that were developed and released over time, describing the best practices in the field of information technology that were accumulated from many different sources. In April 2001, CCTA along with many other agencies were rolled into the Office of Government Commerce (OGC), now known as the Cabinet Office.
Over time, ITIL became highly recognized for being a very credible and useful tool that helped transform the service management processes at countless organizations. In 2005, the ITIL practices contributed majorly and also got aligned with ISO/IEC 20000 Service Management standard. This was the first-ever international standard for IT service management and it was based on the British Standard BS15000.
From 2013 onwards, ITIL has been owned by Axelos, which is a joint venture between the Cabinet Office and Capita. Axelos provides the licenses for organizations to use the ITIL frameworks, while it manages the updates and process changes for ITIL. Organizations do not, however, need a license to use ITIL internally within their organization.
The latest version of ITIL – ITIL 4 was launched in Q1 2019 to offer a more agile, flexible, and customizable version of ITIL which would be updated for modern businesses. It embraces the latest technologies commonly adopted by organizations such as Lean, Agile, and DevOps, ensuring that the ITIL frameworks gel in with the other frameworks and practices used by the organizations.
The ITIL Certification Path
ITIL 4 has evolved and offers a slightly different certification path than the previous version – ITIL V3. Let's take a look at the ITIL 4 Certification Path that you can follow to be ITIL Certified and earn your ITIL® Master credentials.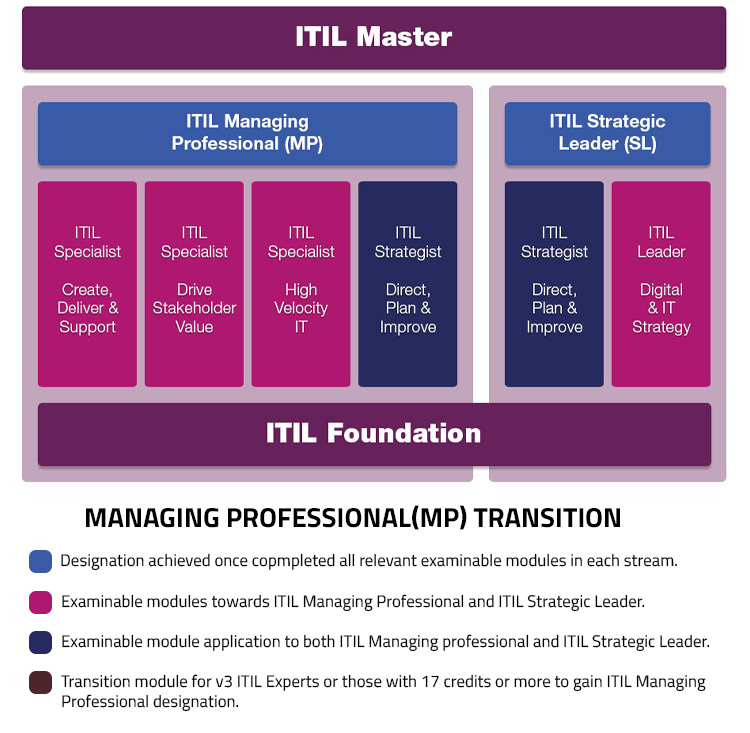 So, the ITIL career path offers the below certification levels:
ITIL 4 Foundation
ITIL 4 Managing Professional
ITIL 4 Strategic Leader
ITIL Master
ITIL 4 Foundation
This is the first step on your journey to be an ITIL Master. The ITIL V4 Training for the ITIL 4 Foundation course acts as an introduction to the ITIL concepts and frameworks for the participant. IT enables individuals to look at IT service management through an end-to-end model for the creation, delivery, and continual improvement of tech-enabled products.
The largest number of ITIL certification holders would have the ITIL 4 Foundation certification. Of all the individuals who achieve their ITIL Foundation credentials, much fewer pursue further advanced ITIL certificates, which is what makes those who do highly sought-after and skilled professionals.
ITIL Managing Professional
The next step on the ITIL 4 Certification Path is the ITIL 4 Managing Professional (MP). The ITIL Managing Professional training and certification provides practical and technical knowledge about how to run successful IT-enabled services, teams, and workflows. This certification is highly recommended for IT practitioners working within technology and digital teams across businesses.
The ITIL Managing Professional comprises of four modules –
ITIL 4 Specialist Create, Deliver, and Support
ITIL 4 Specialist Drive Stakeholder Value
ITIL 4 Specialist High-Velocity IT
ITIL 4 Strategist Direct, Plan, and Improve
To earn the ITIL Managing Professional credentials, a candidate would need to complete all the modules in each stream.
ITIL 4 Strategic Leader
The ITIL 4 Strategic Leader recognizes the true value of ITIL, not just for the IT operations, but for all the digitally-enabled services. Earning your ITIL 4 Strategic Leader credentials demonstrates and showcases your clear understanding of how IT influences and directs business strategy. This latest evolution of ITIL SL was launched in late September 2020.
The ITIL 4 Strategic Leader training and certification is a stream of two modules:
ITIL 4 Strategist Direct, Plan, and Improve
ITIL 4 Leader Digital and IT Strategy
To achieve the ITIL 4 Strategic Leader credentials, one needs to complete both the modules in each stream. However, if you already have the ITIL 4 Managing Professional credentials, you only need to complete the ITIL 4 Leader Digital and IT Strategy module to achieve your ITIL 4 Strategic Leader credentials. The ITIL 4 Strategist module is common to both ITIL 4 Managing Professional and ITIL 4 Strategic Leader.
ITIL Master
To achieve the ITIL Master certification, you should be able to explain and justify how you have personally selected and applied a range of knowledge, principles, methods, and techniques from the ITIL and support management techniques, to achieve the desired business outcomes in one or more practical assignments.
There is no fixed syllabus for this certification as each aspirant would choose a different range of experiences that would be unique to them. There is also no prescribed training course for ITIL 4 Master as the theories being tested would vary from candidate to candidate depending on the nature of their chosen situations.
To be eligible for the ITIL Master certification, you must –
Have achieved the ITIL Managing Professional/Strategic Leader certification
Have worked in IT service management for at least five years in leadership, managerial, or higher management advisory levels
You would need extensive hands-on experience with ITIL for achieving the ITIL Master certification. You should be able to thoroughly demonstrate your active involvement in the implementation of ITIL practices and frameworks.
PeopleCert, AXELOS' Licensed Examination Institute (EI) can provide documentation to support and guide candidates who wish to prepare for the ITIL Master qualification.
This is the ultimate credential in the ITIL career path and is held in very, very high stead. ITIL Masters are revered and command a lot of respect in the field. It is the ultimate validation of the individual's capability to apply ITIL's principles, methods, and techniques in the real business world.
Cognixia – the world's leading digital talent transformation company is an AXELOS Authorized Training Organization and offers the complete ITIL training portfolio. Beginning from the ITIL 4 Foundation up to the ultimate level, Cognixia offers thorough intensive hands-on ITIL training. To date, we have trained hundreds of individuals and helped them achieve their ITIL V4 certification. We have a spotless record of a 100% pass rate for our ITIL 4 Foundation training and certification course. Our ITIL 4 Foundation Training is also covered by a 100% money back guarantee, so if you don't earn your ITIL certification in your first attempt after attending the ITIL training with us, we will refund you 100% of your course fee.
So, what are you waiting for? Get ITIL certified today!
Visit here to know more.