We live in a competitive world with a simple directive: perform or perish. It is, thus, necessary for the workforce to keep raising the bar of their excellence—acquiring proficiency in emerging technologies expected to transform not only the enterprise mechanism but also the careers of its professionals.
Winning appraisals in today's fast-paced technology world are not only desirable but indispensable to keep the workforce one step ahead. Changing trends always implicate reinforcing the technical reserve of every individual for the common growth of the enterprise. Long gone are the days when expertise in one or two technologies ensured a steady growth. The present time requires consistent enhancement of the technical know-how with emerging technologies to make your workforce appraisal-ready.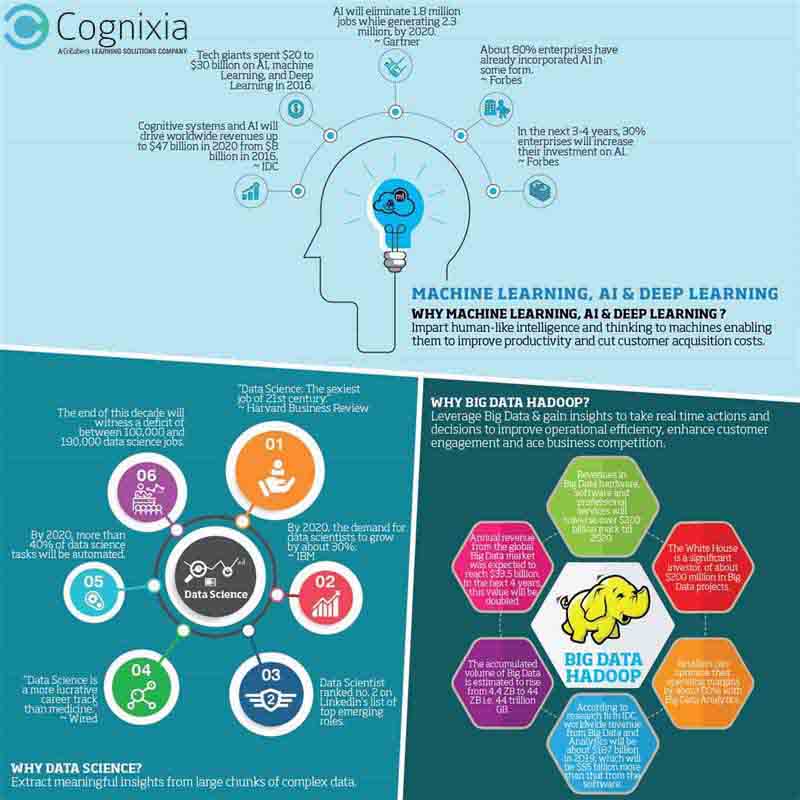 In this infographic, we present the top 3 technologies—Machine Learning, Artificial Intelligence & Deep Learning, Data Science, and Big Data—reckoned to revolutionize the technology world, and why competency training in these technologies can be the best resource on the course of making a remarkable future.
These three emerging technologies have been transforming the technology sector immensely. The future will witness their proliferation in every nook and corner of our existence. Incorporating some of these technologies in your haversack of expertise will ensure a value-added, bright future.
Why Cognixia?
Cognixia strives to offer a comprehensive training online in the field of information technologies to students, individuals and professionals across the globe. Our online training courses are designed and regularly enhanced with latest updates by industry experts with extensive experience. Enroll with Cognixia and gain the professional skill and expertise to give your career graph a steep, consistent rise.