The prosperity of any economy is highly dependent on the transportation industry, road transportation in particular. Governments everywhere take several measures to prevent road disasters and accidents. However, every year thousands of lives are lost due to accidents on the road. Apart from this, the traffic problems have also seen a steep and consistent rise over time, causing everyday agony for the populace due to loss of time and money. In short, road transportation is indispensable for our existence. But, are the productivity losses, property damage, and loss of life imminent? Do we have to learn to live with this danger lurking around us? The answer is NO. And before the 'how?' and 'what?' shoot up, the pre-emptive answer is – emerging technologies like Machine Learning & Artificial Intelligence, IoT and Big Data can be leveraged to make our roads safer and traffic hassle-free.
It would be a sheer understatement to say that the world is being swept away in the wave of these emerging technologies, which are quite steadily becoming the inherent part of our daily lives. If they are implemented in the right manner, the risks, damages, and costs incurred can be mitigated making our transportation industry safer than ever.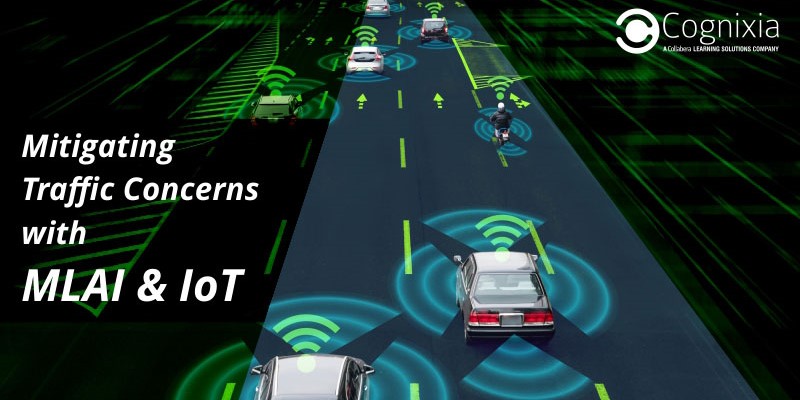 Weeding Out Human Error with Technology
Reckless and distracted driving, speeding and not following traffic signals and rules contribute to the biggest share of road mishaps, making human element the number one contributing factor in road disasters. There are no dearth of rules and regulations to ensure safe driving. But since law in itself is reactive in nature, and most of the times, it comes into play long after a calamity has already occurred. Technology, here, can play a proactive role.
Data is the key. Authorities must have as much information as possible, both about the vehicle and the driver. By combining machine learning and IoT technology, events such as rash driving, unnecessary speeding, seat-belt usage, over acceleration, etc. can be made quantifiable. Drivers can then be incentivized or penalized based on their driving scores.
Utilizing Technology with a Future Perspective
The true failure of humanity is when the same fatality occurs over and again
An unfortunate accident must never occur again. How does IoT and machine learning ensure this? The answer is by algorithmic analysis of data collected through smart, connected sensors. It helps in identifying exactly what went wrong and carrying out an extensive overhaul in the form of identifying dangerous intersections in a city, carrying out timely maintenance of highways and bridges, mending potholes, etc.
Internet of Things can help in monitoring the structural conditions of roads and bridges in real-time. Cement equipped with sensors called smart cement can determine the road status under extreme conditions of high wind, floods and earthquake alerting authorities of the risks and the need of repairs. Apart from this, embedded road sensors also can be used to measure temperature, humidity and other weather changes to flag traffic constraints that can proactively manage transportation and ensure safety. With real-time IoT data, the flow of traffic can be diverted away from hazardous areas and busy zones prone to traffic jams. From a future perspective, this data provides valuable insights, based on which the use of maintenance resources and equipment can be optimized.
The confluence of IoT, in the form of intelligent and connected sensors, and machine learning, in the form of analytics tools, can help in gathering valuable information. Once we have this information in the form of big data, we can apply algorithms to get insights from this data. These insights will not only help in making predictions, but also reach decisions to take proactive steps towards ensuring safety. Technology leaders and analysts are anticipating an age of smart cars and intelligent transportation system. But before we reach there, we must make sure to begin with implementing emerging technologies in the right way to make our today safe and secure for a prosperous tomorrow.
The need for elite professionals in emerging technologies is imperative. And we need qualified workforce as early as we can. In such a scenario, e-learning and online training and certification can play a vital role. Cognixia is an e-learning and digital transformation incubator with training and certification in most of the emerging technologies, including IoT, Machine Learning & AI, and Big Data, disrupting the market.