The Internet of Things IoT revolution will become promising if it overcomes numerous hurdles, associated with connectivity first. The connectivity of the IoT devices with the switches and routers are complex but here complexity doesn't end. These devices will also have to communicate beyond local networking peripherals i.e., with cloud service infrastructure. Today, even small companies are capable of producing connected IoT devices. And also large corporations are implementing products on IOT.
Amidst this scenario, the biggest challenge for IOT is interoperability and adoption- the ability of devices from different vendors to exchange data. Addressing this challenge, the main goal of organizations today is standardization. But how to set standardization? that is a major issue. There are in fact plenty of alliances already underway with the intention of establishing standards conducive to the implementation of Internet of Things IoT.
Wireless connectivity standards and their applications:

ZigBee:
It is high-level communication protocols used to create personal area networks with small, low power digital radios, also cheaper than other WPANs.
ZigBee is based on an IEEE 802.15 standard and utilizes the 2.4 GHz radio frequency.
Devices incorporating ZigBee has a defined rate of 250 Kbps, which is best suited for intermittent data transmissions from sensors and other input devices.
To connect to the Internet of Things IoT, ZigBee networks require an application-level gateway. The gateway participates as one of the nodes in the ZigBee network and in parallel runs a TCP/IP stack and application over Ethernet or Wi-Fi to connect the ZigBee network to the Internet.
Z-Wave:
Z-Wave is a wireless communications protocol designed for home automation, specifically for remote control applications in residential and light commercial environments and avoids interference with Wi-Fi, Bluetooth and another system that operate in 2.4 GHz band.
The Z-Wave wireless protocol is optimized for reliable, low-latency communication of small data packets, with data rates of up to 100 Kbps, unlike Wi-Fi and other IEEE 802.11-based wireless LAN standards designed primarily for high bandwidth.
Z-Wave is designed to be easily embedded in consumer electronics, including battery operated devices such as remote controls, smoke alarms, and security sensors.
Bluetooth Low Energy:
Bluetooth low energy sometimes referred to as Bluetooth LE and marketed as Bluetooth Smart. It utilizes 2.4 GHz radio frequencies.
The technology is natively supported on most popular mobile operating systems, including iOS, Android, Windows Phone and BlackBerry, as well as on desktop OSs Windows 8, OS X and Linux, with the Bluetooth SIG predicting more than 90% of Bluetooth-enabled smartphones to support Bluetooth LE by 2018.
For IoT, BLE connects wireless accessories the last 10 meters to a smartphone or tablet, which acts as an Internet gateway. A wearable heart rate monitor logging its data on a fitness cloud server, and a phone-controlled door lock reporting its status to a security company are just two examples of the many IoT applications enabled by Bluetooth technology.
6Lowpan:
It is really the first wireless connectivity standard that was created for the IOT. 6LoWPAN is an acronym for IPv6 over Low power Wireless Personal Area Networks. 6LoWPAN promises to apply IP to the smallest, lowest-power and most limited processing power device.
IPv6 was chosen as the only supported IP in 6LoWPAN because it supports a larger addressing space, hence much larger networks, and also because it has built-in support for network autoconfiguration.
6LoWPAN is well positioned to fuel the exploding market of Internet-connected sensors and other low data throughput and battery-operated applications.
Wi-Fi:
Wi-Fi technology was developed as a wireless replacement for the popular wired IEEE 802.3 Ethernet standard, based on the IEEE 802.11 standard.
Wi-Fi has integrated already into all new laptops, tablets, smartphones, and TVs. Taking advantage of the existing vast deployed infrastructure in homes and enterprise, natural next step is to connect the new age of things to the Internet.
 Wi-Fi radios have fairly large power consumption, for high data rates. For some IoT devices, which run on batteries and cannot be charged frequently, Wi-Fi can be too power hungry.
Since most IoT products do not need the maximum data rate Wi-Fi offers, clever power management design can efficiently draw bursts of current from the battery for very short intervals and keep products connected to the Internet for over a year.
Sub-1GHz:
These proprietary radio systems primarily use the lower ISM frequency bands 433 MHz, 868 MHz and 915 MHz and therefore are commonly referred to as Sub-1 GHz solutions.
Sub-1 GHz solutions often transmit high power and can reach over 25 km with a simple point-to-point or star topology. Other popular applications for Sub-1 GHz radios are security systems and industrial control and monitoring.
To connect to the IoT, Sub-1 GHz systems need an application-layer Internet gateway. In many cases, this is simply a personal computer running a TCP/IP stack.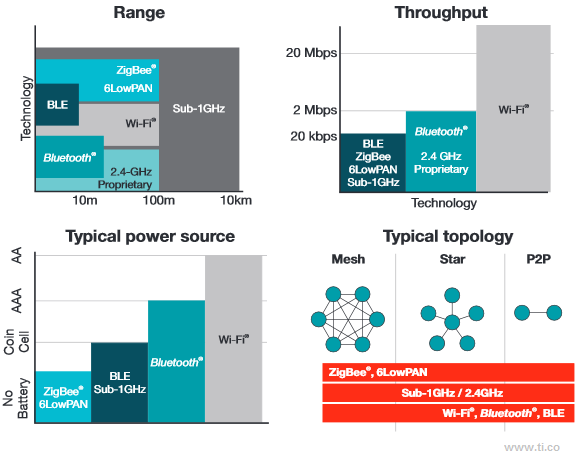 Cognixia – is coming up with this latest technology course, to help you make the most out of Internet of Things IoT training.
~ Sunny Shah