It has been quite some time since I gave you updates from the world of Android. This is one technology which witnesses change on a daily basis. There is so much happening that it becomes hard to process all the information for an average human brain. From the launch of a new firmware to an application to scrapping old ones, Android is always up to something or the other. This post talks about the latest happenings and news which is making rounds these days.
Here is something noteworthy. Google has announced that it will shelve its Chrome App Launcher on Mac, Windows and Linux operating systems. This decision was made by the company as the usage of the launcher on these platforms is very rare. The new Chrome installations will come without the app launcher in coming weeks; meanwhile, the users can use the current version of Chrome till the month of July. The new version will allow the users to access the Chrome apps by clicking shortcuts in the bookmarks bar or by putting chrome://apps in the address bar. This removal of the launcher is only applicable on the users of Mac, Windows, and Linux; the Chrome OS users can use the launcher as earlier.
There is a lot of music out there and in today's digital age huge volumes of music are being created every now and then. With innumerable artists, genres, albums, and tracks, it has become impossible to keep all the music on your storage device like phones and iPods. This is where cloud-based streaming services like Spotify come into play. Spotify has gained a lot of popularity recently. Mainly because of its huge database which possibly has every song or tracks you wish to listen and secondly due to its optimum pricing. This application has penetrated the subscriber markets in the west in a big way and is now, heading towards the east.
By the end of this month, Spotify will be released in Indonesia and has plans of expanding its services in Asia by making a debut in Japan and India. India is being forecasted as a difficult market to penetrate into, owing to the presence of already popular apps like Saavn and Gaana. Apple Music launched its services in the country last and offers its paid subscription at $1.8/month but with a limited catalog. When compared, Saavn offers a wider range of Indian music against Spotify but the latter has an edge when it comes to international music offerings. With Saavn offering its Pro Subscription at $1.5/month, it would be interesting to see how Spotify will price itself in the country.
Another piece of information that has been doing rounds lately is the speculation of Google developing its own third-party keyboard for iPhone. A report by The Verge suggests that Google has been working on developing a keyboard for some time now. This keyboard is speculated to have features like gesture-based typing, GIF search etc.
If these speculations become a reality, the day is not far when Google will have its own third-party app for iOS. One-tap access to web searches from Google will seemingly lure more users to Google's bread and butter.
This is such a great time to be in an Android-related profession. The popularity that an Android App Developer enjoys, today, is something to be envied of. With so much work being done in the field, there is a consistent flow of opportunities for professionals who wish to make a career as an Android App Developer. Besides Google, there are multiple start-ups which work purely on the application development front. These are the companies which present vital opportunities for anyone who aspires to be in the field. From someone who is just kick-starting his career to an experienced professional, there is work for everybody.
The following graph shows the salary trends of App Development against other technology professions. These are annual salaries in US Dollars during the year 2015: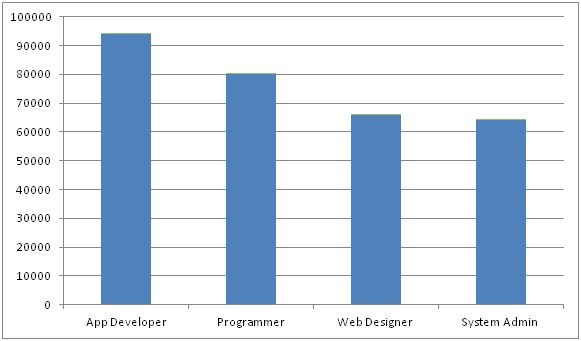 At Cognixia, we provide the finest training on Android App Development. Our pieces of training are structured in a manner that takes you through the entire anatomy of the application development process. Our industry experienced trainers educate you on the nuances of the business while making you work on real-time projects. With meticulously laid down course content and a will to educate, we promise to deliver the best training. For further information, feel free to contact us.