India has been a fertile ground for growth and innovation in the field of digital technologies. LinkedIn recently released its new Emerging Jobs Report, 2020. According to this report, blockchain development stands to be India's fastest growing profession, as it has seen the fastest growth rate in the past five years. Close to this was the role of artificial intelligence specialist, which is also the number one emerging job in the United States. Following close on the heels of this is JavaScript developer and Robotic Process Automation consultant.
LinkedIn has released this report based on an analysis of 62 million users in India, and has studied the data across five years, from 2015 to 2019. From this data, it not only identified the top emerging jobs for 2020, but also identified what skills would be required for each job, as well as the top cities where these jobs would be available.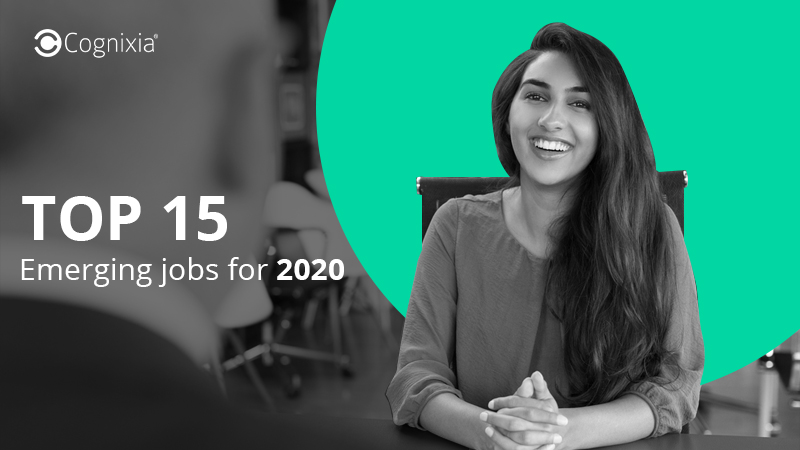 It is important to note here that the list is very highly dominated by tech roles. This is a clear reflection of the fast pace of digitization that is currently happening in India. According to a report by McKinsey, India is now the second-fastest digitizing economy after Indonesia. Also, India's love for blockchain technology is evident in the fact that it is home to the world's sixth greatest number of blockchain patents.
So, what are the top 15 emerging jobs for 2020 in India?
Lead generation specialist
Front-end engineer
Digital marketing specialist
Python developer
Cybersecurity specialist
Robotics engineer
Full stack engineer
Customer success specialist
Site reliability engineer
Growth manager
Back-end developer
Robotic process automation consultant
JavaScript developer
Artificial intelligence specialist
Blockchain developer
What is this role about?
This role involves building and optimizing blockchain protocols, designing the architecture of blockchain systems that are used in products like apps and contracts.
What are the top industries seeking people for this role?
Information technology and services, software, internet, financial services, hospital and healthcare
What are the skills needed for this job?
Hyperledger, Solidarity, Node.js, smart contracts
What are the top cities where these jobs can be found?
Bengaluru, Hyderabad, New Delhi

What is this role about?
Individuals in this role help machines learn, helping them understand the environment and work autonomously to achieve the goals defined for each machine/component.
What are the top industries seeking people for this role?
Information technology and services, software, internet, research, education management
What are the skills needed for this job?
Machine learning, deep learning, TensorFlow, Python, natural language processing
What are the top cities where these jobs can be found?
Bengaluru, Pune, Hyderabad

What is this role about?
This role requires building and implementing front-end logic which would define how the visual elements of front-end UI would behave. The core tasks for this role are programming, developing and implementing of a website.
What are the top industries seeking people for this role?
Information technology and services, software, internet, financial services, education management
What are the skills needed for this job?
AngularJS, Node.js, React.js, Native, MongoDB
What are the top cities where these jobs can be found?
Bengaluru, Mumbai, Hyderabad

What is this role about?
In this role, individuals use RPA or robotics process automation to create the software for automating the otherwise manual business processes. These individuals work with organizations to understand how the business can adopt RPA and how it can benefit from these initiatives/projects.
What are the top industries seeking people for this role?
Information technology and services, software, accounting, management consulting, information services
What are the skills needed for this job?
UiPath, Automation Anywhere, Blue Prism, process automation, SQL
What are the top cities where these jobs can be found?
Bengaluru, Mumbai

Back-End Developer

What is this role about?
In this role, individuals are responsible for building and implementing the functions of particular web applications, making it do what it is supposed to do. They manage the back-end components which are indirectly accessed by users through the front-end interfaces and functions.
What are the top industries seeking people for this role?
Information technology and services, computer software, internet, financial services, e-learning
What are the skills needed for this job?
Node.js, MongoDB, JavaScript, MySQL
What are the top cities where these jobs can be found?
Bengaluru, Mumbai, New Delhi

Growth Manager

What is this role about?
This role involves using growth hacking techniques to increase the number of buyers and users for the organization's products and/or services
What are the top industries seeking people for this role?
Information technology and services, marketing, advertising, financial services, foods and beverages
What are the skills needed for this job?
Business development, team management, growth strategies, market research, marketing strategy, digital marketing
What are the top cities where these jobs can be found?
Bengaluru, Noida, Gurgaon

Site Reliability Engineer

What is this role about?
Individuals in this role bring a software engineering approach to system administration and also work to ensure that the technical products function smoothly without a hitch.
What are the top industries seeking people for this role?
Information technology and services, computer software, internet, marketing, advertising, financial services, telecommunications
What are the skills needed for this job?
Amazon Web Services (AWS), Ansible, Docker Products, Kubernetes, Jenkins
What are the top cities where these jobs can be found?
Bengaluru, Hyderabad, Pune

Customer Success Specialist

What is this role about?
These individuals work proactively to understand the core client needs and how they can be met by the organization to ensure a successful delivery of services.
What are the top industries seeking people for this role?
Information technology and services, software, financial services, internet, marketing, advertising
What are the skills needed for this job?
Customer relationship management, team management, customer retention, Software-as-a-Service, account management
What are the top cities where these jobs can be found?
Bengaluru, New Delhi, Mumbai

What is this role about?
This involve requires individuals to run a project from the beginning to the end, using a skill-mix of front-end web development and software development
What are the top industries seeking people for this role?
Information technology and services, software, internet, marketing, advertising, financial services
What are the skills needed for this job?
AngularJS, Node.js, JavaScript, React.js, MongoDB
What are the top cities where these jobs can be found?
Bengaluru, Hyderabad, Mumbai

Robotics Engineer

What is this role about?
The chief responsibility of this role is to design and build automation software.
What are the top industries seeking people for this role?
Information technology and services, computer software, automotive, industrial automation, electrical and electronics manufacturing
What are the skills needed for this job?
Robotics process automation, UiPath, Blue Prism, Automation Anywhere, robotics, SQL
What are the top cities where these jobs can be found?
Bengaluru, Chennai, Gurgaon

What is this role about?
As the name suggests, these specialists are responsible for keeping systems and data secure, work to protect systems from being hacked and safeguard against cyberattacks. Their job revolves around ensuring that phishing, denial-of-service attacks, malware, viruses and hackers don't bring down systems or steal data, thus, constantly working to prevent major losses for the organization.
What are the top industries seeking people for this role?
Information technology and services, software, computer and network security, accounting, finance, management consulting, social media platforms
What are the skills needed for this job?
Vulnerability assessment, security information and event management, penetration testing, information security, network security
What are the top cities where these jobs can be found?
Bengaluru, Gurgaon, Mumbai

What is this role about?
In this role, individuals create bank-end components that connect web applications to other web services and make sure the front-end functions exactly as needed. This role also involves collecting and working with data to some extent.
What are the top industries seeking people for this role?
Information technology and services, computer software, internet, marketing, advertising, financial services
What are the skills needed for this job?
Django, Flask, MySQL, JavaScript, HTML
What are the top cities where these jobs can be found?
Bengaluru, Mumbai, Hyderabad

Digital Marketing Specialist

What is this role about?
This role is one of the hottest roles in marketing right now, and involves making the most of the various platforms of digital media to help build the brands, identifying target markets, as well as putting together and executing a multitude of digital, online marketing campaigns.
What are the top industries seeking people for this role?
Information technology and services, computer software, internet, marketing, advertising, education
What are the skills needed for this job?
MySQL, HTML, SEO, Google Ads, social media optimization, search engine marketing Google Analytics
What are the top cities where these jobs can be found?
Bengaluru, Mumbai, New Delhi

Front-End Engineer

What is this role about?
This role involves working with web designers to put together and design the visual elements of different web applications and ensure that they function as per the client/user requirements.
What are the top industries seeking people for this role?
Information technology and services, computer software, internet, marketing, advertising electrical and electronics manufacturing
What are the skills needed for this job?
Cascading style sheets, Bootstrap, JavaScript, HTML5, AngularJS
What are the top cities where these jobs can be found?
Bengaluru, Mumbai, Chennai

Lead Generation Specialist

What is this role about?
This role is a blend of marketing and sales, and is responsible for identifying prospective clients and customers for the business.
What are the top industries seeking people for this role?
Marketing, advertising, information technology and services, computer software, outsourcing/offshoring, internet
What are the skills needed for this job?
Market research, email marketing, customer relationship management, business development, digital marketing
What are the top cities where these jobs can be found?
Bengaluru, Gurgaon, Pune

Cognixia – World's leading digital talent transformation company offers carefully crafted training programs for individuals as well as organization workforce to cater to these emerging skills which are going to be sought after like hot cakes in 2020. Our pool of world-class trainers has delivered outstanding learning experiences in over 45 countries, touching the lives of about a million individuals all across the globe. When you attend our training programs, you are guaranteed the best possible learning experience peppered with countless practical exercises and projects that would help thoroughly understand and retain the concepts being discussed during the sessions. Reach out to Cognixia today, to know more about learning programs.
~ Sunny Shah