2020 is expected to be the breakout year for intelligent automation, helping realize the enormous potential it holds for automating end-to-end business processes.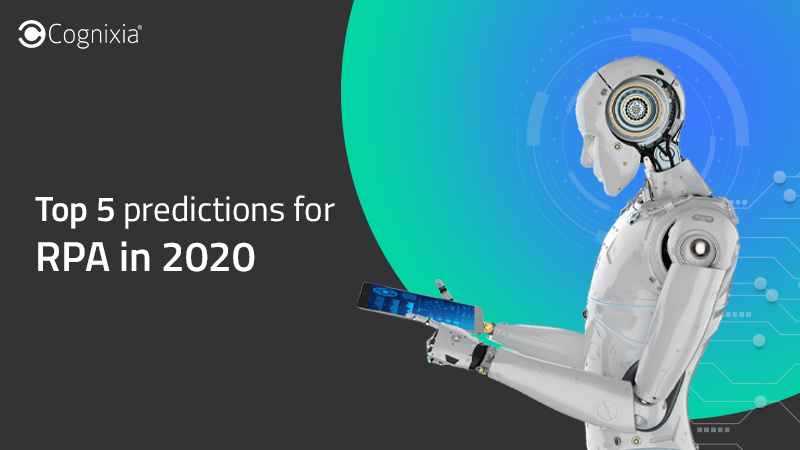 Here are the top five predictions for Robotics Process Automation (RPA) for 2020:
Eliminating use of paper from medium and large enterprises

With increased automation, the need for printing or carrying out processes manually, consequently consuming paper, would be decreased significantly. This would effective bring down the paper usage in companies, especially medium and large enterprises to a minimum, maybe even eliminate it altogether. Cloud-native, web-based RPA platforms paired with cutting-edge machine learning technology would be fully capable of understanding the written word and integrating the results derived consequently into the RPA platform. In fact, by 2025, there will be easy-to-deploy-and-teach artificial intelligence models for documents that otherwise existed in a hard-copy form earlier, such as, an invoice.

Better regional adoption of RPA, backed by improved government regulations

As the customer expectations and behaviors change, along with other changes in the business environment, government regulations would also need to keep up. As businesses of all sizes strive to improve efficiency, drive revenue and come up with new ways to meet customer requirements, RPA will see greater adoption across regions. About 85% of the RPA market is still untapped into, and solid use-cases supporting innovations in RPA are emerging every day. In 2020, more and more companies are set to realize how RPA can be a major boost to their digital transformation journeys.

RPA would be at the core of global data privacy and governance initiatives

The 2020s will be a decade shaped by Big Data. 2020 is going to the year when 5G hits the market on large scale. It is also the year we are expecting to see a huge explosion in the number of connected devices operational in the market. As the world is pushing businesses towards greater transparency in their operations, including how they collect and use data & information, organizations would need to frame a sturdy digital strategy. While technologies like artificial intelligence are employed by unscrupulous elements to enhance malware and take undue advantage of network vulnerabilities; intelligent and secure bots would form a strong & critical line of defense against data breaches and invasions.

Hiring for RPA skills will explode across all industries & job functions

There is already an extremely high demand of RPA specialists in the market. The RPA skillset is also percolating into the other job roles, such as, developers, business analyst, program and project managers, etc. It is also crossing over into many other domains, such as, BPO, HR, education, BFSI, etc. As this trend continues, the need for professionals who have the RPA skillset, over and above their own expertise, would be highly sought after, drawing attractive pay packages from potential employers.

Intelligent automation will replace tradition rule-based automation

In 2020, robotics process automation and process analytics will merge together, being infused with smart technologies like artificial intelligence and machine learning. This would significantly accelerate process mining and delivery, while also having a major impact on the amount of human effort that goes into these processes. In 2020 and beyond, intelligent bots will be able to choose the best process to automate, derive valuable insights and act upon them, while also optimizing deployments to ensure best possible results.


Cognixia – world's leading digital talent transformation company delivers world-class training and certification programs in leading emerging technologies for individuals, as well as, workforce. Our carefully crafted training programs are updated regularly to incorporate all the latest developments in the field. Our highly sought-after training programs in the field of RPA, ensure that every participant gains a thorough understanding of all the concepts and fundamentals covered in the course. We are also authorized training partners for Automation Anywhere, and provide up-to-date training programs for the same. To know more about our course offerings, reach out to us today!