Android is one technology that has touched our lives at the household level with the Android apps like no other. Being the largest used mobile operating system, Android has a special place. Being what it is, Android witnesses changes and advancements on a daily basis. This particular post would cover some of the latest happenings in the field of Android OS and other related subjects.
This platform has made our lives simpler in more ways than we can count on the help of its amazing applications. Also, it has provided great career opportunities for people in the field of information technology and aspiring developers. Android is the preferred choice of OS to work on for more than 40% of full-time developers. Being a lucrative job option only adds to the intrinsic value of this platform.
If you thought that the Android technology was limited to our mobile phones, think again!! This technology is changing the way we entertain ourselves and at the same time also facilitates numerous day-to-day activities. Let us throw some light on how this technology is affecting and going to affect our lives. It is the age of the internet. Statistics suggest that more than 88% of entertainment devices shipped during the last year were Internet-enabled. This is where one of Android's major breakthrough products comes into the picture – The Android TV.
Android TV brings the applications, gaming, movies, TV shows and music to the biggest screen in your house. Global brands like Sharp, Sony, and Philips give you an option for the Android TV. Smart TVs to the cable set-top boxes, a lot of devices these days support the Android TV for an amazing experience. Another great thing in line is the Google Cast for speakers. Recently, Google announced the multi-room synchronization which is available on Chromecast. This would enable you to group speakers connected to Chromecast and listen to the same song in every room of the house.
Audio and video technology is not the only one being affected by this revolutionary OS. This amazing Google product is also revolutionizing the way we read, keeping in mind our comfort and eye care. Last month, Android introduced Nightlight, a nighttime feature for its users who are also avid readers. This feature makes reading more enjoyable and doesn't strain our eyes.
The idea is that this feature when turned on filters the blue light from the screen and replaces it with a much softer and amber light. The feature has been designed in a way that it adapts to the amount of sunlight outside depending on what time of day it is. Think you have heard enough? Listen to this now, Android's wearable technology. Watches are one of the most popular and widely used fashion accessories.
Now, you have an option of wearing an Android watch too. Not only do these watches come in various shapes, sizes, and colors but also have your favorite brand name tagged along. These watches have features where you can download from a wide array of useful and inspiring watch faces.
The images below show us how the night light feature works and also what an android watch looks like (Source: Oofficialandroid)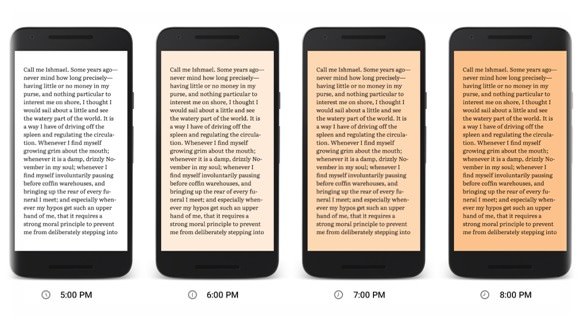 The Night Light


The Android Watches with Downloadable Faces
Besides these fancy upgradations on the Android platform, there are numerous others which happen at the utility level like the Android Pay app which was launched during the fall of 2015 in the United States. It is one feature which is catching on the users like a forest fire. With over 1 million places accepting Android Pay across America, it is time for it to hit countries like ours.
The next step in this line is to make the in Android apps purchases simple and secure. Then, there are certain features which might not be of interest to the common user but is a gift for the developers. To cite one such example is that developers finally get an option of sending promo codes for apps or in-app purchases on the Google Play developer console. This has been a much-awaited function on the Android.
With such great work happening in this arena, it is certain that there would be a massive need for professionals who are well-versed in this technology. There is a continuous need for Android Engineers, programmers and App Developers. These have become one of the most sought-after professions in the field of technology, today. An Android Apps Developer gets an average of $100,000 as a salary which also makes the profession quite lucrative.
Having read the pulse of the industry, Cognixia has designed special training programs in the field of Android Apps Development. Our programs are taught by the finest trainers and industry veterans. The study materials have been meticulously laid down for the better understanding of the subject.
If the world of Android appeals to you and you wish to get trained in its nuances while gaining hand-on-expertise on the topic, then it is time that you enrolled for our Android Apps Development Training. For further information, contact us