The Prayagraj Ardh Kumbha Mela 2019 is all set to be held at the Triveni Sangam in Prayagraj, Uttar Pradesh, India from 15 January 2019 to 4 March 2019. The Kumbh Mela is an event of religious pilgrimage celebrated four times over the span of 12 years at four places in India – Haridwar in state of Uttarakhand, Ujjain in the state of Madhya Pradesh, Nashik in the state of Maharashtra and Prayagraj in the state of Uttar Pradesh.
This year, the Ardh Kumbh Mela is going to take place at Prayagraj, and such is the expected footfall that 116 new roads have been constructed, over 84 parking lots have been identified, of which 18 have been developed as satellite towns complete with utilities and vending zones. More than 524 buses are going to shuttle pilgrims to and from the venue and countless number of CNG auto rickshaws are also deployed for the purpose. Undoubtedly, the Kumbh Mela is the largest religious gathering on the planet.
To monitor the huge crowd that will turn up for this event, the Uttar Pradesh police department will be using artificial intelligence for ensuring a better surveillance and better crowd management. Artificial Intelligence will help the security personnel at the Integrated Command and Control Centre to track crowd movement, assess crowd size and keep an eye on any suspicious activities taking place at the event. The event venue is spread over an area of 3200 hectares and over 1000 CCTV cameras have been installed to monitor the place.
Moreover, to track the huge rush of pilgrims to Prayagraj, Indian Railways, which is deploying about 800 special trains to the city, is also deploying artificial intelligence. Indian Railways plans to use IBM Intelligent Video Analytics to monitor and manage the crowds at the railways stations and adjoining areas.
Use of artificial intelligence in providing effective crowd management solutions in recent times is quite popular and has given fruitful results in averting city-scale challenges, such as managing mega footfall events, emergencies and disasters. In the past, Accenture has worked with the Singapore Government during their SG50 celebrations (the 50th anniversary of Singapore's independence) and developed solutions aimed at predicting crowd behavior and potential responses to incidents. The solution resulted in 85% accuracy in high crowd activity, crowd size estimation and object detection. The Kumbh Mela initiative is sure to prove useful in predicting crowd behavior and possibility of a stampede. Similar Big Data and AI solutions could help with advance predictions and response management.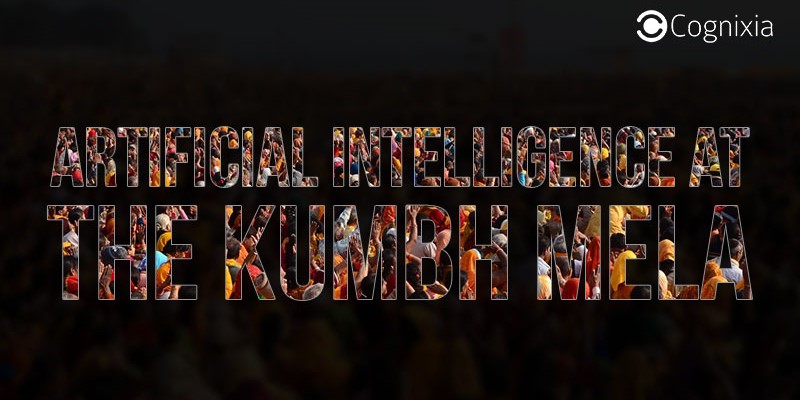 In the past, Japan's National Institute of Advanced Industrial Science and Technology (AIST) has partnered with the top soccer team of Japan – Kashima Antlers F.C. to improve crowd management at the 40,000 seat Kashima Soccer Stadium at Ibaraki Prefecture, north east of Tokyo. AIST used its artificial intelligence powered "people flow analysis" program to generate simulations of crowds that demonstrated the spectator movement. It also used artificial intelligence to prepare a plan of how to evacuate the stadium in the event of a large earthquake, considering how prone to earthquakes Japan is.
Similarly, Saudi Arabia has also deployed artificial intelligence based simulation programs to ensure the smooth flow of traffic in the mataf courtyard and on the upper floors, the roof and the Al-Masaa at the Grand Mosque in Mecca. This initiative focused on studying and managing crowds, while providing safety, convenience and ease of movement. The mataf courtyard along with the floors, has a capacity of 107,000 performers of circumambulation per hour, while the capacity of the courtyard alone is 30,000 per hour.
Similar methods have also been commonly deployed in large squares across Europe with a very high degree of accuracy.
Artificial intelligence helps security and public safety organizations by enhancing security using video. It involves functions like advanced search, redaction, and facial recognition across multiple video files from multiple camera types. A watch list of faces can be configured and artificial intelligence will keep an eye out for these faces in the crowd. High quality matches would be marked out for analysts to review. Crowd movement can be monitored from live camera feeds and whenever the movement is inconsistent with the planned motions or preconfigured patterns, alerts are issued for review of security personnel. Artificial intelligence also helps monitor abandoned objects in any part of the monitored area, as well as track heat maps across the entire area to have a better grip of what is happening in every single inch of the place.
With such successful deployments of artificial intelligence in crowd management across the globe already taken place, more and more organizations and government machineries are looking forward to take this revolutionary technology in its fold. At such a time, being a trained professional with a globally recognized certification in the field of artificial intelligence and machine learning can do wonders for your career. It will not only future-proof your career, it will also ensure that you get to be a part of the most interesting and amazing projects that ever take place in any organization. So, what are you waiting for?
Cognixia is an e-learning and digital transformation preceptor with in-house incubators in the latest technologies like Big Data, Artificial Intelligence , Machine Learning, Cloud Computing, DevOps, Internet of Things, etc. Cognixia has transformed the lives of more than 100,000 professionals world-wide and has more than 4500 trainers globally to deliver trainings for individuals as well as corporate workforce. Reach out to Cognixia today to be a certified expert in Artificial Intelligence.