Big Data is not a new term anymore. It is being used by almost anyone these days. There has been a lot written about it already. Only a few know exactly what is it and most are curious to find out more about it. One thing is for sure from what we have been observing over a few years that Big Data is not something which will very fade away in the recent future. With the kind of data that is being added every single day, Big data is going to be in demand more and more as years pass by. Let's try and understand the career options around the term Big Data.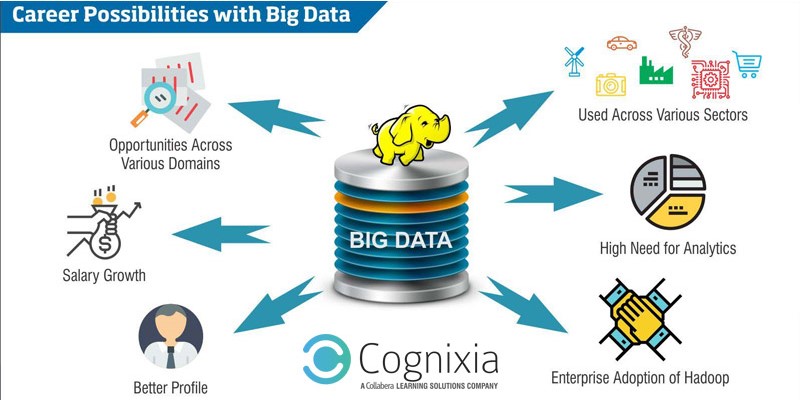 There is a reason it's called Big Data, we are not talking about MB's and GB's of data (which used to be a lot of data some time ago) now we are talking about terabytes and even petabytes of data. Just to put things in perspective here is a small conversion of digital storage.
1 GB (Gigabyte) = 1024 MB
1 TB (Terabyte) = 1024 GB
1 PB (petabyte) = 1024 TB
This is a LOT of data. Let's see what is happening every minute of every day on the Internet.
350,000 tweets per minute
400 hours of video being uploaded every minute
3 Million Posts on Facebook per minute
4 million searches on Google per minute
This is the ridiculously huge amount of data. All this data can be used to make things easier for everyone. However, this is the hard part, conventional knowledge and system of data management were incapable of handling all this data. There was the need for different advanced tools and techniques to be able to manage this data and then make use of it. Hadoop has emerged as one such platform where the data of this magnitude can be processed easily. Hadoop Developers are therefore in demand for a few years now. Still, the number of Hadoop Developers needed are not enough based on the current projections.
More and more candidates are going for Hadoop Developer training because they understand that there will be a huge demand for Hadoop Developers in coming future. Already there is a huge gap between the qualified candidates and available candidates.
Because of this trend, many institutes have started providing training on Hadoop Developer. However, candidates need to be extra cautious while choosing the right Hadoop Developer training provider.
Cognixia is a well established and proven Hadoop Developer training provider. With its state-of-the-art infrastructure and expert trainers, it is the best training provider for all emerging technologies including Hadoop Developer training. To know more about Hadoop Developer Training, please feel to contact us.