The Covid-19 pandemic accelerated the pace of adoption of many technologies – from the Internet of Things to Artificial Intelligence, and from Data Science to Cloud Computing. While some people could feel that is a red flag as we are becoming increasingly reliant on technology, a large chunk of the population see this growth & development as an opportunity to accelerate their careers and better their earning potential. Most IT professionals these days have a fair understanding of what is cloud computing and how it works, in this blog, we try to touch upon the important skills that are held in high stead in the field of cloud computing.
Most large organizations today work with at least one form of cloud computing, if not more. About 50% of these large organizations are likely to have invested in a multi-cloud strategy. According to Payscale.com, a Network or Cloud architect in India makes about INR 19 lakh per annum on average, while a cloud network engineer makes about INR 6 lakh per annum, and a cloud security analyst could make around INR 8 lakh per annum. The pandemic pushed enterprises to abandon geographical boundaries and take their businesses online, blurring borders and raising the demand to make everything accessible from everywhere. This was and is indispensable in today's times where cloud computing is essential to achieve & maintain cost-efficiency, business continuity, and productivity. According to Gartner, enterprise spending on public cloud services is set to reach $304.9 billion by the end of 2022.
Average Salary for a Cloud Solutions Architect

Source: Payscale.com
There is a burgeoning demand for skilled cloud computing professionals across a host of roles and platforms. Primarily, two types of cloud computing careers take the stage: IT professionals with cloud skills and IT Administrators with cloud architecture knowledge. Companies that need cloud computing skills or development skills have majorly associated themselves with specific cloud providers like AWS, Microsoft Azure, and Google Cloud Platform. These positions are mostly tied to DevOps automation tools and processes and are common in newly created enterprise groups.
With the Docker and container technology trending, the demand for knowledge or experience building portable applications with containers is rising. Knowledge of Docker is a highly sought-after skill because most cloud providers adopt this container technology. Know-how of container-clustering technology like Google's Kubernetes and Docker Swarm systems are also in demand.
Roles that require specific cloud computing skills account for the majority of cloud jobs in today's time. AWS takes the lead as the most sought-after cloud computing skill, closely followed by Microsoft and Google expertise. The demand for AWS talent has witnessed explosive growth in the past decade.
Pay by Experience for Cloud Professionals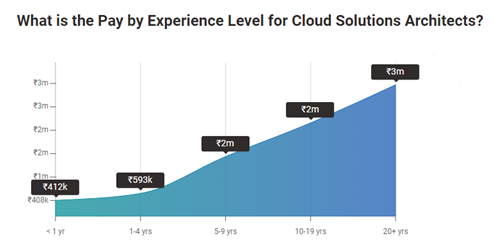 Source: Payscale.com
During the last year, Google and Microsoft's expertise showed a slightly stronger growth rate as compared to AWS, however, AWS continues to enjoy the first-mover advantage and retains the highest market share. This resulted in more jobs being focused on Microsoft and Google skills. This trend is likely to continue as the companies prefer using a mix of cloud service providers.
Organizations with cloud architect positions seek professionals who can define cloud – from business requirements to actual deployment. These jobs are usually found with companies that are yet to decide on their cloud trajectory and need assistance. it might be defining the use of existing private or public cloud or building a cloud from scratch. Generally posted by using keywords like cloud solution architect or cloud architect, cloud architecture job.
One of the best ways to take a plunge into the cloud computing job market is by pursuing one of the many role-based and specialty certifications offered by top cloud service providers, such as Microsoft and Amazon. These certifications validate your skills in the field and greatly enhance your earning potential. As a first step in the world of cloud computing, one can take up two great cloud computing certifications – the Microsoft Certified Cloud Administrator and the AWS Certified Solutions Architect – Associate level. To earn the former, one needs to clear the AZ-104: Microsoft Azure Administrator certification exam; to earn the former, one needs to clear the AWS Certified Solutions Architect – Associate level certification exam. Both AZ-104 Azure certification as well as the AWS Solution Architect certification are good for not just experienced individuals but also beginners in the field of cloud computing.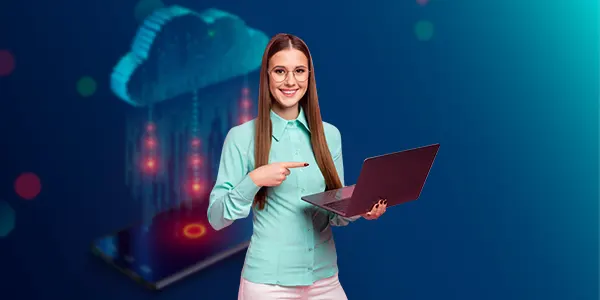 Read a Blog post: Cloud Computing and the Metaverse
Cognixia – the world's leading digital talent transformation company offers best-in-class cloud computing learning opportunities. Cognixia is a Microsoft Silver Partner and offers the official AZ-104 training and certification. It also offers a thorough preparation course to help participants prepare for the AWS Solutions Architect – Associate level certification exam. The AWS training course and Azure training course are conducted online and are live & instructor-led. Both the training offers lifetime access to the learning material via the Cognixia LMS as well as dedicated POC support to help solve all queries and doubts. The key highlight of the online Azure training, as well as the AWS cloud computing online training, is that both the training courses offer multiple live projects to help participants engage in a thorough hands-on learning experience.
The AZ-104 Azure online training covers the five domains prescribed by the Microsoft official exam outline, as below:
Manage Azure identities and governance
Implement and manage storage
Deploy and manage Azure compute resources
Configure and manage virtual networking
Monitor and back-up Azure resources
The AWS Solution Architect online training covers all the important concepts and skills as prescribed by AWS including:
Introduction to cloud computing
EC2 compute service
AWS cost-controlling strategies
Amazon Virtual Private Cloud
Amazon S3
Identity Access Management
Simple Notification Service
Elastic Beanstalk
Relational Database Service, etc.
Both the Azure AZ-104 training and certification course, as well as the AWS solutions architect training and certification course, will help you prepare for the respective cloud certifications from Microsoft and Azure. Both the Microsoft certification as well as the AWS certification are internationally recognized and highly valued globally as industry-leading cloud certifications. Enroll in Cognixia's live online instructor-led courses and achieve the certified cloud professional credentials today.
Reference blog: A Career in Cloud Computing