Today's Scenario on Cloud Computing. Companies today are gripping on cloud adoption more extensively, triggering a stunning shift in how businesses operate nowadays. It's now a trend of Software as a Service (SaaS) and Infrastructure as a Service (IaaS) applications which allows companies to escalate business and engage more with the world concerned. Where its based on the fact that "today's world of communications is moving towards the cloud and everyone is using the power of the cloud, regardless of which platform used".
It's just been a few years now and Cloud is taking off the plugs from the huge power consuming "Data Centers" on individual companies, this is indeed a new gen of Social world precisely redefining business priorities and strategies.  Whereas these changes are a necessity for companies nowadays to mould themselves into smarter and faster-evolving companies in the mass. Every business no matter which field needs its IT growth. The scalability and speed of deployment offered by cloud computing is just the right choice to get into the big league.
"With the cloud, individuals and small businesses can snap their fingers and instantly set up enterprise-class services."   – Roy Stephan, Director IT Architecture & Engineering – Intelligent Decisions.
So what is Cloud Computing? In simple terms: it is a type of computing that depends on sharing remote servers hosted on the Internet to store, manage, and process data, rather than using a local server or a personal computer. So it's highly resolved in terms of economy; pay for what you actually use, nothing extra! Resources are available to be accessed from the cloud at any time, and from any location, a big thank you to The Internet.
Well, you will be getting ample amount of information if you just Google out "Cloud Computing", it answers all your question such as- what is Cloud Platform; How the Cloud Infrastructure is built and used; The types of Cloud Computing (Public, Private, Hybrid) ; What all Services can be hosted on cloud etc. So I will be putting more insights on which cloud platform or rather a service is best and evolving in this trendy market of Cloud Computing! Talking about the leader here. Amazon Web Services (AWS) currently are on the peak in cloud space with the strongest cloud infrastructure offerings.
Focusing more on Amazon Web Services (AWS) here, Gartner has confirmed this in their annual 'Magic Quadrant' assessment of the market, highlighting AWS as a leader both in its ability to execute its vision and the completeness of this vision. AWS offers cloud infrastructure as a service (IaaS) and Software as a Service (SaaS), running massive data centers across the world, available as pay for what you use. So from a Business point of view, no company is now going to get a Data Center of their own!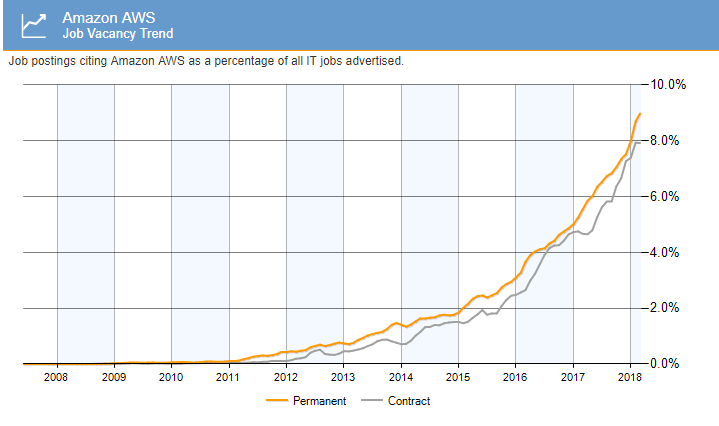 AWS is a great provider of cloud infrastructure and services on the most effective and low-cost basis. Moving into the cloud makes the business smooth! It's the world of Cloud Computing and its products, and for this, we need people that can work on it. And those are none other than our very dear IT professionals, but if you are one of the mass – still having only the knowledge on Data Centers so far, well that is definitely a big hindrance in your career growth!
Moving towards learning and implementing the Cloud technologies is surely the right path, but getting a grip on the AWS technologies and implementation is just a booster on the same path, placing you out of the crowd and opening huge opportunities for the same as AWS rules now when it comes to Cloud Technologies and Cloud Computing.
If you are IT professional and approaching the field of cloud computing, or maybe wishing to start a career in that field, your best catch should be Cloud Computing with Amazon Web Services, the most relevant and used cloud computing platform around. Technologies like Amazon EC2 and Amazon S3 are widely used and well-known and a huge amount of other products are part of AWS.
Concluding: Want to be a part of this Big World Of Cloud Computing? Getting Hold on AWS is the best choice currently. Amazon Web Services (AWS) training is a smart choice that will build your concepts and expertise necessary to become cloud-enabled and get an exciting career in cloud computing with AWS. And if you are gripping on to components of AWS such as EC2, S3, EBS, ELB, Auto Scaling, RDS, Route53, IAM, Cloud watch and many more. You are unbeatable! So get Going.
Anyone coming out of Harvard, every student coming out of college or any IT professional now thinks he can be the next Mark Zuckerberg or Steve Jobs, and with these new technologies like cloud computing, he actually has a shot.