A question you need to ask yourself and your team, "Are your skills and knowledge more valuable today than they were 1 year ago?"
Our skills have a shorter lifespan than ever before. The skills of yesterday are outdated today, and the skills of today will be outdated tomorrow. No matter how much we get trained, it will eventually fade out with time if we don't keep pace with the changing trends.  With technological advances, 21st-century jobs don't rely on traditional learning and development approaches anymore.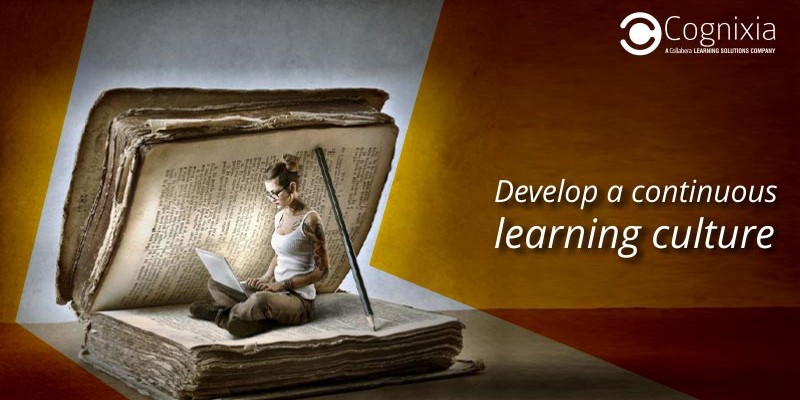 "If you stop learning, you'll stop earning"
Today, learning has become a vital part. In order to stay competitive in a world of rapid technological change, organizations must incorporate continuous learning programs into their culture. It allows employees to enhance their expertise, knowledge, and motivate them to perform better. A culture of continuous learning allows organizations to attract and retain the best talent. When powered by the right training and development strategy, best practices, and technology, allows leaders to align employee learning and performance with overarching business goals.
According to LinkedIn's 2018 Workplace Learning Report, "90% of executives say learning and development is a necessary benefit to employees at the company".
Tips to incorporate continuous learning strategy:
State a clear vision

Before defining a strategy, learning and development folks need to have an idea about the end result. They must take the time to consider how to empower employees and align their goals with the goals of the organization and work towards a common vision.

Organizing an orientation program revolving around the needs of your employee will allow you to understand more about the goals and performance of your employees. Thereby, prioritize the learning program to ensure that your employees will be prepared for promotion and grow as future leaders.

Encourage continuous learning environment

"Digitalization has created a larger capacity for change in many IT organizations, so now is a great time to start your role transition if you have not already", according to Gartner's 2018 CIO Agenda report.

A constant learning approach towards the development of skills and capabilities will encourage your employees to improve their performance from time-to-time. By integrating continuous learning, you will be able to build a positive culture around employee satisfaction and improvement.

Provide appropriate feedback from time to time

"Feedback is a gift. Ideas are the currency of our next success. Let people see you value both feedback and ideas."– Jim Trinka and Les Wallace

It is important to take and give feedback to your employees to address the areas of improvement in the learning process. You can outline concrete goals and refine the path to improve productivity and increase employee satisfaction, thereby, benefit the organization.

Empower employees with the right technology

It has become increasingly important for organizations to succeed in this dynamic world of technology by adopting a continuous learning culture, to survive.

Continuous learning is the first step towards the success of your organization. It draws on the experience and expertise of your high-performing and most engaged employees – if you have the right tools in place to empower them. With emerging technologies coming into the picture, it has become appallingly obvious to train your employees in technologies as opposed to their area of expertise.
The following chart shows continuous interventions help people to retain what they learn and constantly add to their knowledge so that they become experts in their field. This is in contrast to traditional training, where research suggests that 90% of new skills are lost within a year.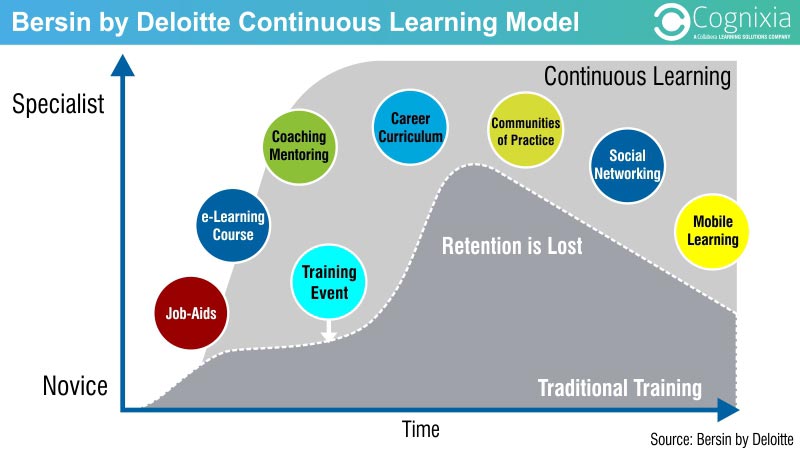 The right training will allow you to strengthen the company's culture, generate new ideas, and maintain a positive environment across the workforce.
"Continuous learning is a journey, not a destination".
At Cognixia, we proudly tailor our training programs to fit the specific needs of each company we partner with. Our proactive approach to nurturing customized, flexible, and convenient training strategies is ideal for any corporate workforce.
Our training programs are devised to bridge this gap proactively, by working with our partners to nurture customized training strategies that fit every need identified. Our approach to corporate training is aimed at facilitating a continuous learning support — from the first, fundamental training all the way through to delivering specialized certifications.