Data Science is not a luxury which can only be afforded by big companies it has become a necessity for each and every organization, be it small, medium or large. Why is it that Data Science has suddenly become so important that no company in the sector can do without it? The answer is "Data". The ridiculous amount of data that is being generated by humans and machines can help companies to take better decisions, the decisions could be about improving a product /service or launch a new product/service.
The traditional databases are not sufficient to handle this kind of data and the traditional analysis techniques are not sufficient to analyze the data. Data Science, therefore, is a solution if the companies want valuable insights from the all the data they have. To find insight and valuable information from a large dataset is like finding a needle in a haystack. And just the knowledge of statistics is not sufficient to do that.
Data scientists, apart from being experts in mathematics, statistics, programming, machine learning are also experts in specific domains they work for. They are the ones who answer every question a business may ask. All the stakeholders look up to Data Scientists to get the answers for why, when, what and how. This makes the life of a Data Scientists very challenging and interesting at the same time.
Data Science is like forensic science, Data Scientists are like forensic scientists they look for clues and patterns using techniques only known to them from the amount of data only they can manage. Just like forensic scientists look for the motive for any crime that has been committed, data scientists look for a reason why and what needs to be done more than how it is supposed to be done.
Having an attitude of a problem solver is one of the most important skills and looking for the problem in everything is not such a bad thing for data scientists.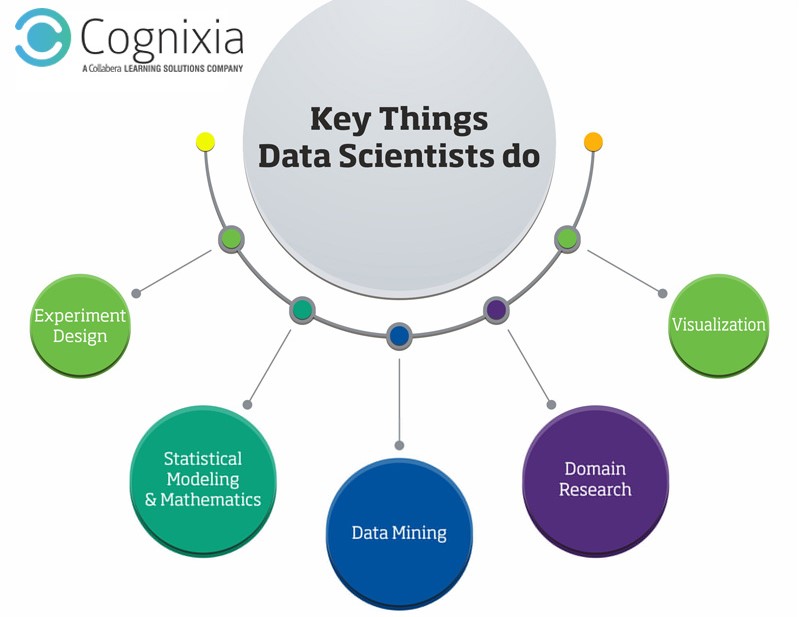 Other important things data science do are as follow:
Experiment Design – Determine what exactly needs to be achieved
Statistical Modeling and Mathematics – They need to be well versed with programming languages, predictive modelling and Bayesian inference
Data Mining – NoSQL, Hadoop/Hive/Pig, SQL
Domain Research – Need to ask the right questions which is only possible if they have domain expertise
Visualization – after their findings they need to present it in a manner which is understood easily by everyone
All these (and many more) activities make the life of a data scientist very interesting. As mentioned earlier they get a feel of a spy every single day always looking for clues every moment to improve a product or service. Because of the kind of impact they can create data scientists are so in demand these days. Not only big companies but start-ups are also looking for data scientists and a good one at that. There is no fixed set of work defined for data scientists as they work in the entire development lifecycle. And that is what makes the job of a data scientist so interesting.
And this is just the beginning of "Data Science" era, everything from now on will be dependent on the data we capture and thus, the role of a Data Scientist is going to be more crucial and more in-demand.
If you need more information about how can one become a data scientist, please feel free to get in touch with us