Are you a budding IT student or professional looking for a salary hike or want to climb further up the career ladder? Hadoop developer can be the right career path for you, as most organizations today are finding an in-house architect, who can help them in structuring the data to increase profitability, improve sales or refine products.
This technology has created awareness amid the various industries to store, process and analyze Big Data in order to make better strategic decisions. It also remunerates growing dividends, ever since it spurted business consciousness and wide enterprise adoption. Since the popularity of Hadoop has peaked, most of the organizations are eager to pay the best salary packages for IT professionals who are experts in dealing with Big Data.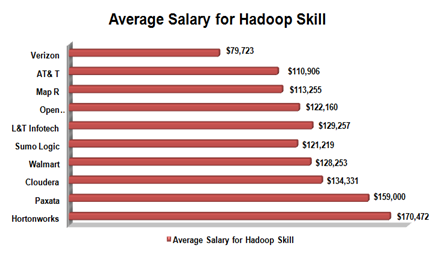 According to the Annual Analytics Salary Report – 2014, in India, Analytics professionals have procured a hike of 250% in their salaries from entry-level analysts to managers and since 2013, the average entry-level salaries have augmented by 27% from Rs. 5.2 lakhs to Rs. 6.6 lakhs per annum.
"Big Data made a gigantic showing last year, and we're seeing it this year too. Tech professionals who analyze and mine information in a way that makes an impact on overall business goals have proven to be incredibly valuable to companies. The proof is in the pay."- said, President.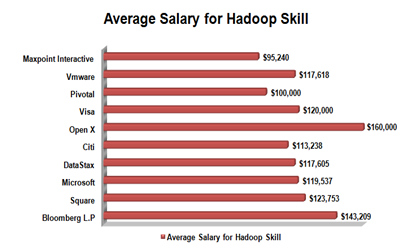 At the beginning of 2015, in San Francisco, CA, there were around 500 opportunities for Big Data Hadoop Developers and over 450 open jobs in startups for Big Data Hadoop engineers around Bay Area, CA alone. In 2014, the average salaries of Big Data grew by 9.3% and are currently ranging from US$ 119,250 to US$ 168,250.
In San Francisco, CA the average salary for a Hadoop Developer is US$ 139,000 and Senior Hadoop Developers take home over US$ 178,000 on an average. According to Cognixia's survey of market insights, the Big Data bazaar is likely to hit US$ 23.8 billion with a growth of 31.7% yearly, and almost 90% of companies have started Hadoop-related projects, that has resulted in huge demand for Hadoop skills.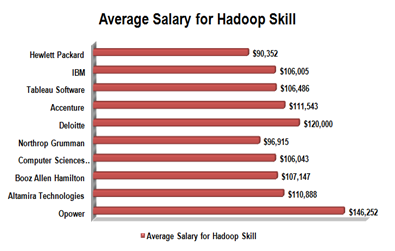 The demand for Hadoop and Big Data Analytics from 2012 to 2017 is expected to raise around US$ 13.90 billion. Currently, the data markets with top growth are Hadoop and NoSQL software and services.
Why Hadoop? Because there is no customary relational database that can handle Big Data the way Hadoop does. According to the latest reports from Forrester – one of the top IT research companies, it looks as though companies which haven't adopted Hadoop yet, will definitely move to it in 2016 since it is more data competent than any other software available in the market.
Right now Big Data Hadoop Professionals are being head hunted, and due to scarcity, many Java professionals are being up-skilled to Hadoop. So if you are a student or IT professional who is looking out for a better career opportunity and a higher pay scale, then this technology is a right option for you. Get a head start in the race, and visit Cognixia Or contact us so that we can guide you in brightening your career through our big data Hadoop developer training.