There is no dearth of online tools that can help you to improve your writing skills and grammar by pointing out errors or giving you suggestions to improve a sentence. While these tools definitely are not foolproof, they are quite effective at helping eliminating most errors. Most of these tools are powered by artificial intelligence and machine learning algorithms. No matter what you are setting out to write, these tools can help correct embarrassing errors and blunders, making whatever you write as flawless as possible.
If we take a deeper look, most of these tools will have artificial intelligence powered systems that have been fed with loads of high-quality training data that would teach the algorithm by pointing out what proper and correct grammar would be like. This training data would show the algorithm appropriate uses of language components like punctuation, grammar, spelling, etc. and would train the algorithm to understand the difference between correct and incorrect applications of these components. There is also use of natural language processing to analyze the language from the minutest level of every character, to the higher level of words, paragraphs and sentences.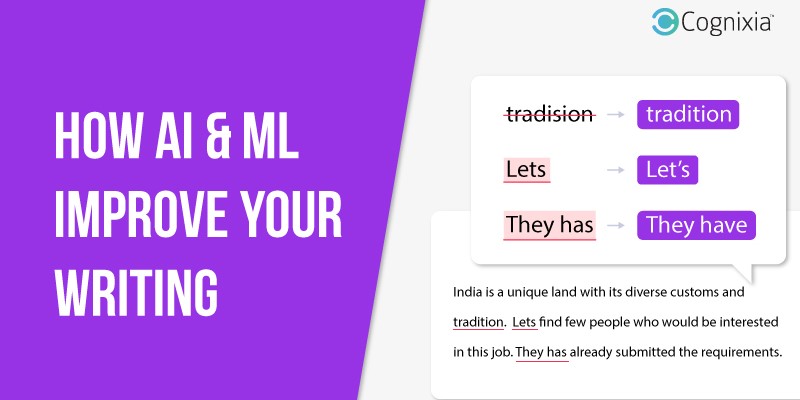 What's more, these algorithms learn from every user, every day too. If an AI-powered language correction tool such as Grammarly points out an error for you and gives you a suggestion to correct it, yet you do not take the suggestion, this serves as feedback for the tool, helping the tool become smarter. The more text the tool is exposed to, the smarter the tool becomes.
There are also a lot of tools that will point out plagiarism in your writing as you write or even identify vagueness in the writing and point it out. As artificial intelligence and machine learning improve, new frontiers open up for the language tools. Research is on to provide context-specific text suggestions for users. Today, these tools can help you smoothen out the basic mechanics of writing, such as, spelling, grammar, sentence structure, clarity, readability, vagueness, plagiarism, etc.
Artificial Intelligence and Machine Learning can be a huge help for anyone writing anything. Back in 2014, George R. R. Martin, the widely acclaimed writer of A Song of Ice and Fire, mentioned that he avoids using modern word processors due to their 'pesky autocorrect' and 'spell checkers'. However, it is 2019 now and the technology has progressed significantly from back then. For instance, Microsoft Word's new Editor feature uses artificial intelligence to help users with more than just proofreading. It can understand the nuances of your writing, flags grammatical errors and style mistakes, while pointing out the usage of unnecessary complex words and overused terms in the text. It also provides smart suggestions for things that it identifies as incorrect.
Google's G-suite also has artificial intelligence powered grammar checker, corporate web tools and services now. This is many steps above the basic spell check that is part of Google Docs.
The next revolution on this front would be jumping over from the current Natural Language Processing (NLP) to Natural Language Understanding (NLU). NLP involves structuring the data, defining it and making it readable for machines; while Natural Language Understanding will be more about converting unclear, unstructured and undefined inputs into outputs that are closer to human understanding.

Sounds interesting, doesn't it? Designing these tools and improving machine learning algorithms is going to in huge demand in the coming years. Knowledge of artificial intelligence, machine learning, deep learning and neural networks can be highly beneficial to shape a career in this domain. Add to it a certificate that validates your knowledge and skills, and you could be on your way to a rewarding and fulfilling career. Cognixia, a digital workforce solutions company, helps you achieve this, and more. We guide you with which course would best suit your interests and background, and helps you shape your career. Reach out to us for more information.