In recent times, machine learning has become an immensely popular technology and offers promising careers for skilled professionals. With the right training and practice, you could build a successful career in machine learning. In this blog, we will talk about how a good machine learning certification could help you advance in your career or begin a career in machine learning.
What is machine learning?
A lot of devices and platforms we use these days are powered by machine learning – Netflix, YouTube, Spotify, Google, Baidu, Facebook, Twitter, Siri, Alexa, etc. Machine learning is defined as the science of getting computers to learn and act like humans do, and improve their learning over time in an autonomous fashion by feeding them data and information in the form of observations and real-world interactions. It is the science of getting computers to act without being explicitly programmed to do so. It is a part of artificial intelligence and is a promising field of technology.
According to IBM, machine learning focuses on applications that learn from experience and improve their decision-making or predictive accuracy over time without being programmed to do so.
Let's take a quick look at what the discipline of machine learning entails: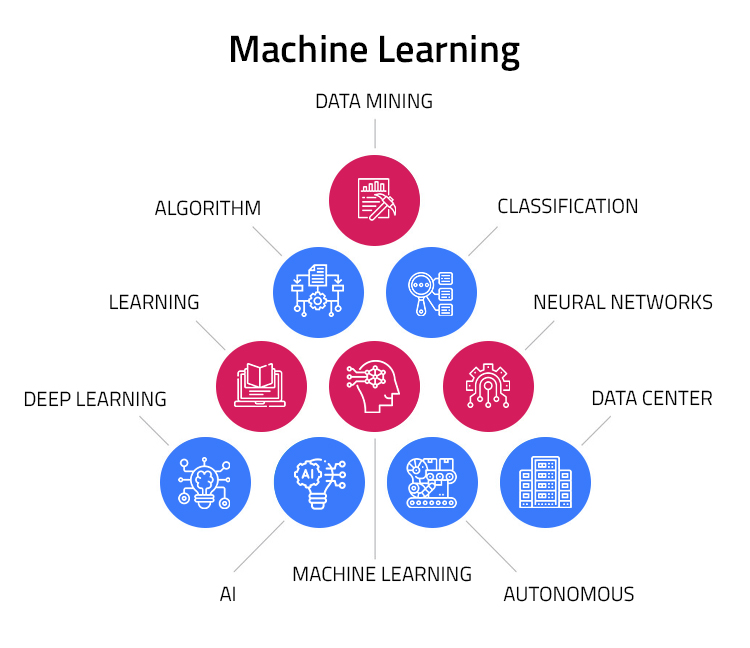 What are the prospects for a machine learning professional?
A simple search on popular job portal Naukri.com reveals close to 8500 open jobs for machine learning professionals in India. A similar search on LinkedIn reveals about 12000 open jobs. Undoubtedly, Bengaluru tops the list of locations with open machine learning jobs, with Delhi/NCR, Hyderabad/Secunderabad, and Mumbai/Pune following close. As more and more organizations realize the importance and the potential of data & machine learning, this number would go up. Compared to the number of available positions, the number of skilled machine learning professionals is way less, giving rise to an ever-widening skills gap. Skilled machine learning professionals are highly sought after, and also command premium compensation across organizations.
With machine learning training and certification, you can develop your skills in the field and gain practical exposure to applying the machine learning concepts in real-world scenarios. A good machine learning training will help you understand the fundamentals of machine learning and important concepts like the important machine learning algorithms, their uses, the best practices in machine learning, etc.
One of the best things you could do to begin a career in this field is to get certified in machine learning online. This way, you could continue with your existing career unhindered, while use your spare time to learn new skills. Most popular online machine learning courses conduct their training sessions and labs over the weekends, so it wouldn't interrupt your regular workdays.
Why get certified in machine learning online?
Online learning is one of the best ways to engage in upskilling to grow your career. It is easy, flexible, convenient, and offers great value for money. There are multiple reasons you should get certified in machine learning online, some of which include:
It helps you upskill in machine learning without hampering your current career, giving you time to focus on your present as well as future
It is time-saving as you can finish the training and earn your machine learning certification in a relatively small period of time, generally about 2 months
It ramps up your earning potential manifold.
Machine learning makes it to the top skills to learn and skilled professionals are high in demand, so a certification definitely helps you stand apart in the crowd
You can learn from anywhere, anytime. You can choose a good online instructor-led modality and get full flexibility in learning.
Get an opportunity to interact with experts in the field and get all your questioned resolved
Gain lots of practical exposure with interesting labs, all without getting off your desk
Our interactions with a lot of recruiters over the years have helped us discover that having a machine learning certification on the resume could be a major differentiator for candidates. Hiring managers would always look for the best possible individuals for their positions, and the machine learning certification on the resume validates the candidate's skills and knowledge in the field of ML. It also prepares the candidate – you – to be able to deliver outstanding results from the very first day of the new job or the new promotion, because you have already learned and practiced the tasks during training. A machine learning certification could be the bridge between you and your dream career. And there couldn't be a better time to get certified in machine learning than in 2021.
Where can I find the best machine learning online training?
If you are looking for the best machine learning training online, you've come to the right place. Cognixia – the world's leading digital talent transformation company offers thorough hands-on machine learning with Python training and certification course. The course is delivered by expert trainers with many years of experience in the field as well as in imparting training to machine learning enthusiasts. This ML training course discusses the important concepts of machine learning, as well as acquaints participants with Python. The course also prepares participants to use Python for machine learning functions. Our machine learning certification course covers:
How to install and import libraries
Methods of handling various data types such as categorical, ordinal, and encoding
Data visualization
Distinguishing between artificial intelligence, machine learning, and deep learning
Working with data in real-time
Implementation of machine learning algorithms
Implementation of deep learning algorithms
Types of time series data – univariate and multivariate
Performing text and sentiment analysis
Business analytics
The training sessions take place over the weekends, and you also get lifetime access to the training material and recorded sessions via the LMS.
~ Sunny Shah