A team that is inspired and engaged is very different from one that is not. Teams that are motivated and self-organized readily overcome difficulties and hurdles. They are prepared to come up with a fix for any issue. Teams that lack motivation typically need top-to-bottom leadership.
In truth, if they are motivated and engaged, your team can resolve most of your issues, whether connected to products or processes. And your job as a Scrum Master is important to the team's success.
But it does have certain requirements. Integrating the Scrum framework and regulations across a project is on the checklist of responsibilities, along with maintaining balance and addressing conflicts as they arise. Although you are not only a project manager, it is also your duty to make sure the team stays on course.
What is best to maintain team unity and attention without micromanaging or exploiting your authority? The following five strategies will help you improve as a Scrum Master and guide your team to success.
Set clear goals
Nothing makes people less motivated than going in circles without any defined goals or targets. Having a direction is still preferable to uncertainty, even if not everyone agrees with it.
Make sure there is always an objective, ideally one that is both long-term & short-term. The long-term aim is to improve the team's ability to view the broader picture, which acts as a guiding light. The team can self-organize around short-term goals by having something concrete to work towards. Additionally, remember to recognize achievements.
To encourage a greater work ethic among your team members, emphasize the value of face-to-face meetings. Put into practice the idea that as a Scrum team, you must emphasize people and interactions over processes and systems by convening team meetings as frequently as necessary. In addition to reducing misunderstandings, it will strengthen the bonds between individuals engaged.
Utilize Visual Tools
They say a picture is worth a thousand words, and the same holds for Agile teams. Visual tools become a canvas upon which creativity thrives and productivity soars. Task boards, an integral part of Scrum methodology, become the heartbeat of progress during sprint sessions, enabling the team to track targets and deadlines easily.
As a Scrum Master, you must ensure that this powerful tool wields effectively. Empower your team to visualize their tasks, collaboratively plan their actions, and celebrate their accomplishments on this shared visual journey. Such empowerment fosters creativity and innovation, infusing a dynamic spirit within your team.
Lead by Example
A Scrum Master is not just a title but a symbol of exceptional leadership. The Agile Alliance describes a Scrum Master as a coach, a guiding force that empowers teams with the right tactics and practices. Your role transcends mere management; it is a calling to inspire and motivate. Embody the core values of commitment, courage, focus, openness, and respect in every action, transforming yourself into an authentic role model. Leading by example illuminates the path for your team and ignites the spark of motivation within them. By exemplifying the principles of Scrum, you create an atmosphere where trust is nurtured, collaboration thrives, and individual talents improve.
According to studies, team members are 53% more engaged and productive at work when their team leader sets an example that reflects proper conduct. Set an example for your team by completing tasks quickly, and always be ready to step in and assist those in need. Establishing this trust through your actions and strategies can help your followers have faith in your leadership qualities. Always be open to making changes to the situation to make it better for everyone. Pay attention to the questions and suggestions of your team members.
Hold the Key to Accountability – Navigate Conflicts
Within the dynamic ecosystem of Agile development, conflicts and impediments are inevitable. As a Scrum Master, addressing these challenges, head-on falls within your domain, for they can significantly hinder project success. Imparting accountability and responsibility to team members is crucial to maintaining productivity and fostering a culture of trust. However, achieving this delicate balance requires finesse and empathy. Gently confront team members who may be straying from their commitments, but always give them the benefit of the doubt.
Encourage open communication, seeking to understand the reasons behind delays or distractions, and collaboratively devise solutions to overcome obstacles. By handling disagreements with empathy and understanding, you establish a secure environment where difficulties can be turned into learning opportunities.
Boost Engagement Levels within the Team
It is your responsibility as the Scrum Master to maintain the team's motivation and focus so that projects are finished on schedule, under budget, and to the highest standards possible. However, meeting these demands can occasionally lead to stress and tension, and they can undoubtedly take the fun out of the process. Recognizing and providing incentives for performance enhancements and a job well done can quickly increase team engagement. Spend some time talking to your team members and getting to know them on a personal level. A small gesture can make a big difference in terms of employee engagement, whether you take a team member out to lunch or publicly praise them during a team meeting. Authenticity is what counts most in this situation. People may tell when your intentions are "fake" in some cases.
There's no harm in injecting a little excitement when you can because work, and Scrum projects can occasionally become a little monotonous (shocker, right?). Provide opportunities for growth and development and foster a climate that encourages team members to perform at their highest level.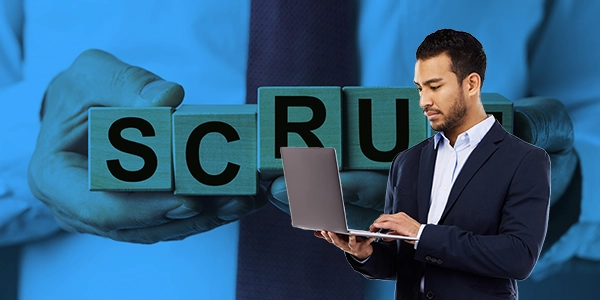 Read a Blog Post: Scrum Master vs. Scrum Product Owner – what is the difference?
Conclusion
Without strong management and efficient leadership, it is extremely unlikely that a team will be able to complete everything that has to be done. It is the responsibility of the Scrum Master to lead everyone and make sure that Scrum tactics are used and carried out correctly, even if Scrum teams are expected to be as independent as possible.
A team will fail if its scrum master is ineffective. Going above and beyond the call of duty is sometimes necessary to be the greatest coach you can be, but your team members will undoubtedly appreciate it in the long run.
Become a certified scrum master to boost team productivity.
Take advantage of online certified scrum master training if you want to pursue a profession in project management. Scrum Alliance awards the CSM credential to learners who have completed a Certified ScrumMaster course and verified their expertise through the CSM test.
As a Certified Scrum Master, you can perform the following functions:
Assist your project teams in effectively implementing Scrum.
Contribute knowledge beyond that of a project manager.
Assist your team with cooperation and structure by acting as a 'servant leader.'
Defend your team against both internal and external distractions.
The need for Scrum Masters has grown tremendously as more businesses adopt agile methodologies. Therefore, the CSM certification course is already so popular. As a result, getting a scrum master certification online is highly advised.
Get enrolled in certified scrum master training online with Cognixia – the world's leading digital talent transformation company.