Information security is critical in today's interconnected world, where organizations rely significantly on digital infrastructure. On the other hand, the ever-changing world of cyber threats provides considerable hurdles. Malware stands out as a persistent and deadly threat among these. This blog will delve into malware and how it concerns information security. Individuals and organizations must be aware of these risks to properly protect their valuable data and digital assets.
It is impossible to exaggerate the significance of malware for information security considering our increasing reliance on technology and the rise of cybercrime. The average annual cost of cybercrime for an organization has reportedly risen by 12% to $13 million, according to Accenture's 2020 Cost of Cybercrime Study. Malware greatly contributes to this alarming number, causing financial losses, reputational damage, and operational interruptions.
Understanding Malware
Any software that intends explicitly to interfere with, harm, or obtain unauthorized access to networks and computer systems is malware, short for malicious software. Malware can take many forms, including spyware, Trojans, worms, and viruses. Malware can enter systems through several techniques, including defective software, social engineering, malicious websites, and email attachments.
Threats Posed by Malware
Data Breach and Unauthorised Access:

Malware can endanger sensitive data by infecting networks and providing hackers with unauthorized access. High-profile data breaches, such as the 2017 Equifax hack, exposed the personal information of millions of people. Unauthorized access to personal data can result in identity theft, financial fraud, and reputational harm for both individuals and businesses.

Financial Loss and Fraud:

Malware created expressly for online banking and financial transactions can cause huge financial losses. Banking Trojans, for example, steal login passwords and financial information, allowing fraudsters to conduct unauthorized transactions. Financial fraud enabled by malware is on the rise, posing a hazard to both individuals and enterprises.

Business Disruption and Productivity Loss:

Ransomware attacks encrypt files and demand payment for their release, which can disrupt operations. Organizations may incur significant financial losses as a result of downtime, incident response and operational disruptions, and recovery costs. Productivity loss and the inability to deliver services or products on time might have long-term ramifications.

Data Breach and Customer Trust:

When data breaches occur due to malware, firms incur reputational damage and erosion of customer trust. The loss of sensitive consumer data erodes trust in an organization's ability to safeguard personal information. Restoring trust can be a difficult and time-consuming process, potentially leading to customer attrition and long-term business consequences.

Intellectual Property Theft

Malware can target both trade secrets and intellectual property (IP), putting businesses at risk. Cybercriminals may try to steal confidential data such as client lists, research and development data, proprietary knowledge, or any material that gives a business advantage. This kind of theft can have detrimental effects on an organization's overall innovation and profitability, as well as lost market share and impeded product development.

Disruption of essential Infrastructure

Malware can disrupt essential infrastructure in addition to targeting persons and businesses. Computer systems and networks are critical to the operation of industries such as energy, transportation, and healthcare. Malware assaults on infrastructure can interrupt critical services, jeopardize public safety, and have far-reaching economic and societal effects. The potential impact on power grids, transportation networks, and healthcare systems emphasizes the importance of safeguarding these industries against malware threats.
Evolving Threat Landscape
The threat landscape is ever-changing, with hackers employing advanced tactics to avoid detection and compromising systems. Advanced persistent threats (APTs) and zero-day exploits target software and network vulnerabilities, frequently going unnoticed for extended periods. Polymorphic and fileless malware complicate detection efforts even further by constantly modifying their code or staying exclusively in memory, making them more challenging to detect.
Mobile Malware and IoT Vulnerabilities
Malware's reach has grown with the growth of mobile devices and the Internet of Things (IoT). Mobile malware can corrupt sensitive data, intercept communications, and take control of devices. Furthermore, IoT vulnerabilities pose serious concerns since hacked devices can be used to conduct larger-scale attacks or jeopardize network integrity. Concerns concerning the security of linked systems are raised as a result of the potential influence on critical infrastructure.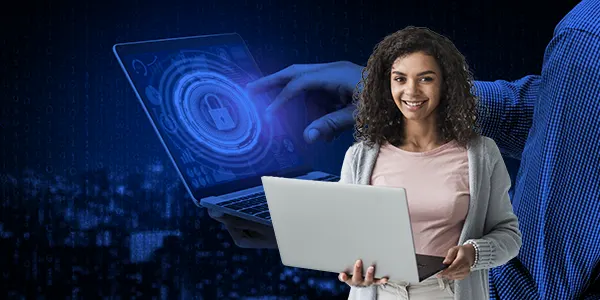 Read a Blog Post: Why is adding information security as an afterthought dangerous?
Importance of Effective Malware Protection
To effectively reduce malware risks and preserve information security, numerous proactive actions are required:
Malware Defence Proactive Measures
To detect and destroy known malware strains, use powerful antivirus and antimalware software that frequently refreshes its signature database. Maintain all software and operating systems with the most recent security patches to address vulnerabilities that malware may exploit.
Employee Education and Security Awareness
Inform staff on safe internet practices, the dangers of social engineering, and the significance of authenticating emails and attachments. Instilling a security-first mindset in employees can greatly lower the likelihood of malware assaults.
Network Security Measures
Regularly implement and update firewalls, detection, and prevention systems for intrusions (IDS/IPS) and network segmentation. Access controls should be set to limit user privileges and guarantee that sensitive data and systems are only accessible to authorized users.
CISSP Addressing Malware Threats
Fighting malware threats requires CISSP (Certified Information Systems Security Professional) certification. CISSP specialists are highly skilled and knowledgeable in recognizing, evaluating, and reducing the dangers posed by malware. They are adept at establishing efficient incident response protocols, putting in place strong security measures, and making sure that best practices and laws are followed. CISSP professionals excel at defending systems and networks from malware attacks because they thoroughly understand the many varieties of malware, their delivery mechanisms, and their possible effects. By implementing user education and awareness programs, they also help organizations develop a security-focused culture.
CISSP-certified individuals play a critical role in proactively identifying and mitigating emerging malware threats by remaining educated about emerging malware trends and regularly updating their abilities. Employing CISSP professionals strengthens overall defense against malware and shows a commitment to sound information security practices.
Conclusion
Malware seriously threatens information security in an increasingly linked and digitized society. Individuals and organizations may incur data breaches, financial losses, economic disruptions, and reputation damage, to name a few effects. Individuals and companies may secure their precious digital assets by recognizing the dynamic nature of malware threats and applying effective prevention solutions. Staying vigilant, proactive, and updated on the latest security practices will be critical in limiting malware risks and keeping information security integrity.
Get CISSP Certification from Cognixia
Eliminate the chances of system failures and reduce the chances of losing important data with official CISSP training. Once you have employees with the CISSP certification, they will demonstrate their skills to benefit your business with –
Full understanding of how to secure or protect confidential business data from hackers
Skills to analyze risks and be aware of the common hacker strategies that can affect your business. They can determine the weak point of the organizations and work on them.
Aptitude in improving customer and employee privacy, ensuring all the information stays with the business only
Get (ISC)2 CISSP Training & Certification and increase your business visibility as well as credibility in the cybersecurity market. Cognixia is the world's leading digital talent transformation company that offers a wide range of courses, including CISSP training online with a comprehensive CISSP study guide.
Here's what you will cover in this course –
Learn and apply the concepts of security & risk management
Gain an understanding of security engineering to protect information by exploring and examining security models and frameworks
Learn how to identify, categorize, & prioritize assets
Examination and security network architecture and its components
Learn how to identify & control access to protect assets
Designing and conducting security assessment strategies, logging, & monitoring activities
Developing a recovery strategy and maintaining operational resilience
Learn how to secure the software development cycle