The Microsoft Power BI program promotes itself as a powerful data analytics tool. It offers a service that allows you to build an easy-to-interpret and useful visual representation of the processed data. The ability to turn data into clearly understood graphics for professional usage is a key function of programs like Power BI.
Power BI was initially known as Project Crescent. It was released in July 2011 with SQL Server. In September 2013, it was rebranded as Power BI and marketed as Power BI for Office 365. It was introduced as a separate product in July 2015, with additional capabilities such as enterprise-level data connection and security choices and its original Excel features such as Power Pivot, Power Query, and Power View. Microsoft now releases monthly updates to the Power BI program with new features and improvements, and customers may download the most recent version from the Power BI website. Power BI Desktop is available in the Windows Store for Windows 10 users.
Microsoft Power BI may be quite beneficial to your business, so let's take a deeper look at what it has to offer!
What is Power BI?
Business Intelligence (BI) inspired the term Microsoft Power BI. Most profitable and agile businesses are now using artificial intelligence to help them make choices.
Every business owner has probably felt disoriented when forced to make a decision based on an enormous quantity of data. The most difficult aspect of making that decision is understanding the bigger picture. With such knowledge, you'll understand what to do to achieve the greatest results.
The benefit of Power BI is that you can examine each piece individually to make better judgments. The visual depiction of the dashboard helps users to immediately view the data that is relevant to the decisions they must make.
Because of Power BI, business intelligence is now available to all team members who need to view data and make choices. Every significant decision may be founded on solid facts. Power BI analyzes and updates data in real-time, helping teams to make choices based on true information.
Components of Power BI
Power Query

Power Query assists you in discovering, connecting, combining, and refining data sources to fulfill your analysis needs.

Power Pivot

Power pivot is a data modeling approach used to develop models and calculate relationships.

Power View

Power View assists in the creation of interactive charts, graphs, maps, and other graphics that bring data to life in Excel, SharePoint, SQL Server, and Power BI.

Power Map

Power map is a tool for visualizing data in three dimensions.

Microsoft Power BI Desktop

Power BI desktop facilitates getting everything under one roof to improve BI and data analysis skills.

Power Question and Answer

Power Q&A is used to quickly examine data and acquire a response using natural language.
Aside from dozens of data sources, Power BI can link to files (such as Excel, XML, PDF, or SharePoint Folder), databases (such as SQL Server Database, IBM databases, Oracle Database, Google BigQuery, Amazon Redshift), other Power BI databases, Azure data connections, and various online services (such as Google Analytics, Dynamics 365, Facebook, Salesforce Reports, Adobe Analytics, and others).
Features of Power BI
Power BI Desktop

Power BI Desktop is free software that can be downloaded and installed to create reports by readily accessing data without the requirement for extensive report design or query abilities.

Stream Analytics

Stream Analytics helps you with real-time analytics to make rapid decisions.

Various Data Sources

Multiple Data Sources allows you to generate interactive visualizations from a variety of data sources such as Excel, CSV, SQL Server, and Web files.

Visualization on Demand

Apart from Power BI's basic standard for dealing with complicated data, Custom Visualization is utilized to access the custom visualization library to fit unique or customized demands.

Artificial Intelligence

AI enables access to image or visual recognition and text analytics, as well as the creation of machine learning models with automatic machine learning capabilities.
Understanding important data ideas, visualizing data, comprehending complicated data structures, and transforming them into valuable insights are revolutionary talents that every organization requires in the age of big data. The benefits of studying Power BI through Business Intelligence classes for anyone with a technical or non-technical background include understanding the core principles and getting hands-on practice under professional direction.
Power BI Collaboration and Sharing
Power BI stands out as a data analysis dynamo and as a facilitator of collaborative efforts and smooth data distribution. In this section, we provide means of maximizing its collaborative potential:
Collaborate

Collaborate in workplaces with coworkers to generate relevant reports and dashboards.
Use Microsoft Teams to collaborate.

Dashboards and reports distribution or sharing

Share dashboards, reports, and scorecards from your My Workspace or any other workspace.
From the Power BI mobile applications, you can annotate and share.
On Windows devices and the Surface Hub, use the presentation mode to see reports and dashboards in full-screen mode.
In PowerPoint, show live Power BI report pages.
You can print reports.
Create a template application that you can share with other Power BI users using Microsoft AppSource.
Bundle workspace reports, dashboards, and scorecards into applications and distribute them to a broader group or your whole enterprise.
Reports can be included in secure portals or public websites.

Data Sharing

Create shared datasets that colleagues may use as the foundation for their reports in their workplaces.
Make dataflows to share a common data source.
To share your content, you must have a Power BI Pro license, or the content must be in a Premium capacity, regardless of whatever option you select. The license requirements for coworkers who access your material differ based on the option you select. The parts that follow provide specifics.
Microsoft Power BI Pro and Power BI Premium: Features & Benefits
Let's go through the Power BI Pro and Power BI Premium benefits, as well as their unique features.
Power BI Pro VersionPower BI Pro is a fully paid, self-service analytics product that is cloud-based. The following are the advantages of Power BI Pro:

It enables the creation of dashboards and reports.
Include them in apps.
Share with other Microsoft solutions and integrate with them.

Power BI Premium VersionPower BI Premium is the ultimate upgrade for Power BI Pro and is best suited for large companies with many users. It includes all the capabilities and functionalities included in Power BI Pro. The following are the extra Power BI Premium benefits:

Limits on data capacity have been increased.
Maximum efficiency.
The ability to disseminate reports across the organization without the requirement for a separate license for each user.
Greater size and performance (vs. the shared capacity provided by Power BI).
The benefit of keeping BI assets on-premises using Power BI Report Server.
Access to the most recent embedded analytics features, a single API surface, and a consistent set of capabilities.
Power BI mobile applications for iOS, Android, and Windows are available.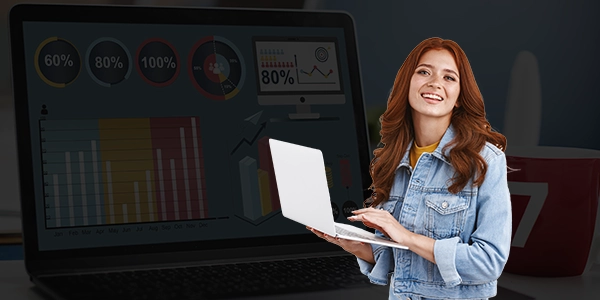 Explore an Article: Analytics and R
Conclusion
The democratization of Power BI via the Microsoft site has resulted in the establishment of a solid global community of several thousand people. Members of the group exchange tips and advice on how to utilize the platform, submit new ideas, and engage in meaningful debates. There is also a forum for the group. Being a part of the Power BI group is an excellent opportunity to integrate into the greater Microsoft family.
Using the Power BI tool, a company can scale to new levels of success. The data fluidity, along with real-time access to the dashboard by everyone on the team, might be game changers for any company by enhancing efficiency and competitiveness.
Upskill Your Workforce with Power BI Online Training
Cognixia's Analyzing Data with Power BI course will introduce you to the principles of data analysis. It provides users with data warehousing tools to help in organizing data, data exploration, and interactive dashboards.
Power BI is now one of the world's largest and fastest-growing business intelligence clouds. Microsoft was named a leader in the Gartner Magic Quadrant for analytics and business intelligence solutions for the 14th year in a row.
Cognixia's Power BI looks at the many methodologies and best practices for modeling, analyzing, and visualizing data using Power BI that follow business and technical needs.