Just as intelligence information is important for countries everywhere, business intelligence is important for organizations – small, medium and big, everywhere. Business intelligence turns data into useful, usable information, allowing for a comprehensive analysis of data to identify important trends and patterns, or any other developments that could help businesses implement strategic plans as well as establish interconnections between different functions and aspects of the business. In today's times, it plays a major role in developing the strategies and functions for a company, as well as improve the efficiency of operations for the company.
If such an important function were to combine with a revolutionary digital technology, such as, machine learning, it could have a significant impact on the insights that are drawn from the data at hand. This would, in turn, transform the business intelligence into a competitive advantage for the organization that attempts to do this.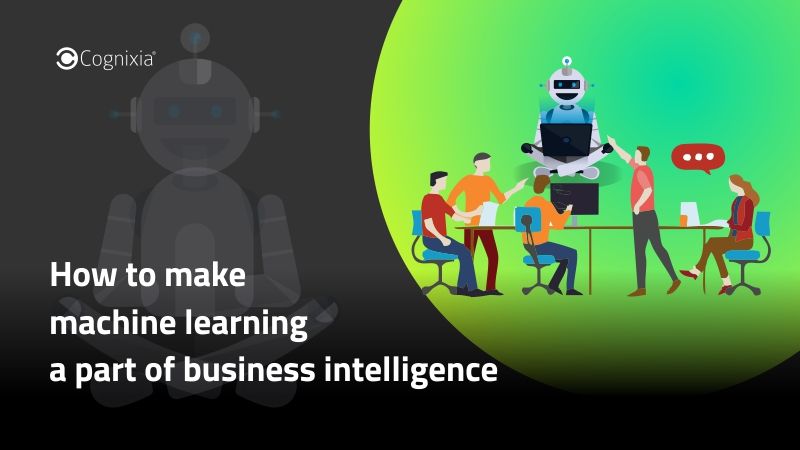 How can organizations incorporate machine learning into their business intelligence?
Improve operational functions
Personalize the customer funnels
Humanify the customer experiences
Dig deeper about each prospect
Analyze large volumes of data
Make data quality checks more effective
Derive answers to critical questions from actual forecasting
Perform real-time data analysis
Build valuable data pipelines
Stand up to cyber crimes
Improve operational functions
Machine learning can help an organization improve its operations, such as, customer services, finance, marketing, etc. Machine learning can help gather and analyze data, which can help organizations draw important insights, as well as, automate various possible processes across different operational areas.
Personalize the customer funnels
Machine learning can have major impacts on both the top as well as bottom ends of your customer funnels. This fact often misses the notice of business intelligence professionals. Machine learning can help customers feel important by personalizing the experience they have with the organization.
Humanify the customer experiences
When an organization has machine learning capabilities in their repertoire, they have the potential to derive intelligent insights from humongous amounts of data in just an instant. This could help the organization get an idea about a lot of important aspects, such as, customer sentiments, customer dissatisfaction or even how particular customer relationships could be improved. With machine learning, delivering a positive customer experience could be just an algorithm away.
Dig deeper about each prospect
With machine learning, business intelligence professionals have a special set of tools that can help them learn a lot more about each customer and each prospect. With the help of these insights from the business intelligence team, the marketing department could tailor the marketing funnel for every prospect and be able to deliver a lot more revenue than before.
Analyze large volumes of data
Business intelligence is essentially a function that involves sifting through large volumes of data. When done manually, it would take considerable time and resources, and despite that, not be able to deliver results to a full potential. With machine learning, a lot of these mining and analyzing processes can be automated, giving the professionals bandwidth to focus on high-level analysis and deriving specific behavior patterns.
Make data quality checks more effective
Machine learning and artificial intelligence can be very useful tools for a business intelligence professional as it could help them improve how they carry out their data quality checks – both, extraction and transformation. It could also help improve the data governance standards, by helping detect anomalies, identify outliers and triages, check metadata, and improve cataloging data.
Derive answers to critical questions from actual forecasting
Standard demand models in business intelligence can predict market trends, revenues and other usual values. But when machine learning is brought into the fold, actual answers can be derived. It can help organizations generate really accurate estimates of future behavior, which have a basis in large volumes of historic data. The advances in neural networks can also help facilitate making business intelligence more intelligent and reliable.
Perform real-time data analysis
Machine learning can help identify anomalies in real-time, making it possible to smoothen them out in real-time too. Without machine learning, it would take weeks to be able to identify any anomalies and frauds. Moreover, with this, efficient systems can be developed that can help prevent the same fraud/anomaly from occurring again.
Build valuable data pipelines
With machine learning, source data as well as underlying metadata can be analyzed in its native form. The results of these analyses can help build data pipelines, as well as arrange appropriate storage avenues. Machine learning analyses can also reveal correlations between the different data elements as well as recommend how best to categorize & document the data.
Stand up to cyber crimes
It is essential to analyze large volumes of data really quickly for automated protection to be able to safeguard against cyberattacks. Having mature machine learning systems in place can help autonomously collect, analyze and classify threats. By doing this, vulnerabilities decrease while also bringing down operating expenses, as well as, improving accuracy.
Machine learning is indeed a revolutionary technology that can transform so many areas of our lives and businesses. As more and more applications of machine learning are discovered and implemented, there is a burgeoning need for skilled machine learning professionals. Having a globally recognized certificate in the field of machine learning can set you apart in the crowd and make you a highly sought-after asset in the job market.


Cognixia – world's leading digital talent transformation company has been transforming the lives of individuals and corporate workforce with its path-breaking machine learning training programs for a few years now. We regularly update our curriculums and engage the best subject matter experts to deliver the trainings to our participants across multiple modalities. To know more about our machine learning training and certification programs, reach out to us today!