Recent research by The Linux Foundation shows that 92% of organizations cannot attract employees with relevant cloud computing capabilities. This has made it difficult for many companies attempting to modernize.
Furthermore, 91% of companies that have adopted cloud-based technologies use Kubernetes, resulting in a 455% growth in demand for Kubernetes certifications, according to the same survey. Similarly, Red Hat conducted a poll of IT leaders and discovered that adoption of developing cloud-based technologies is rising, with 71% using edge computing and 68% installing container technology.
While the merits of these technologies demand industry attention, deploying them has dramatically increased the complexity of cloud and IT systems, especially as more firms choose dispersed cloud architectures. As a result, the spectrum of work for both IT and DevOps teams has extended beyond what they are traditionally responsible for.
With Gartner forecasting that more than 95% of organizations to deploy workloads on cloud-native platforms by 2025, the skills shortage will continue to be a critical problem for organizations to address in the coming years. Those that are sluggish to employ appropriately trained people may lose out on opportunities to adapt, innovate, and improve the customer experience, thereby losing market share to rivals.
Talent shortage for businesses
According to recent studies, data professionals see a 63% growth in data quantities monthly at their firms. Cloud-based services should be used by enterprises to appropriately manage, store, analyze, and protect this data. However, corporations must find fresh technical talent and stop cloud technology advancements for enterprises.
The scarcity of cloud skills talent and the concurrent requirement for modernization can trap enterprises in an ongoing cycle of missed opportunities and losses. The need for innovation is obvious, yet it is not attainable. As a result, many businesses frequently look to existing teams to assist with onboarding new technologies, even if the duties for doing so fall outside of the team's area of work.
Implications of the skills gap for IT and DevOps teams
The troubleshooting, systems, and infrastructure issues hamper IT and DevOps teams and make it difficult for them to adapt to the cloud-based requirements of contemporary businesses. Many of these workers lack the necessary expertise. As new cloud-based technologies are deployed, IT infrastructures are becoming more complicated. IT and DevOps duties have subsequently increased to include safeguarding IT infrastructures, using AI and serverless, restructuring programs, managing multi-cloud technologies, and comprehending how to run intricate and various cloud technology stacks. To guarantee that modernization initiatives proceed, firms must seek solutions that simplify cloud adoption while enabling DevOps and IT teams to use current platforms, frameworks, and languages.
One strategy to meet an organization's desire for cloud-based talent is to build flexible, scalable solutions that call for some additional training and don't require a significant redesign.
For instance, businesses may easily transition from traditional to distributed, cloud-based systems. Platforms support the programming languages that programmers already use. Many firms may solve these problems by combining the tried-and-true advantages of relational databases with the adaptability, speed, and scale of cloud databases. Businesses that want to modernize to secure their organization's future should look into the technologies that may make this transition easier and help IT and development teams in the long run.
Measures for closing the talent gap
Here are three methods for bridging the cloud skills gap:
Hire people with a variety of expertise and provide training

To narrow the gap in cloud skill requirements, one solution may be to hire teams with abilities that can be trained to acquire cloud competence and then promote or provide certifications, etc. This would allow for flexibility in recruiting strategies and guarantee that there would be sufficient trained people available when the unavoidable cloud adoption takes place.

Make a plan for internal transitions

Finding the team's leaders is the first step when a business chooses to continue with its internal team. It must specifically name a product owner and a cloud architect. Because workers must understand the organization's internal procedures in addition to acquiring the necessary technical abilities, these roles need a lengthier onboarding period.

The product owner does not need to have prior cloud experience but must be well-organized and skilled at management. Ideally, they ought to be familiar with the company's protocols.

The cloud architect has to be somewhat conversant with it. Their understanding of cloud architectures will need to be combined with their capacity for productive teamwork with both businesses as well as research & development teams.

The company may employ cloud operations engineers, a DevOps team, or anybody else who fits into their cloud strategy after filling those two jobs. Leaders shouldn't take on too much. They must start modestly on a single platform with low-risk businesses. The team should continue to add personnel as needed as they settle in.

Hire people that can assist you in aligning your business with the cloud

Businesses must employ developers with DevOps training who can coordinate business workloads with the cloud. When everything they require is on the cloud, they want their IT team to be able to create custom apps so they can continue the digitalization process. DevOps steps into the picture at this point.

Businesses can benefit from low-code & no-code software development as they move programs among heterogeneous teams that may or may not have technical backgrounds. Bridging the skills gap also involves upskilling, such as training corporate divisions like finance or human resources how to use cloud-based software.

Get buy-in for the cloud from every company employee, which involves educating staff members about the aspects of the cloud that impact their daily job activities.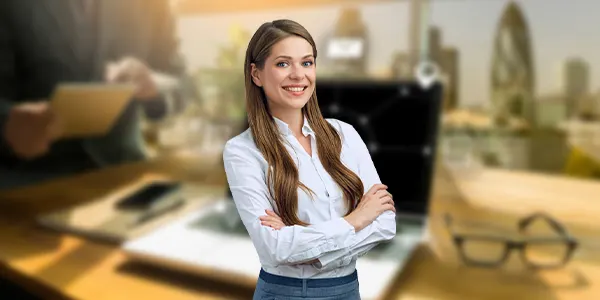 Cloud computing will continue to play a significant role in many facets of personal and professional life. Digital modernization is here to stay. Across a variety of fields, including engineering, development, database management, programming, security, and analytics, companies are actively searching for competent and experienced cloud specialists in the market today. A wider range of cloud knowledge and abilities can only be beneficial for fostering innovation, advancing careers, and retaining top employees.
Get Microsoft Azure training.
At present, Microsoft is the world's second most sought-after cloud platform after AWS. Microsoft constantly works on improving its platform and is currently working on increasing its cloud capacity to keep up with the increasing demand for Azure & Microsoft cloud services. The demand for Microsoft Azure is exceptionally high in the global public cloud market, increasing daily.
Cognixia's Microsoft Azure training is designed to help professionals prepare for the AZ-104: Microsoft Azure Administrator certification examination. With the AZ-104 training, professionals will get the upper hand in the field of a highly competitive IT job marketplace.
Enroll in Cognixia's AZ-104: Microsoft Azure training and upgrade your skills. Shape your career & future with our hands-on, live, interactive, instructor-led course. In this competitive world, we are here to provide you with an extraordinarily intuitive online learning experience, help you enhance your knowledge with engaging training sessions, and add value to your skill set. Cognixia caters to both the individuals & corporate workforce with our online interactive instructor-led courses.
This Azure training teaches IT Professionals how to manage their Azure subscriptions, administer the infrastructure, secure identities, configure virtual networking, manage network traffic, connect Azure & on-premises sites, implement storage solutions, implement web apps & containers, create and scale virtual machines, back up & share data, as well as monitor the solution.
In this AZ-104 training, you will cover the following –
Identity
Governance and Compliance
Azure Administration
Virtual Networking
Intersite Connectivity
Network Traffic Management
Azure Storage
Azure Virtual Machines
Serverless Computing
Data Protection
Monitoring