Internet of Things IoT is no more an alien concept; rather it is growing rapidly with each passing day. It is very important for the consumer to get educated around this new breed of technology as it describes product category that can or rather does include virtually everything which we communicate within our lives.
Your daily use products like fridge, TV, AC, door locks and even your toilet seat have the capacity to be a part of IoT. All that is required to establish this scenario is a sensor and a network connection. From smart homes to large industrial applications, IoT is changing the world as we know it and will affect the way we live, work and play in the future. Let us understand some practical examples which are parts of the IoT and can have a major influence on our lives.
Let's Drive
It is just a matter of time and in some years you may have a car which will be self-driven and would be able to navigate through without any human intervention. Tech-savvy brands like Tesla, Mercedes and Google are already working on the development of the next-gen vehicles which would be able to navigate your routes while you sit back and relax.
Google had started its smart car project the long time ago and till date has covered 1.5 million miles of road travel in the US. Each driven mile is a lesson in technology. Besides Google, big players from the auto industry like Toyota, Mercedes-Benz, and Honda are also making progress in the direction of developing smart cars. Tesla, which is a relatively newer brand in the automobile market, scored 375,000 reservations of its upcoming Model 3 within days of accepting them.
Such cars are rigged with cool IoT gadgets and have sensors scattered all over them. These sensors have the ability to detect hazards, track the roadway and many more such things. These cars use both on-vehicle and remote processing to determine the fastest and safest way to reach the destination. Most of these vehicles are touted to have the ability to connect to the driver's smartphone and feed them with useful information about the journey.
Internet of Things (IoT) in your Home
These days you will hardly find a home which doesn't have connected devices. The heating and cooling thermostats, security systems, kitchen appliances and other smaller objects like curtains and light bulbs are also finding a new life on the Internet of Things.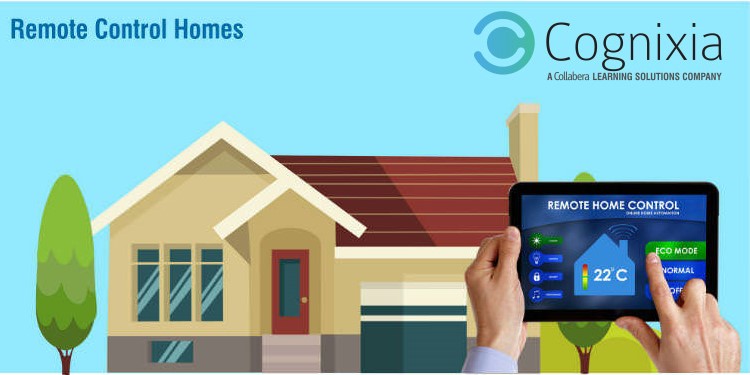 The most common example that one might hear when it comes to the Internet of Things would that be of the thermostats. About two decades ago if you needed to reset the room temperature in your home, the best way was to walk over to the thermostat and adjust it. Ten years later things were made a little simple and you were able to program the thermostat so that it would optimize the home temperature around the time you would get back from work
Things have changed drastically now and for good. All you need today is your smartphone and you can control the security system, thermostat and other gadgets from anywhere in the world in real-time.
Even your microwave has the ability to become a full-time member of the IoT environment which would enable you to set temperatures according to particular food type and adjust timers from your smartphone. IoT has the power that it can enable you to look at your food while it's cooking from anywhere in the world.
Cities becoming Smarter
Although the scale of a smart city is much larger than that of a smart home the basic concept remains the same and IoT plays a similar kind of a role. Sensors embedded in the traffic signals to carry surveillance. Multiple sensors like these planted all across the city make it easier to manage the city in a more efficient manner and enable the administration to enforce a quicker response in case of an emergency.
These days the most common sighting in a city is a traffic jam. The traffic is managed through timer-based traffic signals or through sensors embedded on the roads which tell that the cross-traffic is waiting for the signal to go green.
Now consider a scenario where we could get a larger and more comprehensive view of things like traffic on specific streets during peak hours, accident-prone areas and other reasons which cause a delay in the movement then we would be able to adjust traffic controls more efficiently and mitigate the loss of time, energy and fuel.
Industries adopting the Internet of Things (IoT)
This is another area which is and will be seeing a lot of development through the Internet of Things. Businesses however big or small they are benefited from the data which is generated by IoT devices in the workplace.
A correctly embedded sensor on an IoT device can sense any activity on the industrial machine thus eliminating the need for a worker to physically monitor it. Several machines can be monitored remotely from a single control panel thus minimizing the cost of business by reducing staffing needs.
This would allow the business houses to invest their money in other skilled employment opportunities like research and development, systems management and data science. Consumer IoT products feed a lot of information to the business which can be used to understand how the product is being received and eventually makes any necessary improvements to better the customer's experience.
We can keep talking about the examples of IoT technology in the world and the list wouldn't end. The Internet of Things is a large and continuously expanding category of products which is penetrating every sphere of our lives. This is the reason why it is referred to as the Internet of Everything.
Cognixia offers one of the finest training programs on IoT. Our IoT training will take you through the entire ecosystem of the Internet of Things and prepares you to work on real-time IoT projects. For further information, you can write to us.