The Internet of things (IoT) needs no introduction now as it has already gained much attention around the world. From wearable devices to self-driving cars people are constantly talking about the capabilities and potential of the Internet of Things. It has proved to be the most disruptive invention in the field of technology after the invention of the internet. Internet of Things is connectivity of devices (embedded with sensors) to the internet.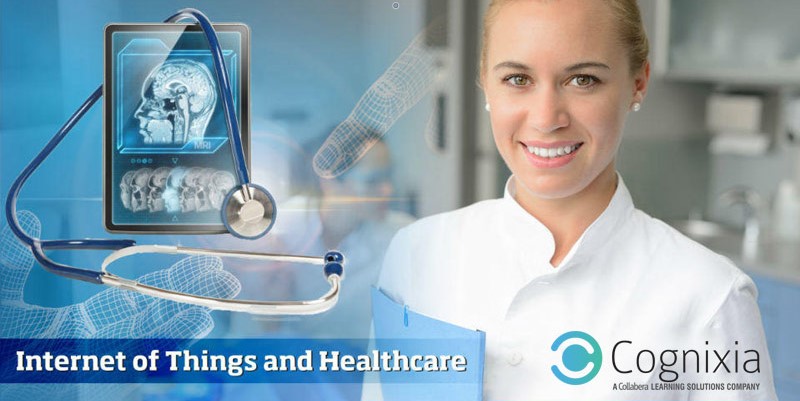 Although the Internet of Things is helping in creating smart devices for every industry, one Industry that is being benefitted the most is the HealthCare Industry. Internet and sensors connected devices have already been introduced for patients. Smart devices to monitor temperature, blood pressure, glucose level etc. are helping patients worldwide and decreasing the need for the direct patient and doctor interaction.
If a patient constantly needs monitoring, these devices can alert the doctors and family members as soon as there is an alert and before the sign becomes an emergency doctor can take care of the patient. These devices are also proving helpful for doctors as they can remotely monitor a patient who needs extra attention.
Some hospitals have already introduced the concept of "smart beds" that can adjust itself in order to provide right pressure and support to patients. "Smart beds" also detect when the bed is occupied and when a patient is trying to get up. The data that the bed generates can prove to be extremely helpful in curing the patients.
The popularity of internet of things devices in Healthcare is on the rise and many doctors and hospitals are moving towards adopting this technological advancement which will help the patients get better treatment and will also help the doctors in the effective treatment of patients.
Healthcare devices such as fall detection (proving extremely helpful for elderly or disabled living alone), medical fridges (The condition of freezers storing vaccines and medicines can be controlled), and patient's surveillance (monitoring the conditions of patients in hospitals) are proving the importance of Internet of Things in the HealthCare Industry. Internet of Things in Healthcare is projected to be close to $120 Billion by 2020.
Whatever the industry, one thing is for sure that the Internet of things is the Future of technology and there could not be a better time to get acquainted with the Internet of Things Technology. For more information on the comprehensive training of Internet of Things, please feel free to contact us