Tableau Training & Certification: Enhancing Careers to Perform; Transforming Businesses to Outperform
Skills, competencies, expertise—these words can charge your passion to perform; to give your best, to be the best. However, sometimes when your efforts are not properly channelized, especially in the right direction, these very words can become overwhelming, and drag you down from your bad to the worse. In a competitive world, the first step to success is to choose the right path to tread upon.
Certified training in latest, innovative, and disruptive technologies is one such path that is worth choosing. In this blog, we will throw some light on tableau training & certification and how it can add a significant value to your career. But first, let us start with the basics.
Introducing Tableau
What are the two most valuable assets for any organization irrespective of their size? Data and People. Leverage data and employ your analytics software that works according to the way people think. A simple mantra for success! Well, not that simple, because there are no dearth of Business Intelligence (BI) and Data Visualization tools in the market. We have our venerable Excel, technology juggernaut Microsoft's Power BI, phenomenal Domo and Qlikview, to name a few. Choosing one over the other is where the impediment arises. In such a scenario, what makes us vouch for Tableau?
When it comes to BI tools, Tableau has secured a significant place for itself.
In Gartner's magic quadrant, Tableau was placed among the few leaders in business intelligence and analytics in 2017.
Image Credit: Gartner (Feb 2017)
Gaining business insights with an interactive data visualization tool is a desirable requisite. Data must not only be understandable but also visually appealing. The aim is to communicate in the best possible way with the end-users. People who do not directly deal with data find it difficult to comprehend the outcome of data analysis immediately. Data visualization bridges this gap. And Tableau is one of those data visualization BI tools that have made an authoritative impact in the analytics world.
Areas of Application Where Tableau Rules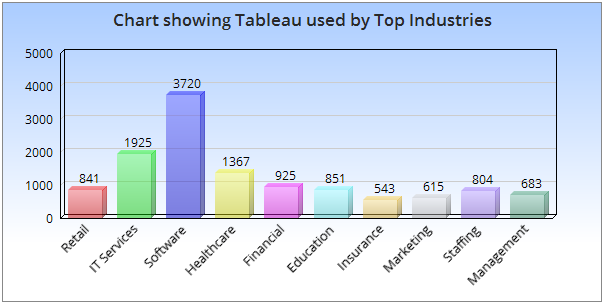 Tableau finds its extensive use in almost all the major industries. The basic version of Tableau is free and performs tasks such as categorizing and sub-categorizing data, analyzing sales data, track budget expenses, segment customers and monitor user density. These tasks form an integral part for enterprise operation and functioning in almost every industry.
Emerging Roles for Tableau Professionals
Knowledge of analytics and expertise in Tableau can take you very far and high in your career. We are living in a competitive technology world driven by innovation and transformation. Big Data, Artificial Intelligence, Machine Learning, Deep Learning, Cloud Computing, and the Internet of Things are some of the technologies that are pervading almost every industry and are expected to surge further in future. These developments, when taken into consideration from the perspective of an analytics platform like Tableau, can give rise to many roles, which although not new, can emerge as if from the ashes. Some of these roles are:
Tableau Consultant
Change Manager
Model Developer
Data Visualization Analyst
Data Strategist
Workflow Integrator
Data Quality Operator
Is the Job Market Hot for Tableau Professionals?
Yes, it indeed is no matter what your definition of the term "hot" may be! With the humongous amount of data generated, the need for a tool to analyze data, big data, as they say, will be indispensable to derive actionable insights from it. Tableau, the leader in Gartner's magic quadrant, fits perfectly like the last piece of a jigsaw puzzle.
Based on a study by ITC, there will be 50 times more data generated by 2020 compared to the amount of data in 2011.
In terms of salaries, the average remuneration for a professional skilled in Tableau is $106,000 with the highest being $150,000. And if you are someone for whom brand name matters more than remuneration, then have a look at the list of companies consistently hiring Tableau experts:
Facebook
General Motors
Bank of America
University of California
Sunguard
Verizon
Dell
Sony Electronics
What more is left to be said about the importance of embracing tableau training for a prosperous career!
Does Enterprises Need Tableau Professionals?
Business Intelligence and Data Science are the two pillars on which enterprise decision-making resides. And these two sciences are heavily dependent on data visualization tools. Tableau, as one of the most formidable data visualization software, showcases insights by presenting data in an interactive, visually appealing manner. With capabilities ranging from real-time data analytics to cloud support, Tableau with its specific tools can drill down data to comprehend its visual impact that can be grasped easily by any individual.
"After reviewing several options, we found Tableau to be the most adaptable and affordable to our needs. It can connect to data sources of several types and can consolidate these varied data into meaningful and easily comprehendible information." — CIO in the Education Industry, August 24, 2017
Tableau professionals are almost indispensable for every organization that wants to facilitate effective decision-making and efficient business forecasting based on a deeper understanding of trends.
Why Be a Cognixia Tableau Professional?
The demand for Tableau professionals is increasing continuously, due to which more and more individuals are bent on incorporating this skill into their repertoire. One of the best ways of achieving this is to go for Tableau training and certification from a recognized and professional training provider.
Cognixia – A Collabera Learning Solutions Company offers comprehensive Tableau Training to students and professionals. Our online training and courses incorporate the latest updates and are devised by industry experts endowed with both skills and experience. Enroll with us today and boost your career growth as a Tableau expert today. For any query Contact us.
~ Sunny Shah