There is hardly any industry left that is not touched by the magic of IoT. Since the time it was introduced, IoT has been a revolution, completely changing the way everything was done and obviously for the better. Every industry has gained tremendously from IoT but one industry that has been completely revolutionized is the manufacturing industry 4.0. Smart manufacturing management was already improved with the help of various ERP solutions but IoT has made the actual manufacturing smarter and much more efficient.
The Internet of Things is basically a technology that connects devices to the internet and the real-time data can be captured. With the help of machine learning algorithms, this real-time data can be analyzed and improvements can be made immediately. Smart manufacturing with the help of IoT is about capturing all available information from the plant floor to the supply chain and after analyzing the information in real-time.
With the help of machine learning, data is transformed into actionable insights and thus, increasing the overall productivity. This will also help in streamlining and optimizing business processes, systems, and devices. IoT has been contributing tremendously in improving the overall manufacturing process.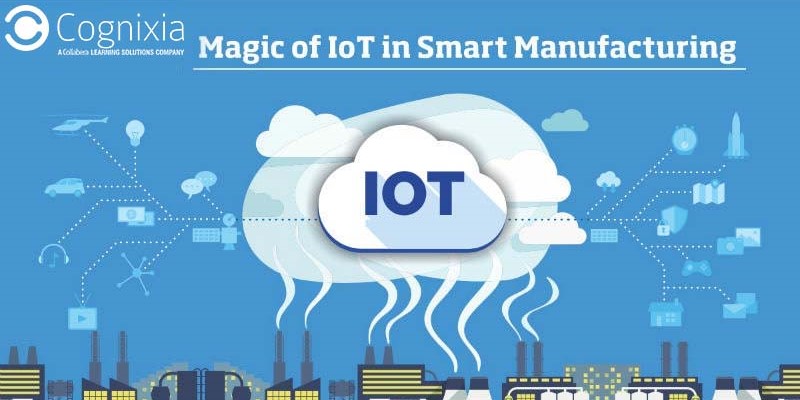 Manufacturing giants like Caterpillar, Airbus, and Siemens have been using IoT for automation of the production process and they have been successful in reducing time, money, and manpower. Also, there has been a considerable increase in the quality of products.
IoT, along with machine learning and artificial intelligence, is also making machines smart. By giving them the power to take a decision based on the continuous analysis of data that they generate and thus, reducing the human intervention which in turn will reduce the time it takes to solve a problem.
Robots powered by IoT have become a very common sight across manufacturing plants. The sensors in the manufacturing unit continuously monitor temperature, humidity, air pressure, and other vital real-time information; this data can be used to ensure the optimal utilization of machines and can also be used to control unexpected incidents.
No other technology has been more disruptive than IoT; everyone now realizes the importance of IoT and understands that it can be used to make things, processes, devices, etc. more effective.
The demand for IoT and related technology is growing by each passing day. This is the right time for professionals who want to make a career in the century that belongs to the 21st century. For more information about IoT and how you can make a career in this field, contact us