Project Management Professionals (PMP) certification is an industry credential for Project Managers. PMP substantiates the experience, education, skill and competency required to lead managers and direct projects. Project Management Professionals are required in every industry.
The demand is in terms of the skill requirements which vary between different industries and geographies. A survey carried out by PMI (Project Management Institute) in 2014, very rightly forecasted that there will be huge opportunities for Project Management Professionals, a trend that is confirmed to increase in the coming years.
There will be PMP's leading projects in almost all the countries. For many of the Project Management jobs, it is even a mandatory qualification. A project manager working in any industry – be it manufacturing, defence or IT – can write the PMP exam and upon successful completion, can become a PMP.
The employee with the Project Management Professional's salary ranges by job: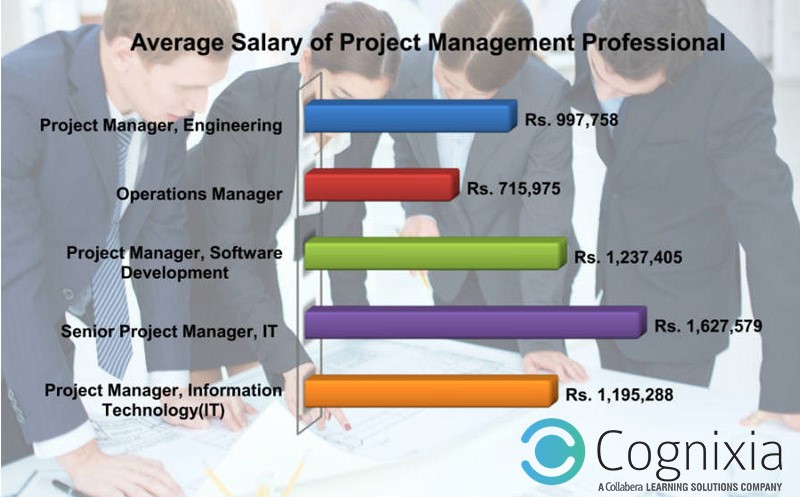 PMP also grows your career prospects. PMP indicates that you can speak and understand the Project Management Language globally and also connects you to the community of professionals, organization and experts worldwide. PMP Certification is globally recognized and doesn't bind you in any geographical constraints. You have the standardized knowledge set and the credentials to prove it. When applying for a job against competitors, having the credentials in hand will put you ahead of those who do not. A PMP Certification will give your earnings a boost and also, it will give you great networking opportunities.
PMP course also benefits your organization in several ways such as:
The exclusive know-how brought in by the PMP professional.
Better training delivered to other staff by the PMP certified trainer.
Accurate evaluation of potential employees and team members.
The improved success rate of projects (in every area of knowledge)- a skill much preferred by Governments and large enterprises
Once trained, we provide "Cognixia PMP Certification" which is recognized in the industry and also, provide placement assistance to qualifying students. With over two decades of experience in the industry, Cognixia is well recognized among its leading Fortune 500 and 100 clients. Cognixia's PMP online course offers easy and affordable learning across the globe by providing a state-of-the-art platform which can be accessed from anywhere.