With the development of technology over the last few decades, project management has become an essential skill. There will be a change in technology with the incorporation of artificial intelligence into the apps, but your teams' cultures and the way you use the data the A.I.-based systems produce will be the real drivers of your success.
And with the introduction of Artificial Intelligence (AI), project management has undergone a major transition. Project managers must capitalize on this technology to improve their talents and promote effective project results as India adopts the potential of AI.
You must consider the qualities and data that artificial intelligence will offer, such as characterized data, to comprehend how this position will change because of AI. The ability to make decisions and recognize potential risks will be much improved with the availability of enormous volumes of data from both inside and outside an organization.
Let's explore how AI integrates into project management processes, its advantages, challenges, and best practices for thriving in the AI era.
Artificial Intelligence (AI) in Project Management
Artificial intelligence (AI) in project management practices has changed the way projects are set up, carried out, and managed. Artificial intelligence (AI) automates operations, analyses data, and provides important insights.
According to Gartner's study, AI will perform 80% of project management operations by 2030. This will be backed by machine learning (ML), big data, and natural language processing. A small group of scholars, such as Paul Boudreau in his book Applying Artificial Intelligence Tools to Project Management, as well as an increasing number of firms, have already created algorithms to apply AI and ML to project management. When the next generation of tools is generally adopted significant modifications will take place.
Artificial Intelligence (AI) Transforming Project Management
AI is changing the way firms approach project management by streamlining tasks, improving communication, and facilitating better decision-making. Let's have a look at how it changes project management—
Task automation:

AI automates routine project management tasks, like organizing meetings, allocating work, and checking progress. Automation helps enhance accuracy. AI can also help in streamlining communication among team members by sending notifications when tasks are done, or modifications are needed.

Predictive analytics:

AI predictive analytics helps project managers in estimating project completion timeframes and possible challenges. This helps in the identification of possible risks and their resolution before they become serious difficulties. Project managers can leverage AI's predictive analytics feature to know which processes are more important. They can assess resource restrictions and forecast project delays as well.

Project risk management:

AI also uses historical project data. And with this feature, project managers can develop more effective risk management plans for different kinds of projects. With this, the risk assessment accuracy gets better. It also reduces the risks of overlooking possible threats. Since AI can utilize historical project data, it is easier to identify patterns. And with that information, project managers can generate risk management plans according to a project's requirements.

Resource Planning and Optimization:

Project managers can use AI to get the real-time allocation and optimization of resources. With this, they can see how and where their resources are being utilized and plan for more efficient and effective usage. Proper allocation and optimization lead to cost reduction and the project success rate boosts as well. AI can also monitor the usage of resources and their availability in real-time, which makes allocation modifications easier as well.

Collaboration with Team Members and Stakeholders:

AI offers project management solutions that help in team efficiency. With these tools, teams as well as stakeholders can stay in the loop with the project's progress and make better decisions more rapidly. Furthermore, AI may assist teams in staying organized and on track with their projects by sending out automatic reminders when tasks need to be finished or updates are needed. This can help teams collaborate more efficiently and effectively to achieve their goals.
Data and people are the future
How will you ensure that your organization is ready for these technologies when they become available? Any AI adoption process starts with data, but you must also prepare your people.
Large volumes of project-related data will be required to train AI systems to manage projects. Your organization may have troves of historical project data, but they are probably distributed across numerous systems in thousands of documents in a variety of file types.
The data may be out of date, utilize other taxonomy, or contain outliers and gaps. Approximately 80% of the time spent preparing a machine learning algorithm for usage is spent on data collecting and cleaning, which turns raw and unstructured data into structured data that can train a machine learning model.
The AI revolution can never happen at your organization unless data is available and correctly handled — but no AI transformation will thrive unless you also prepare yourself and your teams for this change.
The most recent wave of tools will not only transform the technology that governs how we manage projects, but it will also fundamentally alter our work on the project. Project managers must be ready to guide and educate their staff for them to adjust to this change. They should focus more on interpersonal relationships while identifying and addressing technical skill gaps in their employees early on. In addition to focusing on project deliverables, they should concentrate on building high-performing teams in which members receive everything they need to function at their best.
Considerations when Using AI
The process of implementing artificial intelligence into your corporate operations encourages development but raises as many concerns as it does potential. The concerns stated here may not apply to everyone, but they are worth considering. They fall into the following categories:
Accessibility and Security

As the number of systems linked to A.I. grows, internet security will become increasingly important. A significant amount of work will be required to guarantee that the systems are virus-free while accessing information given by AI-based systems. Preventive measures must also be implemented to protect A.I.-based systems against viruses introduced by hackers and competitors. To avoid data leaks, defense systems used by the government will need to include cybersecurity aspects.

Ethics

When assessing a scenario that needs subjective assessment, we use emotions and rationality as humans. While A.I. systems are intended to give advanced computing skills, they are best suited for circumstances requiring objective analysis. To get to an ideal condition, certain circumstances need a subjective decision that may rely on ethical considerations. Artificial intelligence systems will need to be trained to make judgments based on the distinction between good and wrong.

Accountability

Consider this scenario: a bank utilizes an AI algorithm to propose credit card applications for acceptance. A group of rejected candidates files a lawsuit alleging that their rejection was based on their race or ethnicity. Given that the judgment was based on a complicated algorithm incorporating neural networks, how does the legal department judge the merit of this lawsuit? Even if they have access to the method, getting a solution may be difficult. When building an algorithm to replace humans, all variables that pertain to humans executing their jobs in society must also apply to machines.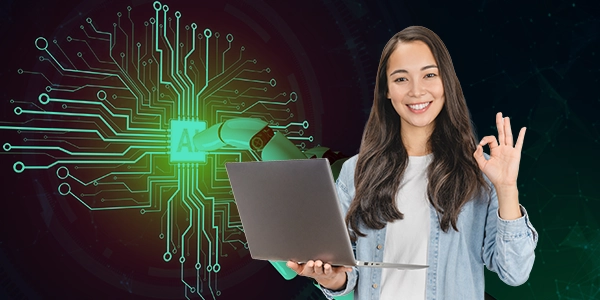 Read a Blog Post: Scrum Master vs. Scrum Product Owner – what is the difference?
Conclusion
The advancement of artificial intelligence will alter how we live and push us beyond our processing capacities and prejudices. Many professions, including Project Management, will change. Our success as project managers will be determined by our capacity to think and create with the massive amount of processing power that AI will provide. Leadership, teamwork, and communication are the most crucial components of our employment, and these responsibilities will not be completely automated in the next decade.
With the introduction of artificial intelligence, project management will reach new heights. PMs will be able to use AI's expanded insights to plan, execute, and manage projects more effectively than in the past.
Learn PMP with Cognixia and upskill yourself!
The Project Management Professional (PMP) certification is the most sought-after project management qualification. PMP certification enables project managers to operate remotely across several sectors and from anywhere globally.
This PMP online training includes a variety of concepts. It explains the distinctions between project management & operations management. Cognixia's PMP Certification Training has been intended to assist managers/professionals in managing projects more efficiently and effectively by utilizing the Project Management Life Cycle.
Cognixia – the world's leading digital talent transformation company – offers learners the official PMP-PMI Certification Training. We provide an extensive online PMP training program that consists of multiple project management training modules. This PMP training course will cover a wide range of topics – taking you through various aspects of project management & operations management.
This PMP certification course has been designed to help you manage big projects more efficiently and effectively with the help of the Project Management Life Cycle.