Scrum Master and Project Manager are two terms that we hear a lot in the industry. Both of these positions help the projects. However, they cause considerable confusion among young professionals who have freshly entered the project management arena. It also applies to recent graduates who want to pursue a career in this area or start a CSM certification course. They are still uncertain about which job to pursue as a profession. Many often get puzzled as to whether both these responsibilities are distinct or interchangeable. And, if they're the same, why are they given separate names?
In an agile organization, some individuals believe the Scrum Master to be the Project Manager. They are partially correct, but not entirely. These two positions do, however, overlap to some extent. They are vastly distinct from one another. Scrum Master helps agile projects by using Scrum project management approaches. A Project Manager, on the other hand, frequently relies on classic disciplined project management concepts.
A Scrum Master is a job that is particular to a Scrum team, whilst a project manager is an expert in charge of nearly any form of project. While a Scrum Master's major focus is on directing a team to adhere to Scrum principles, a project manager is concerned with the practical aspects—budgets, timelines, communication plans—as well as keeping the team on track & motivated.
This blog explains the distinctions between these two jobs. Suppose you are currently a Project Manager and want to become a Certified Scrum Master or vice versa. Read ahead to understand both roles – What exactly is a Scrum Master? What exactly does a Project Manager do?
Who is a Scrum Master?
The Scrum Master's primary job, or goal, is to oversee the (administration of) the Scrum Framework by promoting & supporting Scrum as outlined in the Scrum Guide. The Scrum Master is responsible for helping their teams or individuals in understanding and implementing Scrum theory, practices, rules, and ethics. The Scrum Master is the Scrum team's servant-leader, who facilitates collaboration and interaction between the Scrum Team and its environment to optimize the value generated by the Scrum Team.
What does a Scrum Master do?
As previously stated, a Scrum Master is a servant leader. They also assist the product manager as well as the development team. Let's break down the Scrum Master's responsibilities into the following categories:
Scrum Master duties and product owner services
Assists the product owner in efficiently managing the product backlog and devises ways to do so.
Assists the product owner in expressing the development team's precise product requirements.
Assures that the product owner knows how to manage the product backlog and optimize value.
Manages scrum events.
Scrum Master's responsibilities toward the Development Team
Trains and mentors, the team to meet scrum rules.
Assists in the removal of barriers and obstructions to the team's success.
Assists the team in delivering high-value results while maintaining team chemistry.
Assists the team in delivering high-value results while maintaining team chemistry. Manages and schedules scrum events and scrum meetings.
Trains and assists the team in adopting the scrum structure. Especially if the crew is unfamiliar with scrum rules.
A Scrum Master also plans for scrum implementation in businesses and assists people who are transitioning into an agile environment or adopting Scrum.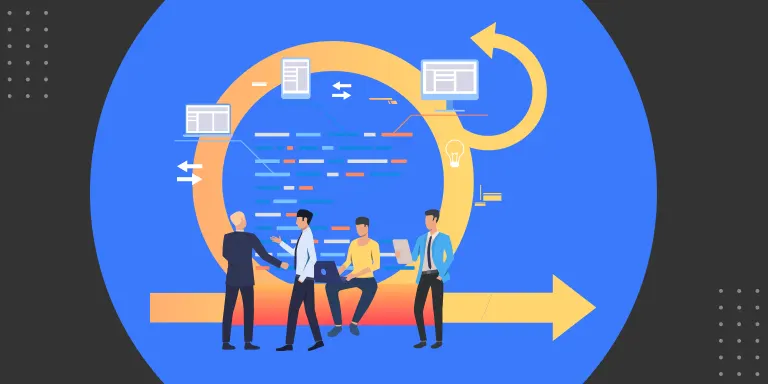 Read a blog on:
How is the market for Scrum Masters in India in 2022?
Who is a Project Manager?
The Project Manager is the person that's in charge of project management regularly. As a result, this position cannot be shared. The Project Manager manages the project on account of the Project Board and communicates with the Project Board & Project Assurance all through the project. The Project Manager is normally appointed by the client. Except for the Managing a Project and Leading Product Delivery procedures, they are in charge.
What does a Project Manager do?
Project managers are experts that organize a team to guarantee that projects are finished on schedule, on budget, and with all of their objectives met. They are frequently entrusted with conducting meetings, developing schedules, managing budgets, negotiating between the stakeholders and team members, and risk management.
Project Manager responsibilities
Develop and oversee the business case.
Change management and change requests (to Time, Scope, and Budget).
Manage the organizational structure of given projects.
Develop and maintain project plans such as the Project Plan, Project Initiation Document, Gantt Charts, and others.
Monitor and evaluate project/team progress.
Quality control.
Project risk identification, track, and management.
Provide administrative support for the project.
Help with configuration management or project management tools.
Administer the Change Control Approach's configuration management procedures.
Differences between Scrum Master and Project Manager
Let's understand the difference between these two roles –
A Scrum Master strictly adheres to the scrum rules and supports the scrum architecture. While project managers have the freedom to tailor their strategy, which can vary from flow to adaptive. The right strategy is chosen depending on the project requirements.
A Scrum Master makes significant contributions to the knowledge areas of resource management, scope management, and quality management.  A Project Manager is a part of all 10 areas and contributes to all project management knowledge areas.
Scrum Masters lead smaller scrum teams. They are accountable for the success of their tiny scrum team. Whereas the Project Manager manages a larger crew. Program Managers, in particular, manage various project teams. Thus, unlike Scrum Masters, Project Managers are accountable for the success of numerous project teams.
Scrum Masters conduct regular scrum meetings. While the Project Manager creates a meeting schedule and communication strategy. The Project Manager determines and plans the frequency of these project meetings.
The Project Manager creates the team member's work schedules and assigns duties. A Scrum Master trains and inspires the team on Scrum.
Project managers are responsible for planning and scheduling the scope of project activity. In certain circumstances, they even help to determine the project budget. Scrum Masters, on the other hand, are more focused on optimizing the product value based on user stories.
Both of these professions need distinct abilities and, as a result, require different credentials. For project management responsibilities, a Project Manager gets PMP certification. A Scrum Master obtains certification from the Scrum Alliance.
Both positions are industry-specific. A Scrum Master works in IT or a related area, whereas a Project Manager manages a project in any business.
Begin your Scrum Master journey with Cognixia
Take advantage of online certified scrum master training if you want to pursue a profession in project management. Scrum Alliance awards the CSM credential to learners who have completed a Certified ScrumMaster course and verified their expertise through the CSM test.
As a Certified Scrum Master, you can perform the following functions:
Assist your project teams in effectively implementing Scrum.
Contribute knowledge beyond that of a project manager.
Assist your team with cooperation and structure by acting as a 'servant leader.'
Defend your team against both internal and external distractions.
The need for Scrum Masters has grown tremendously as more businesses adopt agile methodologies. Therefore, the CSM certification course is already so popular. As a result, getting a scrum master certification online is highly advised.
Get enrolled in certified scrum master training online with Cognixia – the world's leading digital talent transformation company.
We are dedicated to assisting learners in shaping their professions and futures in this competitive world by offering them comprehensive digital technology training and certifications. We're here to provide each aspirant with the finest online learning experience possible. We help them expand their knowledge through interesting training sessions and add value to their resume. Cognixia provides highly engaging instructor-led courses to both individuals and organizations.
Under this online certified Scrum Master training, you will cover the following –
Agile Thinking
The Scrum Framework
Implementation Considerations
Scrum Roles
The Scrum Team Explored
Agile Estimating and Planning
The Product Owner
The Scrum Master Explored
Prerequisites
Participants must have a basic understanding of software development concepts to take this Scrum Master course from Cognixia. This CSM course is mainly for –
Members of Scrum teams – developers, Scrum Masters, and product owners
Managers of Scrum teams
Teams transitioning to Scrum
Professionals intending to pursue the Professional ScrumMaster certification