"Once a new technology rolls over you, if you're not part of the steamroller, you're part of the road."
– Stewart Brand
Some technologies fizz out over a period of time while some stay on the sidelines and then gain traction after startups, SMEs, and other MNCs fund it or integrate it in their operations. Regardless of changing trends, technology is inevitable. As time passes by, technology gets more and more advanced and pervades every facet of our lives from the way we live to the way we work. Driverless electric cars, AR and VR technology, and robot surgeons are some talk of the town technologies that have created a revolution that will grow for as long as humans continue to advance in their capabilities. These would become more popular by the year 2020. Without further ado, here are top 5 technology trends for 2020: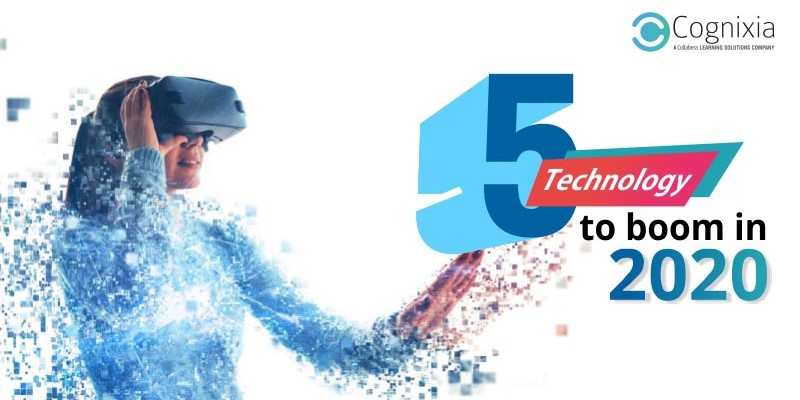 Automation
From wrapping juice boxes to delivering juice cartons in self-driving cars, automation is climbing the food chain from doing routine tasks to a lot more complex, decision-making tasks. Amazon's automated grocery store, Amazon Go, is designed with an aim to eliminate checkout lines faster and enhanced shopping experience. This has been the first major tech triumphs of the year.
Automation has moved ahead from its involvement in the production lines. This technology will have far-reaching implications as there are a number of ways automation will create its presence around us by 2020.
The global home automation market is expected to reach $116.26 billion by 2026, at a compound annual growth rate of 6.8%, stated on a report published by Transparency Market Research.
Artificial Intelligence
Artificial Intelligence is diffusing at a lightning speed. It has continued to make its place in the list of top technology trends since quite some years now. With its present innovations that enables computers to read (study messages and reports), see (using facial recognition), listen (Amazon echo), and speak (Siri, Alexa, Google's voice assistant), and even record emotions (through affective computing) will help AI become a technology that no longer needs human intervention to aid its learning. By 2020, the innovation will be deeply entrenched in both business and consumer activities.
The global AI market is expected to reach $35,870 million by 2025, at a compound annual growth rate of 57.2% from 2017 to 2025, according to a research report by Grand View Research.
Cloud Computing
The future belongs to the Cloud Computing. With recent advancements in the technology sphere, cloud computing is poised to undergo a massive development and change by 2020. All you need is a device connected to the internet.
The global cloud services market is projected to reach $555 billion by 2020, growing at a compound annual growth rate of 17.6% from 2014 to 2020, according to a research article by Allied Market Research.
Blockchain
We are now beginning to understand the disruptive potential of Blockchain technology through Bitcoin innovation and there are many more upcoming applications that will change the ecosystem of this planet. People who are currently unaware of what Blockchain and Cryptocurrencies will start doing their everyday transactions with them in the near future.
Blockchain technology is definitely here to stay. While prevalent in only a handful of industries right now, by 2020, the world will see its mass adoption.
The global Blockchain market is estimated to reach $7,683 million by 2022, at a compound annual growth rate of 79.6% from 2017 to 2022, as published in a report by Markets and Markets.
Internet of Things
Smart homes, smart cities, smart devices are concepts that are already in play today. It is evident that almost everything from TVs, water heaters, microwaves, refrigerator, etc will be smart and intelligent in the coming years. There will be a series of new entries in only a matter of time. It is projected by HIS that there will be over 75 billion connected devices by the year 2020. Undoubtedly, the future belongs to the Internet of Things devices.
The global spending on IoT is projected to reach $1.3 trillion by 2020, at a compound annual growth rate of 14.4% through 2017 to 2021, according to IDC.
The bottom line is, technology doesn't wait for you and if you are not keeping up with it, you will surely be left in the dust. Keeping up with the latest technologies will accelerate your career success. Getting more functional means getting more competitive, so call us today and let's find out what we can do for you.