When we think of robotics, it is often in association with manufacturing, oil and gas exploration or drones. However, robotics process automation is transforming businesses everywhere, across all industries.
Companies across the world are gradually moving towards adopting artificial intelligence and machine learning to enhance efficiency and automate routine, mechanical tasks. At the same time, robots are becoming increasingly intelligent and smart, with some of them even having capabilities to interview candidates for a job, review thousands of resumes, and even replace lawyers! They have the potential to empower businesses to make more informed decisions and be more effective at what they do.
If we consider the pioneering Watson-powered Pepper robot, created by IBM and Softbank, it can read up to 800 million pages of data in just one second. Pepper is currently employed at banks and retail businesses in Japan.
Robotics Process Automation (RPA) is a technology that was considered to be on the edge just about three years ago, but is now on the verge of mainstream adoption. The ISG Automation Index states that RPA brings down costs for organizations by up to 39%. Moreover, it also predicts that by 2019, about 72% of the companies surveyed, intended to deploy RPA.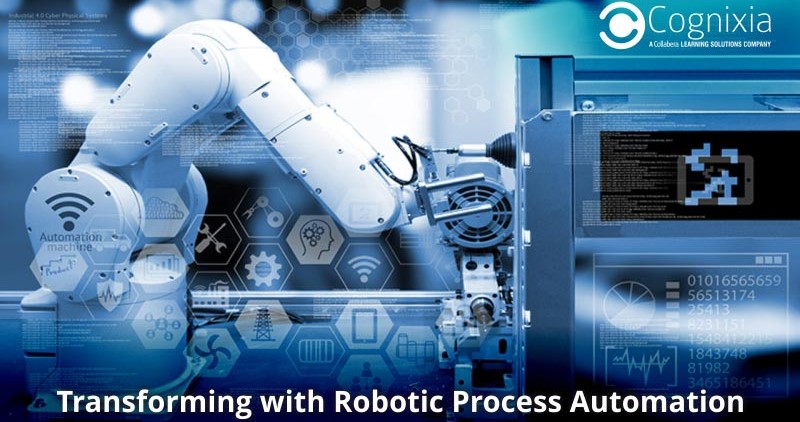 What businesses are saying
Capgemini reports that only 39% of businesses use RPA currently. A research by Symphony, a Robotics Consultancy found that 23% of businesses reported that the time for RPA adoption to become 'business as usual' had already arrived 2 years (2016) ago, while 40% said it happened more around last year (2017) while there is another 37% that says it would happen sometime in the next five years. As a result, Symphony has declared 2017 to be the year of 'End of the Beginning' for RPA.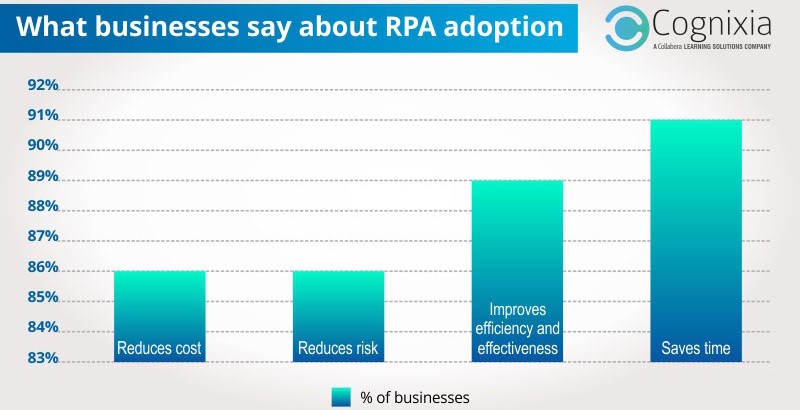 Source: The RPA Survey, by Symphony Ventures
Take a Center-of-Excellence Approach to Implementation
Whenever a new technology has to be adopted by a business, establishing a center-of-excellence has always been a preferred approach for most organizations. This approach has been proved to be a great way to retain knowledge – both institutional and technical while also making the best use of available resources across different departments of the organization. This approach would also ensure that any investments made into adopting RPA and putting it into practice are in complete alignment with the overall direction of the business and the corporate strategy.
Once adopted, use it everywhere!
The possibilities of RPA in a business environment are countless, each more exciting and interesting than the next. Research has found that before the businesses adopted RPA, only 3.1% of the businesses thought that a large majority of the business processes could be automated. However, once they adopted RPA, this number shoots up to about 36.4%! Once an organization adopts RPA, millions of opportunities and possibilities open up, there's scope to implement it everywhere you see!
Responsibilities are changing, jobs are not being eliminated!
ISG, in its latest report has found that with the advent of RPA, the nature of responsibilities of employees change, their jobs are still safe and secure. It is tasks that get automated; the need for people still stays. Automating tasks gives employees a wider scope to use their potential by freeing them up from redundant, mechanical, repetitive tasks
With the changes brought about by RPA, professionals would need to update their skills. How about becoming skilled business analysts dedicated to making business processes faster and more efficient? How about becoming a RPA expert and manage compliances or RPA valuators who decide what automates next in the organization or even RPA evangelists who could be a promoter of the technology in the organization, manage the change and ensure that the initiative is a success?
A P&S Market Research has predicted that the robotic process automation market size is expected to reach $8.6 billion by 2023, growing at a CAGR of 36.2%. During this period, the Asia-Pacific region is expected to be the hub of all the development and adoption, and would be the area exhibiting the fastest growth in the sector.
Cognixia, an e-learning and digital transformation preceptor, is an exclusive partner with renowned robotics process automation solutions provider – Automation Anywhere, and is helping thousands of students, professionals and corporate organizations upskill themselves and learn the latest concepts and techniques of RPA. Cognixia strives to offer the best training deliverables with the perfect blend of theory and hands-on training instilling best practices. With industry experts as instructors and state-of-the-art infrastructure, we try our level best to make the whole learning process successful.