Cloud technology is the backbone of modern technological growth and a trailblazer for the next generation in the modern tech sector. During the early stages of the COVID-19 pandemic, businesses began incorporating the work-from-home concept and numerous digital technologies into their operations.
Another unintended consequence of this new distant working norm was the rise of cloud models. And, when enterprises began to embrace cloud models at a quicker rate, the models themselves began to evolve faster. As a result, cloud technology has grown tremendously in recent years.
The continued broad use of cloud computing has been a primary driver of several of the most disruptive tech developments, like artificial intelligence (AI), remote & hybrid working, and the internet of things (IoT). We may anticipate it to become a facilitator of many more technologies in the future, including virtual and augmented reality (VR/AR), cloud gaming, the metaverse, and perhaps quantum computing.
Cloud computing enables this by eliminating the need to invest in the costly infrastructure necessary for these heavy computer applications. Instead, cloud service providers offer it "as-a-service," meaning it runs on their servers & data centers. It also implies that businesses may skip hiring or training highly specialized teams if they want to take advantage of these game-changing technologies.
Companies will continue to use cloud services in 2023 to access new and innovative technologies while driving efficiency in their operations and practices.
Here is a list of some top cloud trends we feel will have the most influence:
Investing more in cloud security & resilience

Migrating to the cloud opens up new possibilities, efficiency, and convenience, but it also exposes businesses and organizations to a new set of cybersecurity dangers. Furthermore, the rising body of regulations governing how businesses can hold and use personal data means that the possibility of penalties or (worse) losing their customers' confidence is a genuine issue.

As a result, expenditure on cyber security and resilience will become even more critical in the next year, from data loss to the impact of a pandemic on global commerce. However, as many businesses attempt to cut expenses in the face of a predicted economic downturn, the emphasis will likely be on finding innovative and cost-effective ways to maintain cyber security to get the most "bang for the buck." In 2023, this would imply more use of AI and predictive technologies meant to detect attacks before they cause issues and increased usage of managed "security-as-a-service" providers.

Multi-cloud to become a more popular option

Adopting a multi-cloud infrastructure implies abandoning potentially harmful business methods such as designing apps and processes just for one cloud platform, including AWS, Microsoft Azure, or Google Cloud.  Because containerized applications are becoming more common, businesses may swiftly migrate their applications to new platforms if service levels change or more cost-effective solutions become available from alternative providers. While most businesses (70%) claimed they were still committed to a single cloud service provider in 2020, projections show that by 2023, 84% of mid-to-large businesses would have embraced a multi-cloud approach, putting it as one of the year's defining trends in cloud computing.

Cloud is driven by AI and ML

Because few organizations can construct their own AI infrastructure, artificial intelligence (AI) and machine learning (ML) are available as cloud services. Data collection and algorithm training need massive quantities of computational power and storage space, which is often more cost-effective to rent as-a-service. Cloud service companies are increasingly reliant on AI for a variety of activities. This involves managing the enormous, dispersed networks required to supply storage resources to their clients, regulating data center power and cooling systems, and powering cyber security technologies that keep their data secure.

As hyper-scale cloud services companies like Microsoft, Amazon, and Google continue implementing their own AI technologies to provide more effective and affordable cloud services for their clients, we may anticipate seeing further innovation in this area in 2023.

No-code or low-code cloud services

People are becoming increasingly interested in tools and platforms that let anyone build apps and utilize data to solve issues without learning to write computer code. This category of low-code and no-code solutions includes tools for developing nearly any type of digital solution that businesses may want. With the availability of low-code &  no-code options for building AI-powered apps, there are fewer entry hurdles for businesses looking to use AI and ML. Many of these services may be accessed as-a-service by customers without needing to own the robust computer equipment required to run them themselves since it's available via the cloud.

Designing websites, creating web apps, and automating spreadsheet tasks are just a few tasks that users can now complete without needing coding expertise, thanks to tools like Figma, Zoho, and Airtable. In our opinion, this is an area where cloud technology will continue to prove itself useful through the year 2023 and beyond.

Cloud gaming innovation

We now watch movies or TV series and listen to music differently thanks to streaming services like Netflix, Apple TV, and Spotify that the cloud has brought us. With Microsoft, Nvidia, Sony, and Amazon providing services in this area, streaming video gaming is undoubtedly on its way to becoming more popular but is still gaining traction. Google invested millions of dollars in the Stadia streaming gaming service before shutting it down last year due to a lack of demand, albeit not everything has gone well. One of the issues is the networks themselves; streaming video games uses more bandwidth than streaming music or films, so it is only possible for those with a decent, high-speed internet connection, which is still a small percentage of the population.

Cloud gaming may start to take off in 2023 due to the continued implementation of 5G and other extremely fast networking technologies, which should finally solve this issue. According to Google, the technology that underpins Stadia will continue to exist as the foundation of a B2B game streaming service currently being developed and will enable game creators to offer streaming features directly to their consumers. If cloud gaming turns out to be the "killer app" for 5G in the same way streaming video and music were for 4G and 3G, respectively, then 2023 may be the year that everything will come together.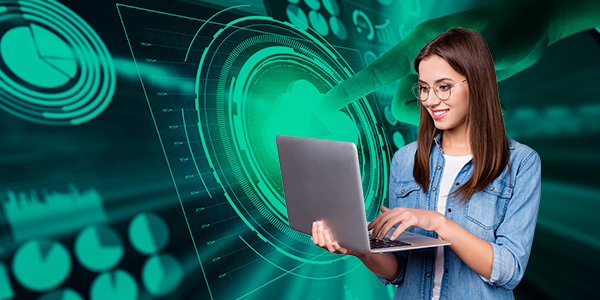 Read a Blog post: What is Virtualization and why do you need to know it?
Final Words
The cloud technology revolution will continue to advance quickly in 2023 and beyond. More and more enterprises and organizations will move their operations to the cloud to address their business problems. Along with these five significant developments, the cloud computing industry may also experience serverless computing, cloud monitoring, and disaster recovery.
Microsoft is the world's second most sought-after cloud platform after AWS. Microsoft constantly works on improving its platform and is currently increasing its cloud capacity to keep up with the increasing demand for Azure & Microsoft cloud services. The demand for Microsoft Azure is exceptionally high in the global public cloud market, increasing daily.
Get AZ-104 Microsoft Azure Training
Cognixia's Microsoft Azure training helps professionals prepare for the AZ-104: Microsoft Azure Administrator certification examination. With the AZ-104 training, professionals will get the upper hand in a highly competitive IT job marketplace.
Enrol in Cognixia's AZ-104: Microsoft Azure training and upgrade your skills. Shape your career & future with our hands-on, live, interactive, instructor-led course. In this competitive world, we are here to provide you with an extraordinarily intuitive online learning experience, help you enhance your knowledge with engaging training sessions, and add value to your skill set. Cognixia caters to both the individuals & corporate workforce with our online interactive instructor-led courses.
This Azure training teaches IT Professionals how to manage their Azure subscriptions, administer the infrastructure, secure identities, configure virtual networking, manage network traffic, connect Azure & on-premises sites, implement storage solutions, implement web apps & containers, create and scale virtual machines, back up & share data, as well as monitor the solution.
In this AZ-104 training, you will cover the following –
Identity
Governance and Compliance
Azure Administration
Virtual Networking
Intersite Connectivity
Network Traffic Management
Azure Storage
Azure Virtual Machines
Serverless Computing
Data Protection
Monitoring
Prerequisites of AZ-104 Microsoft Azure Training –
Learners enrolled in the AZ-400: Designing and Implementing Microsoft DevOps training must have basic knowledge and awareness of the following topics:
Cloud computing principles such as PaaS, IaaS, and SaaS deployments.
Azure management and development with at least one of these areas of experience. This would need either the Microsoft Azure Administrator Associate or the Microsoft Azure Developer Associate certifications.
Agile software development, Version control, and basic software development concepts are all critical considerations.
Experience in a software delivery organization is advantageous but not required.