Information security is one of the world's most rapidly evolving industries, with massive technology breakthroughs and investments over the previous two decades. Nonetheless, despite several cyber security evolutions, the digital world remains insecure. Now, enterprises worldwide are still dealing with the continual danger of cyber-attacks and security breaches.
As news of data breaches, ransomware, and hacks emerges from time to time, continuous technological progress suggests a simultaneous shift in cybersecurity challenges and trends. Data security and risk management are becoming board-level issues for multinational firms, as hackers may interrupt corporate operations and reveal secret information.
Top Information Security Threats
Hundreds of different types of information security risks and millions of other threat vectors exist. We'll go through some of the top vulnerabilities that security teams at businesses today are concerned about:
Unsecure systems

A rapid pace of tech progress leads to security safeguards compromises. In other circumstances, systems are built without security in mind and remain operational within an organization as legacy systems. Organizations must identify and reduce the hazard by securing or patching these vulnerable systems and decommissioning or isolating them.

Social media attacks

Attackers can conduct assaults directly using social media, such as spreading malware through social media posts or indirectly using information gathered from these sites to evaluate individual and organizational weaknesses and build an attack.

Social Engineering

Attackers utilize social engineering to lure users into completing acts that might undermine their security or reveal sensitive information. Attackers employ psychological cues such as curiosity, haste, or fear to influence users. Organizations may reduce the risk of social engineering by educating users about its hazards and teaching them to recognize and reject suspicious social engineering communications.

Endpoint malware

Organizational users utilize endpoint devices like laptops, desktop computers, tablets, and cell phones, many of which are privately owned & not under the jurisdiction of the organization. All of these routinely connect to the Internet. Malware, which may spread via a variety of methods, is a crucial danger on all of these endpoints. It can compromise the endpoint itself and can lead to privilege escalation to other organizational systems.

Lack of Encryption

Encryption techniques encrypt data so only users with secret keys may decode it. It successfully prevents data loss or corruption when equipment is lost or stolen or when attackers hack organizational systems. Unfortunately, businesses frequently disregard this measure due to its complexity and absence of legal duties connected with effective implementation. Organizations are increasingly using encryption, whether through the purchase of storage devices, cloud services that allow encryption, or specific security technologies.

Security Misconfiguration

Security features are available in enterprise-grade platforms and cloud services, but the company must customize them. A security breach can occur as a result of security misconfiguration caused by neglect or human mistake. Another issue is "configuration drift," which occurs when correct security configuration quickly becomes out of date and exposes a system, unbeknownst to IT or security personnel. Companies can mitigate security misconfiguration by deploying technology platforms that continually monitor systems, discover configuration gaps, and notify or even automatically correct configuration flaws that render systems susceptible.
Top information security trends
Every day, new risks and inventive solutions to tackle them arise. Here are the most recent trends:
Work-from-home security

Since the outbreak, many firms' top cybersecurity goal has been safeguarding millions of devices used for home or remote work worldwide. Before the epidemic, when we were all office-based, it was simple enough for security agents, most likely situated in IT departments, to periodically check and update business laptops and smartphones. This made it relatively easy to guarantee they were clear of spyware & malware and were running the most recent versions of anti-virus software and other preventive measures. In 2023, when workers are more likely than ever to utilize personal devices to connect to corporate networks remotely, a new set of issues has evolved.

Connecting to networks with insecure devices might unintentionally expose staff to phishing attacks, in which attackers lure users into giving credentials. With more individuals working remotely, it's more probable that we'll be working in teams where we don't know one other as well and are vulnerable to impersonation schemes. It also facilitates ransomware assaults, in which malware is inserted into networks and erases valuable data unless users pay the perpetrators a ransom. This danger grows in remote working environments, as devices are more likely to be left unattended.

Artificial intelligence (AI)

As the volume of attempted cyberattacks has increased significantly, human cybersecurity specialists have found it increasingly difficult to respond to them and forecast where the most hazardous assaults will occur next. This is where artificial intelligence comes into play. Machine learning algorithms can analyze large amounts of data traveling across networks in real-time considerably more effectively than people can and learn to spot patterns that suggest a threat.

Unfortunately, as AI becomes more widely available, hackers and criminals become more adept at exploiting it. Among the millions of networks and computers linked to the Internet, AI algorithms detect systems with weak security or likely to hold important data. You can also use it to generate vast quantities of tailored phishing emails intended to dupe recipients into disclosing important information. It is becoming increasingly adept at circumventing automated email security systems designed to filter out this sort of message.

This is why the use of AI in cybersecurity is frequently referred to as an "arms race," as hackers and security agents compete to guarantee the most advanced and sophisticated algorithms are working for them rather than against them.

Security-aware environment

The most crucial step any company can take is to ensure that it is trying to initiate and nurture a culture of awareness around cybersecurity risks. It is no longer sufficient for companies or employees to regard cybersecurity as a problem for the IT department to solve. Becoming aware of the hazards and taking simple actions to guarantee safety should be part of everyone's job description in 2023!

Phishing attacks utilize "social engineering" techniques to dupe users into disclosing sensitive information or installing malware on their devices. No technical skills are required to become aware of these sorts of assaults and take basic steps to prevent being a victim. Similarly, fundamental security skills such as password security and understanding two-factor authentication (2FA) should be taught to all employees and kept up to date. Taking simple safeguards like these to establish a culture of cybersecurity awareness should be a fundamental component of business strategy for firms looking to enhance resilience and preparation in the next year.

Multi-factor authentication

The gold standard of authentication is multi-factor authentication (MFA). On the other hand, malicious actors are devising new methods to circumvent it, notably authentication by SMS or phone calls. As a result, in 2020, Microsoft urged users to abandon phone-based MFA in favor of app-based authenticators and security keys.

SMS offers some built-in security, but the messages delivered – including those used for authentication – are not encrypted. As a result, malicious players can use automated personal attacks to get one-time passcodes in plain text. This creates a risk for operations like online banking, where authentication is frequently done by SMS. Banks and other companies will increasingly resort to application-based MFA such as Google Authenticator, Authy, and others to overcome this issue.

Cybersecurity mesh

With more assets operating outside the conventional security perimeter, businesses must redefine cybersecurity in their identity. As perimeter security becomes less important, the security method of a walled city must adapt to modern circumstances. The present security product consolidation trend is promoting security architecture component integration. However, certain areas of contention remain, such as uneven security standards, allowing processes, and data sharing across numerous integrated systems.

As a result, a cybersecurity mesh architecture (CSMA) provides a standardized, integrated security framework and posture to secure all cloud and data center assets.

Cybersecurity mesh is a collaborative ecosystem of tools and controls to safeguard a modern, decentralized organization. It expands on a strategy of integrating composable security tools by centralizing the data and control planes to promote more effective tool collaboration. Better detection capabilities, more efficient responses, consistent policy, posture, and playbook management, and more adaptive and granular access control are all outcomes that contribute to improved security.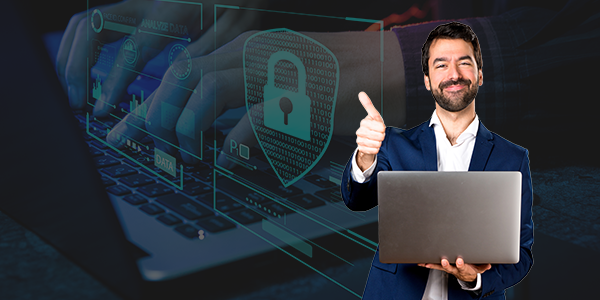 Read a Blog Post:
Overcoming supply chain security challenges with CISSP
Final words
These top security trends for 2023 & beyond may frighten many enterprises, but they also give insight into what we might anticipate in the following years.
A study projects more than $100 million to be spent on safeguarding companies' security procedures. This indicates that cybersecurity specialists and administrators will have their hands full in the coming years. As a result, obtaining CISSP certification from Cognixia will help you deal with the problem more effectively.
Eliminate the chances of system failures, and reduce the chances of losing important data with official CISSP training.
Once you have employees with the CISSP certification, they will demonstrate their skills to benefit your business with –
Full understanding of how to secure or protect confidential business data from hackers.
Skills to analyze risks and be aware of the common hacker strategies that can affect your business. They can determine the weak point of the organizations and work on them.
Aptitude in improving not only the customer but also employee privacy ensuring all the information stays with the business only.
Get (ISC)2 CISSP Training & Certification and increase your business visibility as well as credibility in the cybersecurity market. Cognixia is the world's leading digital talent transformation company that offers a wide range of courses, including CISSP training online with a comprehensive CISSP study guide.
Here's what you will cover in this CISSP certification course –
Learn and apply the concepts of security & risk management
Gain an understanding of security engineering to protect information by exploring and examining security models and frameworks
Learn how to identify, categorize, & prioritize assets
Examination and security network architecture and its components
Learn how to identify & control access to protect assets
Designing and conducting security assessment strategies, logging, & monitoring activities
Developing a recovery strategy and maintaining operational resilience
Learn how to secure the software development cycle