Sustainability is becoming an increasingly important consideration while making major business decisions, in IT and outside. In earlier times, sustainability was usually an afterthought, sometimes, not even that. From there, it became something that only the Corporate Social Responsibility team would worry about, it helped the company financially too, especially on the tax front. However, times have evolved greatly since, and sustainability has become quite mainstream, as more & more businesses realize the importance and impact of being sustainable and caring for things beyond just the balance sheet.
What is sustainability?
The United Nations Brundtland Commission defines sustainability as, "Meeting the needs of the present without compromising the ability of the future generations to meet their needs." The concept of sustainability applies not just to natural resources but also to social and economic resources.
What is cloud computing?
According to Microsoft, Cloud Computing is the delivery of computing services including servers, storage, databases, networking, software, analytics, and intelligence over the internet (the cloud) to offer faster innovation, flexible resources, and economies of scale. When using cloud computing, you only pay for the resources you consume, which helps reduce operating costs. Cloud computing also helps run the infrastructure more efficiently and offers flexibility as well as scalability to scale up or scale down as the business evolves.
Besides this, in recent times, it has been observed that enterprises are looking towards cloud computing to not just lower their costs but also to provide good ESG, i.e., environmental, social, & governance scores. Cloud computing is increasingly being pitched to the decision-makers as a technology that will help the company meet their sustainability objectives and reduce their carbon footprints, based on the assumption that cloud computing is a 'green' technology.
Top three myths about sustainability and 'green' aspects of cloud computing technology.
Myth # 1: Cloud Computing is a Green Technology by default
Cloud computing reduces energy consumption and carbon emissions, compared to what it would be if every enterprise housed its own physical servers and infrastructure, that is true. But it is not a green, sustainable technology by default. Instead, it is the lesser of evils, sometimes. Sometimes, not always, though. Cloud computing will still need large amounts of energy to power the data centers and maintain the required infrastructure. The problem here is not all cloud service providers would be using renewable energy or implementing energy-efficient practices in managing operations. So, no, cloud computing is not a green technology by default. It might come as a surprise to many that oftentimes, on-premises systems are more carbon neutral than some public cloud services. It would depend significantly on what is powering these systems.
Myth # 2: Sustainability is a function of the power consumed by providers' systems
This is a very common belief among enterprises, and sadly this belief causes a lot of problems. Here, people believe that sustainability in cloud computing would be a product of the power that gets consumed by the cloud service provider's platform and infrastructure. When someone strongly believes this, it becomes an equivalent of 'not my problem'. So, this myth effectively lets people including the developers, the system designers, the cloud architects, the infrastructure engineers, and so many other individuals in the team off the hook, thinking sustainability in the cloud is the cloud service provider's problem, not ours, so we need not do anything to reduce emissions or our carbon footprint. How much power gets consumed and its eventual impact on sustainability is determined by how efficient are the applications and the systems that are being run on the cloud. Applications that have been designed for power efficiency might end up consuming say only about half or sometimes even just one-fourth of the power that an application not designed for power efficiency might use. One very useful thing happening in recent times in this regard is that most new DevOps processes and toolchains now include power efficiency checks aligned with the cost efficiency checks, making power efficiency and consequent sustainability a built-in feature, rather than an afterthought or being completely ignored.
Myth # 3: Providing a carbon-neutral platform and infrastructure is the cloud service provider's responsibility
Well, that's a myth, and the fact is, it is not the cloud provider's responsibility alone. One common thread that runs between security and sustainability is that it is a shared responsibility model, and not just one stakeholder's individual or sole responsibility. There is no denying that the cloud service provider plays a very important role in this regard. A customer enterprise or a user enterprise or individual will usually not have a say or any control over how the provider supplies, consumes, and manages the power for the platform & the infrastructure. But what a user enterprise or individual can do is verify, authenticate, and validate what the cloud providers service concerning sustainability. Any claims made by the provider must also be validated and verified User enterprises and individuals, at their end, must also focus on building systems that are energy efficient.
At the end of the day, sustainability is not something that can be shrugged away from or pushed onto somebody else, even if they are your biggest stakeholder, or vendor, or service provider. It is everybody's responsibility, and everybody shares the accountability for it.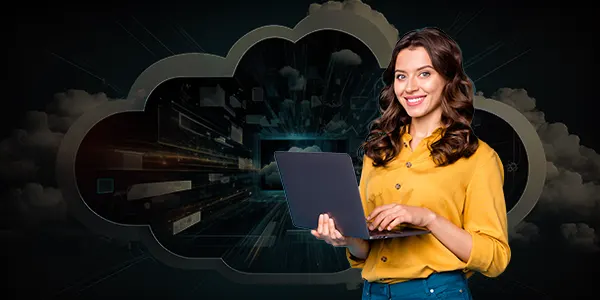 Read a Blog Post: The current state of Cloud Adoption
Get AWS Cloud Computing Training
As more organizations transition to the cloud, there is a greater need for AWS solution architects. Architecting on AWS is a fantastic method to leverage market needs and use your IT abilities for high-paying employment. If you are an IT professional wanting to enhance your career, here is your opportunity to shift gears and take it to the next level.
AWS offers all the benefits of the cloud, including flexibility, shorter time-to-market, and elasticity, among other things. In terms of data availability and high transfer stability, AWS exceeds other cloud service providers on the market.
Enroll in Cognixia's cloud computing with AWS training course and upgrade your skill set. You can influence your career and future with our hands-on, live, highly interactive, and instructor-led online course. You may get an advantage in this competitive market by providing an extremely user-friendly online learning experience. We will assist you in improving your knowledge and adding value to your talents by offering engaging training sessions.
Cognixia's AWS cloud computing certification course discusses the basics of AWS & cloud computing, then moves on to more advanced concepts, like service models (IaaS, PaaS, SaaS), Amazon Private Virtual Cloud (AWS VPC), and more.
This online AWS cloud computing course will cover the following concepts:
Introduction to AWS & Cloud Computing
EC2 Compute Service
AWS Cost Controlling Strategies
Amazon Virtual Private Cloud, i.e., VPC
S3 – Simple Storage Service
Glacier
Elastic File System
Identity Access Management (IAM)
ELB (Elastic Load Balancer)
Auto Scaling
Route53
Cloud Formation & Cloud Former
Simple Notification Service (SNS)
CloudWatch
Relational Database Service (RDS)
CloudFront
Elastic Beanstalk
CloudTrail
AWS Application Services for Certifications
Prerequisites for AWS cloud computing
All you need to know to enroll in this course is basic computer skills. Some experience with Linux would be advantageous, but it is not required.
The course is perfect for network engineers, system administrators, and aspirants who have a solid understanding of coding principles or procedures and wish to further their expertise.
Fresh graduates with a rudimentary understanding of coding can also enroll in this course and advance their careers.