Organizations all across the world are embracing digital technology to change the way their business is done. Companies hope to drastically enhance productivity and efficiency while also innovating new consumer and employee experiences to boost competitiveness and revenues.
Companies must do more than just investigate the capabilities of new technology to be successful. First and foremost, executives must embrace a transformational & holistic attitude that views their organizations through a different lens to develop new methods to generate and expand value – at both the discrete functional level and throughout the whole value chain via cross-functional processes.
Why? Because today's employment is dominated by millennials, who have grown up with technology. They demand the same level of adaptability and accessibility from the products and services they use at the workplace. They expect that their business apps will include mobile apps, customized user interfaces, automation features, tailored suggestions, AI/ML, and other features.
Apart from wage increases, promotions, and bonuses, these are the most important criteria for employees to stay with a company. Employees in all firms choose their work experience over other rewards.
Organizations have also begun to recognize the significance of employee experience. According to a report, 78% of IT leaders now prioritize digital employee experience projects more than they did two years ago.
How Does IT Support Affect Employee Experience?
IT Support is a large component of an employee's experience in an organization throughout their lifespan – they participate in conference calls, understand different systems and apps utilized inside the company, and seek e-learnings throughout onboarding to expand their skill set. Their days are consumed with IT activities. Most significantly, how employees communicate with one another inside has altered dramatically. Previously, corporations went from telephones to emails as the primary mode of communication. Slack & Microsoft Teams are now quite popular and widely used as communication tools.
Any organization's three pillars are people, processes, and technology. With technology and processes moving so quickly, it's no surprise that IT and IT-related assistance affect employee experience.
IT teams are entrusted with maintaining company continuity by assisting employees & equipping them with the resources they need to fulfill their duties and projects. To do this, the IT team utilizes technology to simplify numerous internal procedures, which typically need collaboration with multiple internal teams.
Streamlining these procedures to provide a great employee experience necessitates a deeper awareness of the employee lifecycle, beginning with onboarding and continuing through every encounter between the employee and the business.
The IT service desk is used to help an IT staff create a great employee experience in a business.
Improving Employee Experience
Here are a few basic strategies for IT staff to improve the employee experience through their IT service desk.
Enhanced accessibility

Employees should be able to contact the IT staff in a variety of ways. IT teams combine their current IT service desk with commonly used communication platforms such as Slack and Microsoft Teams rather than requesting workers to visit a site or send an email.

Employees require strong connectivity with Slack & Microsoft Teams, as well as a customized mobile app that allows IT agents to receive real-time updates on issues raised by their staff. IT staff may also leverage these tools and integrations to cooperate and address employee concerns more quickly than before.

A multi-channel service delivery strategy makes IT a little more accessible to employees, resulting in a better employee experience.

An easy-to-use service catalog

Employees frequently ask for additional gear, software, or other services to help with projects, increase productivity, or resolve technical issues. Providing a streamlined path for them to request necessary service items is an excellent method to provide a nice work experience. The service catalog may be used by IT teams to make it easier for employees to request goods and services.
A service catalog provides employees with complete insight into the progress of their requests, avoiding the need for frequent communication back and forth. This may be broadened to include more than just requesting IT equipment and software. Non-IT departments such as HR, administration, and amenities can also be integrated into a service catalog to give a uniform employee experience.
Internal process automation

Employees spend a significant amount of time on manual, repetitive operations that consume a significant amount of their productive time. This includes responsibilities such as requesting that an issue be resolved more quickly, obtaining approval for the acquisition of equipment, allocating tickets to the appropriate departments, and so on. Using technology such as chatbots and workflow automation to automate these operations saves the employees a significant amount of time. This increases staff productivity and ROI while also providing a better employee experience.

Self-service

Self-service is one of the most important areas of attention for IT professionals today. IT departments are always seeking fresh and innovative methods to increase self-service usage. From exploring the knowledge base to raising a ticket to request a service item, you may easily interact with your self-service portal to get solutions for all your requirements. Teams can engage with the portal in the most comfortable way possible this way.

A more comprehensive knowledge base

The knowledge base is the most conventional way of directing employees to the solutions. A knowledge base provides employees with the relevant information at the correct time. The trick is to provide staff with easy access to all of the knowledge. The knowledge base must be written in clear layman's terms. A well-maintained knowledge base assists agents by diverting tickets for common support issues as well as freeing up agent time for other important activities.

By allowing agents to link solution articles to tickets, it promotes a consistently excellent employee experience. An ideal knowledge base is a storehouse of information based on the organization's experience of internal occurrences and challenges that have previously slowed employees down.
Providing excellent IT Support enhances the work experience in a variety of ways, many of which drive crucial employee KPIs and improve employee wellbeing.
With constant changes in an organization's business processes and platforms, robust IT support is a critical component of organizational efficiency. This unavoidably has an impact on every employee's work and personal life. As a result, continuously enhancing IT support and upskilling and improving the service desk with ITIL training is unquestionably a differentiator for a company, leading to great employee performance & productivity.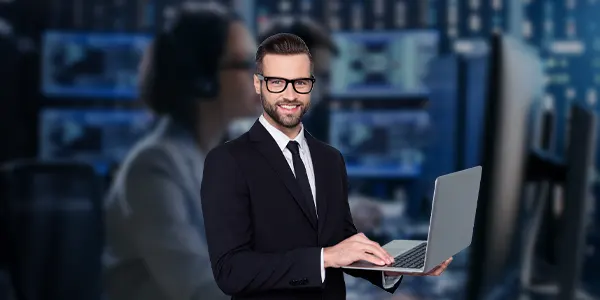 Get ITIL Certification for Improved IT Service Desk
If you want to improve your skills and future career prospects with ITIL 4 certification, Cognixia is here to help!
Cognixia is the world's leading digital talent transformation company, committed to helping you shape your future & career by providing insightful digital technology training and certifications. We are here to give you the best online learning experience possible by expanding your knowledge through immersive training sessions and increasing your skill set. Individuals and organizations can both benefit from Cognixia's highly engaging instructor-led courses.
We are an AXELOS Authorized Training Organization (ATO) that offers the learner a complete portfolio of ITIL online training & certification programs. Our ITIL 4 Foundation certification course is considered one of our portfolio's most sought-after online training programs.
The ITIL training via Cognixia is provided by the industry's most experienced, expert ITIL trainers and is delivered in line with the official AXELOS guidelines & curriculum.
With Cognixia's ITIL 4 Foundation certification program, you get lots of hands-on practice that helps you clear the main ITIL certification exam effortlessly. Not just that, with our ITIL training course, you get to have the perk of lifetime access to the training's learning material & video lessons via our LMS.
Learn and improve from the comfort of your home with our intuitive & comprehensive ITIL 4 Online Training.
This ITIL training course will cover the following concepts:
The concept of a service
Services, costs, risks. and service management
Service relationship management
The 4 dimensions of service management
Guiding principles of service management
Service value system
Service value chain
General management practices
Service management practices
Technical management practices