In the ever-evolving landscape of modern business, adopting Agile practices has become a hallmark of progressive organizations. Approaching two decades since the inception of the Agile manifesto, the incorporation of its principles and values has reshaped the dynamics of project management and team collaboration. However, this transformation is only a fragment of the larger narrative; it primarily addresses the microcosm of individual teams.
While applying Agile methodologies at the team level yields commendable results, its effectiveness can be curtailed within the confines of larger enterprises. In these complex ecosystems, where multiple organizational structures operate in tandem, the conventional methods of operation often resist change. In such an interconnected environment, a company functions as an intricate system wherein the interaction of its parts is pivotal, repeating the words of Dr. Russel Ackoff: "A system is never the sum of its parts. It is the product of the interaction of its parts."
Therefore, the concept of scaling Agile emerges as a paramount strategy to unlock a company's full potential and realize optimal business efficiency. The contemporary business climate, characterized by its rapid fluctuations and uncertainties, underscores the importance of scaling Agile as a strategic imperative for sustained viability and success.
Understanding Agile at Scale
Agile at Scale, in its essence, conveys the capacity to imbue Agile principles and practices across a multilayered organizational spectrum while nurturing the Agile mindset inherent to individual teams.
The central tenet of scaling Agile revolves around the augmentation of Agile's foundational philosophy beyond individual teams. The objective is to cultivate a culture that delivers value throughout the organization. This transformative journey entails harmonizing diverse organizational components and fostering heightened responsiveness to emerging market dynamics and risks.
However, embarking on the path to organizational agility is a formidable endeavor. It necessitates the establishment of a well-structured mechanism to diffuse Agile practices across myriad teams and extend its reach to the upper echelons of strategic and portfolio management. To facilitate this process, numerous organizations turn to established scaling frameworks.
While the localization of Agile practices once heralded a groundbreaking approach, the contemporary business climate mandates the elevation of agility to a grander scale. Companies are compelled to institute transparency in their operational processes, creating an interconnected ecosystem that optimizes efficiency and adapts seamlessly to shifting market paradigms.
Why do organizations need to implement Agile at Scale?
Bridging the gap between Strategy and Execution
Facilitating collaborative efforts within and among teams
Navigating swift changes in direction
Enhancing the predictability of value delivery
Sustaining continuous value creation for customers
Navigating through Scaling Frameworks
While adopting standardized frameworks for scaling Agile is widespread, no universally endorsed model prevails. Nonetheless, several frameworks have successfully transformed processes, teams, and organizational culture through their implementation.
Kanban Maturity Model

The Kanban Maturity Model (KMM) serves as a process enhancement paradigm rooted in the Kanban methodology. It gauges organizational maturity and delineates actionable steps to foster successful Kanban integration across different maturity levels.

Scaled Agile Framework (SAFe)

SAFe empowers organizations to amplify Agile principles across their entire spectrum. The framework facilitates enhanced work planning, collaboration, and expedited product delivery through structured guidance. This results in the cultivation of an organizational culture steeped in Agile values.

Large-Scale Scrum (LeSS)

LeSS, a product development framework, underscores the application of Scrum principles in a streamlined manner. It endorses minimalism, advocating for fewer roles, events, and management strata to facilitate successful Agile deployment. LeSS promotes cross-functional team collaboration, thereby driving shared product development.

Scrum at Scale (SaS)

As a natural extension of the Scrum methodology, Scrum at Scale orchestrates the coordinated efforts of multiple teams toward common business objectives in intricate environments. The framework introduces agility throughout the organization, instilling a cohesive sense of purpose across various organizational layers.

Spotify Model

The Spotify model epitomizes an organizational structure tailored for Agile scaling. This model enhances product delivery efficiency by fostering a culture of enhanced collaboration and transparency among product development teams.
The Pinnacle of Agility: Kanban's Unique Approach
Although established frameworks possess intrinsic value, their application can sometimes engender complexity and substantial costs. Herein emerges an alternative route – scaling Agile through the Kanban methodology.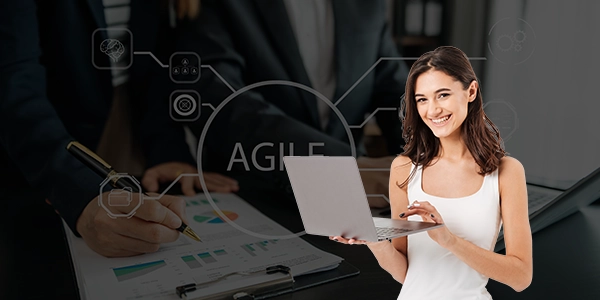 While no universal blueprint exists, seven cardinal principles underpin successful Agile scaling endeavors:
Precision in role definitions and organizational structure
Cultivation of a customer-centric mindset
Infusion of agile practices and adherence to cadence
Acknowledgment of the timelines for adoption and maturation
Augmentation of dependency management
Garnering support across organizational hierarchies
Emphasis on people, lean principles, and systems thinking
Data-Driven and Human-Centric Agility
Scaling strategies that have been used in the past Agile is frequently associated with strict guidelines and radical transformations. However, these approaches can inadvertently breed resistance and disruption within organizations. In stark contrast, the Kanban methodology champions an evolutionary path toward agility, placing a premium on data-driven decisions and continual improvement.
Kanban's method of progress maintains existing workflows while allowing for incremental growth. Practices like visualization, work-in-progress restrictions, feedback loops, and policy transparency guide iterative improvements. These practices, crucially, go beyond collaborators, smoothly integrating value streams and optimizing holistic systems.
Practical Application of Agile Scaling through Kanban
The road to growing Agile via Kanban necessitates a strategic emphasis on continuous value production. The connectivity and visualization of end-to-end processes are central to this approach, illuminating cross-functional relationships and areas ripe for optimization.
Steps for implementing Agile Scaling through Kanban
Creating a connection between Strategy and Operations
Interconnected Kanban boards serve as the connecting point between strategic initiatives and operational execution. These boards turn organizational goals into actionable activities, promoting transparency and alignment.
Implementing Kanban Systems at all levels
Limiting Work-in-Progress (WIP) allows for global process simplification. Implementing Kanban systems at all organizational levels guarantees workflow consistency, predictability, and effective value delivery.
Coordinating and Planning Work
Kanban cadences help to synchronize work progress and foster alignment. These practises promote ongoing cooperation and timely adaptation, from project stand-up meetings to operations reviews as well as strategy review cadences.
Conclusion
Agile at Scale is a challenging yet transformative path providing organizations with unlimited flexibility and development potential. While the existing frameworks provide reliable techniques or methodologies, the Kanban technique offers a dynamic, human-centered method for reaching scaled agility. Organizations may successfully manage the complex dynamics of modern marketplaces by integrating data-driven decision-making with people-oriented concepts, consistently providing superior value to customers while embracing change with confidence. The aim is to inculcate the Agile spirit in all elements of the organization, whether utilizing pre-existing frameworks or establishing bespoke approaches, paving the road for organizational success.
Acquiring Scrum certification will make your journey towards deploying Agile at Scale easier. Scrum certifications like Certified Scrum Master (CSM) or Certified Scrum Professional (CSP) offer a structured grasp of Agile practices and principles. These certifications certify your competence and provide you with the specialized knowledge required to traverse the complexity of Agile scaling frameworks. You can confidently lead organizational transformation, establish alignment with industry best practices, and drive successful Agile deployments across multiple tiers of the organization with a Scrum certification.
Become a Certified Scrum Master with Cognixia
Take advantage of online certified scrum master training if you want to pursue a profession in project management. Scrum Alliance awards the CSM credential to learners who have completed a Certified Scrum Master course and verified their expertise through the CSM test.
As a Certified Scrum Master, you can perform the following functions:
Assist your project teams in effectively implementing Scrum
Contribute knowledge beyond that of a project manager
Assist your team with cooperation and structure by acting as a 'servant leader'
Defend your team against both internal and external distractions
The need for Scrum Masters has grown tremendously as more businesses adopt agile methodologies. Therefore, the CSM certification course is already so popular. As a result, getting a scrum master certification online is highly advised.
Get enrolled in certified scrum master training online with Cognixia – the world's leading digital talent transformation company.