In an era dominated by artificial intelligence, Natural Language Generation, or NLG, allows seamless integration between technology and human language. This game-changing method, powered by AI, orchestrates the transition of structured and unstructured data into logical human language.
This blog explores the world of NLG, where data analysis achieves remarkable speed and client experiences reaches new heights.
How does it work?
Consider a scenario in which voice assistants and chatbots speak with the sophistication of expert human communicators, and complex data readily transforms into clear reports. NLG, the creative force behind this transformation, is based on computational linguistics. This complicated procedure breaks down spoken and written language, resulting in a systematic foundation that enables computers to understand our expressions with astonishing accuracy.
Natural Language Processing (NLP)

Natural Language Processing (NLP), the engine that channels the complex concepts of computational linguistics into practical applications, is behind NLG's magic. NLG arises as a distinct sub-category within NLP, giving life to structured data and giving voice to the unstructured. This bridges the gap between the machine and the human language.

Natural Language Understanding (NLU)

Natural Language Understanding (NLU) ushers in a new dimension of comprehension, transcending the realm of words to interpret emotional tonality, intent, and contextual significance. This evolution of machine learning fosters an understanding akin to the human faculty, traversing the chasm between raw data and profound comprehension.
Why is Natural Language Generation important in the Business Landscape?
Gone are the days of grappling with data deluge. NLG assumes the role of an analytical confidant, swiftly parsing inputs and weaving comprehensive reports. Dispensing with the cryptic complexities of raw data, NLG's narrative artistry paints a vivid portrait, saving precious time, conserving resources, and cultivating a landscape of informed decision-making.
Instantaneous Responses

In the digital realm, the velocity of response is paramount. NLG, with its adeptness, crafts responses that span product descriptions to chatbot interactions, all executed at the speed of thought. By relieving the burden of manual content creation, businesses streamline their operations, culminating in substantial cost reduction.

Nurturing Customer Relationships with NLG

The bedrock of business success rests upon customer relationships. NLG, a master in personalization, elevates interactions to unprecedented levels. Translating customer exchanges into insightful summaries, NLG crafts empathetic responses, thereby cultivating enduring connections.
Natural Language Generation Techniques
The art of NLG manifests through two principal techniques: extractive and abstractive. The extractive approach selectively extracts salient sentences to craft a concise summary, while the abstractive method generates novel text that encapsulates the essence of broader contexts. These techniques converge harmoniously, sculpting narratives that resonate profoundly.
Six Steps in Natural Language Generation
Data Analysis

At the heart of NLG's composition is the initial data analysis step. This phase involves an intricate sifting through vast structured and unstructured data reservoirs. This discerning process seeks to identify the crux of the information, extracting the essential themes, patterns, and relationships that hold the narrative's essence. Through this intricate sieve, the raw material of NLG's symphony begins to take shape.

Data Understanding

With the essence distilled, it progresses to the phase of data understanding. The symphonic conductor, represented by NLG's algorithms, employs a sophisticated fusion of Natural Language Processing (NLP) and machine learning. This amalgamation allows the system to unravel the complexity of the data, comprehending not only the textual content but also delving into the underlying contextual nuances. This comprehensive understanding forms the bedrock upon which NLG's symphonic narrative is built.

Document Creation and Structuring

The structure emerges through the process of document creation and structuring. The NLG system, equipped with a refined palette of linguistic rules and semantic frameworks, embarks on architecting the narrative. Drawing upon its vast repository of linguistic patterns, the system elegantly weaves sentences that encapsulate the extracted essence. This phase entails a meticulous balance of logical arrangement and creative flow as NLG endeavors to craft a narrative that resonates with human comprehension.

Sentence Aggregation

As NLG progresses, the individual sentences emerge as the building blocks of the narrative. The process of sentence aggregation is as sensitive as arranging notes in music to produce in-sync tunes. NLG systematically selects and places sentences, effectively blending them to produce a logical narrative. This artistic assemblage captures the rhythm and flow that draw users into the story, which is like how a musical piece captures listeners in its lyrics.

Grammatical Structuring

The stage of grammatical structure is when NLG reaches its highest point. NLG's algorithms rigorously follow the complexities of grammar, syntax, and linguistic standards.The idea is to create a natural fluidity in the story that mimics human expressiveness. This syntactical skill lends the tale a sense of authenticity, causing it to touch more profoundly with readers.

Language Presentation

The language presentation phase represents the peak of NLG development. Here, the meticulously crafted narrative is presented in the format chosen by the user. This could range from a comprehensive report to an engaging email or a conversational response from a chatbot. The language presentation is the moment when the symphony is performed for its audience, the users, who experience the culmination of NLG's intricate artistry.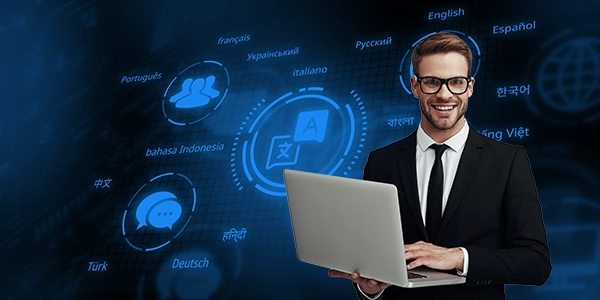 Explore an Article: Project Management in the Age of Artificial Intelligence
Natural Language Generation best practice
Amplifying Customer Response through AI
Customer feedback, a treasure trove of insights, demands attention. NLG emerges as the conduit for swift, intelligent responses, ensuring reduced customer wait times, diminished costs, and the cultivation of a profound customer connection. Transforming mere communication into resonant dialogues becomes a hallmark of NLG's efficacy.
Empowering Organizational Transformation
Relinquishing the burden of exhaustive data analysis across multifarious teams, NLG empowers enterprises to harness actionable insights efficiently. By embracing integrated NLG systems, organizations not only stay at the vanguard of insights but also proactively initiate responsive actions.
Conclusion
Natural Language Generation serves as the crucible wherein data transmutes into wisdom, and communication transcends traditional boundaries. NLG catalyzes operational metamorphosis, reinvigorating data analysis and augmenting customer relationships. A pioneer in this transformation, Cognixia embraces unstructured data with unparalleled precision, sculpting narratives that seamlessly fuse technology and human sentiment. Embark on the journey of NLG today, where the synergy of technology and language culminates in an exquisite symphony of innovation.
Cognixia's Generative AI course will help you advance your knowledge. Our thorough training, designed by industry professionals, provides you with the knowledge and skills to fully realize the potential of Generative AI. Our hands-on program provides competency in everything from principles to advanced applications. Upon completion, you will receive a valuable Generative AI certification, which will open doors to a variety of job possibilities in the AI environment. Enroll to accelerate your AI journey.