A lot of industry analysts feel that 5G is at the top of the 'Hype cycle', and though talks have been on about the technology for a few years now, it won't be an understatement to say that we have only just reached the second inning of a nine inning long basketball game.
According to a study by HIS Markit, 5G will generate $13.2 trillion in sales enablement by 2035, an increase of $1 trillion when compared to the original 2017 forecast. This increase is primarily due to the accelerated launch of 5G in 2019. The study also predicts that 5G's global value chain will have a major impact on the world economy, providing for more than 22.3 million jobs by 2035. The study says that the investment in 5G would be to the tune of $235 billion annually with the United states leading in cellular R&D and capital expenditures, while China will follow close on its heels.
Yet another study by ReportsnReports says that 5G markets are expected to go from $31 billion in 2020 to $11 trillion by 2026, including virtualization, cloud computing, edge computing, functional splits, etc.
So, what are the major drivers for these booming trends in 5G technology? Let's take a look –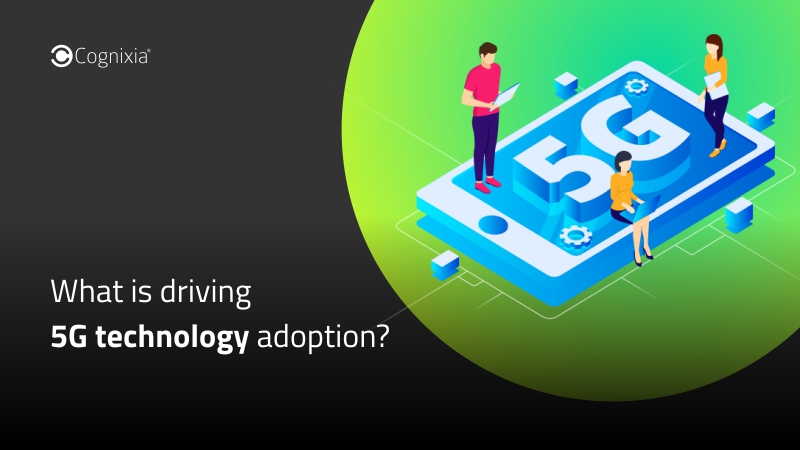 What are the major drivers for 5G in the world today?
Fixed Wireless Access (FWA)
Smart grid
Unmanned aerial vehicles (UAVs)
Extended Reality (ER), Augmented Reality (AR) and Virtual Reality (VR)
Non-terrestrial networks
Cloud gaming
Healthcare
Fixed Wireless Access (FWA)
With 5G, the need for expensive deep-fiber fixed access will be eliminated, as 5G could brilliantly complement or even replace the home and business broadband. 5G solutions will have 10 to 100 times more capacity than existing 4G networks . Reputed agency, SNS Telecom predicts that by the end of 2019, the 5G Fixed Wireless Access revenues would be to the tune of $1 billion worldwide, with an estimated CAGR of 2019 and 2025, thereby creating a market worth over $40 billion in that time span.
Smart Grid
Electricity grids are getting smarter, and they are set to be even more so with 5G. This enables wireless connected devices to remotely detect, monitor and adjust the usage of electricity and power consumption. 5G acts as a major catalyst in this regard, providing networks with the necessary throughput and ultra-low latencies that they need for applications of smart grid. The smart grid market, according to a report by Reports and Data, is pegged at approximately $92.97 billion by 2026.
Unmanned Aerial Vehicles (UAVs)
Commonly called as drones, unmanned aerial vehicles are getting a huge boost from ultra-low latency 5G along with advanced robotics. In this regard, 5G also enables sophisticated traffic management system operations. Statista predicts this market to reach $45.8 billion by 2025 with a CAGR of 15.5%.
Extended Reality (ER), Augmented Reality (AR) and Virtual Reality (VR)
SuperData Research has stated that the consumer Extended Reality market is expected to reach $33.9 billion by 2022, while the number of Virtual Reality devices is expected to reach 51 million by 2022. 5G is going to provide even more momentum to this market, accounting for some of the most critical edge applications across multiple domains and industries.
Non-terrestrial networks
When it comes to developing standards for technology, one of the major areas that gets talked about, is 3GPP Release 16. The aerospace industry after all, is buzzing with revolutions and innovations, and investment in Low Earth Orbit (LEO) and High Altitude Platform Station (HAPS) will help areas that have struggled to get access to traditional ground networks, get access to 5G. One of the prime examples for this is maritime satellite communication, a market that is estimated to reach $3.4 billion by 2024, at a CAGR of 9.2%.
Cloud gaming
Cloud gaming  is the new era of gaming as it uses network servers instead of the user's devices to render and process the computationally intensive graphics, thereby helping gamers have a much better gaming experience. The edge servers enable 5G low latency connectivity which enhances the gaming experience on mobile devices for gamers around the world. The global gaming market is pegged at an estimated $180 billion in 2021, with the mobile gaming share cutting to 59%, with an overall value of over $106 billion. It is estimated that by 2024, there would be over 42 million active cloud gaming users.
Healthcare
If there's one sector that can transform our lives faster than any other industry, using 5G, then it has to be the healthcare sector. 5G opens up limitless opportunities for the healthcare industry. For instance, healthcare telemetry used for remote IoT sensing and monitoring is the most talked about 5G use cases capturing the fastest spending growth with an expected CAGR of 21%. It has also been predicted by Ericsson, that by 2026, the total revenue for telecom operators from the healthcare sector due to 5G would be around $75.7 billion. This would include different aspects, such as, patient applications, hospital applications, healthcare applications, medical data management, etc.
To make the most out of 5G, we need a wide range of available bands of spectrum, as well as appropriate regulatory paradigms to support the innovations and initiatives. A 5G-enabled future needs effective collaboration between local, state, national as well as international organizations, in order to facilitate the availability of licensed spectrums, monitoring and streamlining the cell siting processes, and come up with innovative 5G solutions that will help the society and the world at large, while touching every life and every aspect. Spectrum diversity would help 5G be scalable and go all the way from traditional wide area (WAN) deployments to deployments in enterprises, indoor and outdoor applications as well as hotspots.
While this happens, 3GPP is constantly striving to develop successful standards for 5G. The Release 16 is not only expanding the 5G requirements, it is also moving into a smarter work phase that can help multiple verticals across industries. Developers using or depending on 5G could greatly benefit from defined rules and regulations for autonomous vehicles, IIoT, ultra-reliable low latency enhancements, unlicensed spectrums, improvements in spectral efficiency and API framework enhancements.
In essence, 5G is the real pillar for the fourth industrial revolution. It is going to touch every life and every process, every aspect of the life around us. 5G is definitely going to be bigger than any of us can imagine.
Cognixia – World's Leading Digital Workforce Solutions Company, has recently launched an exclusive 5G-RAN training program, which encompasses in-depth aspects of evolution from 4G to 5G as well as a framework for 5G-RAN architecture and protocol stack. Participants of this training will be trained in different aspects of 5G through interactive sessions with experts and practitioners. This training is ideal for participants seeking a comprehensive understanding of 5G to be able to make informed technology and business decisions as well as contribute effectively towards development strategies within their organization.


The course offers an engaging learning experience where participants can take advantage of connecting with industry experts, develop their competencies to meet industry & organizational standards, and learn all about real-world best practices. Reach out to us to know more about how our 5G-RAN training program can be customized to meet your specific requirement as well as tailored according to your workforce to deliver the most effective workforce solution for you, enabling you to stay ahead of the game with 5G.