Today, if a CIO thought 5G was still a thing of the future, and it would be alright to ignore it for a while to focus on something else, they might want to reconsider.
5G networks are being tested and implemented bit-by-bit, all across the world now. This 5th generation network technology promises higher wireless bandwidths, higher availability and non-existent latency, among other things. In line with this, CIOs and network architects would need to modify their strategies and plans, as well as timelines, in order to keep up with the rapid pace of change in the environment around.
As of June 2019, 15 carriers in nine countries of the world have gone live with 5G. Many more ambitious rollouts have been planned across the globe. According to the industry trade group, 5G Americas, 62 5G networks will be live across the world by the end of 2019.
In competitive times like today, it is essential for any organization to stay updated and agile, to remain relevant. When it comes to embracing the latest technologies like 5G, organizations would need to stay up-to-date with both their cellular as well as enterprise wireless technologies. Currently, both LAN (Local Area Network) and WAN (Wide Area Network) are undergoing a fast-paced transformation which are often unpredictable, requiring organizations to be on their toes and as agile as possible to embrace the changes.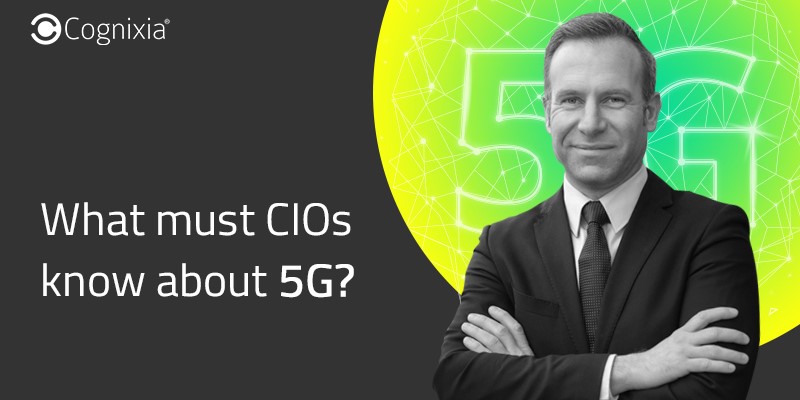 One of the biggest advantages of 5G for CIOs is that it will give them the freedom to deploy both communication infrastructure as well as computing infrastructure, however they choose to.
As of now, the different features of 5G like higher speed, near-zero latency and higher availability are available in different pieces of the 5G spectrum. Interestingly, different carriers own different spectrums of the range in different market, so their offerings and areas of focus vary accordingly. For instance, Verizon emphasizes higher network speeds, T-Mobile is going ahead with a plan of lower speed but a much higher availability while AT&T plans gigabit speeds in major cities but lower-spectrum services in the suburbs and rural areas and Sprint (still pending its merger with T-Mobile) has claimed that it has spectrums in all the three bands.
While embracing 5G, CIOs also need to be aware of the different realities of Physics. For instance, the millimeter wave spectrum that is responsible for the superfast 5G speeds does not travel very far. In terms of commercial deployments, connectivity is measured in just 'dozens of feet', actually. These millimeter waves face major challenges in penetrating walls. So, to make it more usable, there would be a need for many, many antennas. In contrast, waves with a longer wavelength perform much better when it comes to traversing distances, however, they do not offer the high speeds of the millimeter waves. CIOs then will have to choose their priorities – handling more devices smoothly or rocket-fast network speed.
While the most common features of 5G being so sought after are its higher speed, low latency and very high bandwidth product features and service experiences, it would also be extremely important for carriers to add significant amounts of wireless channels, and use wave technology to allow signals to travel shorter distances while also increase the area covered by installing small cell sites. CIOs would need to understand 5G as more than just a faster network, more as a technology that is set to be the heart of Industry 4.0.
Needless to say, there will be numerous iterations of the 5G standards. And it will be sometime before there is a saturation and full-fledged availability of 5G public networks. However, this doesn't mean that CIOs could afford putting their 5G plans and strategies on the back-burner. Now is the time for CIOs to begin auditing their network infrastructures and plan systematic upgrades or replacement of their hardware and software infrastructure so as to be ready for absorbing 5G. Adopting 5G would involve significant costs, so CIOs would need to plan and budget accordingly too. Apart from that, they would need to identify their need for skilled professionals who are able to work with 5G, creating and implementing the appropriate solutions and strategies. For this, they would need to decide whether they need to hire new manpower or upskill their existing workforce.
Impact of 5G on Wi-Fi 6
When planning for implementation of 5G in their organization, CIOs would also need to understand its impact on Wi-Fi 6. Wi-Fi 6 is better known as 802.11ax. Wi-Fi 6 will undoubtedly be faster than the current 802.11ac, and would also be faster than the 5G network. Interestingly, 5G and Wi-Fi 6 work together seamlessly, leading to the ability for the traffic to be handed off between a Wi-Fi network and a 5G network. This way, a communication could be initiated on a Wi-Fi 6 network and then be handed-on smoothly & seamlessly to a wireless carrier's 5G, and vice versa. Wi-Fi 6 has a unique level of granularity, control and management of resources available for it; something that wasn't previously available. With advances in Wi-Fi and cellular standards, there have been many major and minor developments that have led to the evolution of these technologies. With these, both the Wi-Fi and the cellular standards have imbibed special features from each other to become stronger and offer more value to the users. For instance, cellular can now operate in unlicensed spectrum, something only Wi-Fi could do earlier. Similarly, Wi-Fi now offers efficient modulation schemes and deterministic scheduling, which was earlier a unique capability of the cellular. Moreover, Wi-Fi 6 networks can support a lot more number of clients than before, which opens up huge opportunities for IoT and connected devices, while also improving basic offerings like voice calling. With further advancements, it is expected that Wi-Fi 6 and 5G would have comparable speeds, which would eliminate the need to choose between the two at all.
Edge Computing and 5G
With the advent of 5G, one aspect CIOs would need to spend quite some time and energy on, would be figuring out the network topologies. With higher bandwidths and higher availability, an important question that needs a properly thought out answer would be, "Where on a network should the storage and processing power be placed?"
CIOs would now have the opportunity to develop coordinated networks across multiple radio technologies which could get really complicated and pose a challenge sometimes. However, one of the major challenges here would be to address the mobility between high-density Wi-Fi local coverage and the awesome mobility offered by the surrounding network. The visibility between Wi-Fi 6 and 5G is sure to get increasingly better; CIOs would need to put in place manpower that would be skilled at managing this visibility seamlessly.
Experts believe that it wouldn't really be absolutely essential for CIOs to know precisely how to run a core phone network, though knowing the fundamentals could definitely be advantageous. Thankfully for the CIOs, most of the integration processes involved would be responsibility of the network equipment vendors and/or third-party service providers.
CIOs would need to send out the right message and convey to their teams, especially the network engineers, about how 5G will let wireless carriers be increasingly agile when it comes to providing the network service. 5G holds the potential to let telecoms to rollout new services and applications in a span of just a few weeks instead of the current standard of the 18 month cycle that they are accustomed to usually.
CIOs would play a defining role in formulating the right strategies as their organization prepares to transition from 4G LTE to 5G – their compute strategy, their storage strategy and their network strategy, among others. Left to its own, 5G flattens out the way a network is delivered, pushing the compute and the storage as far as it can to the edges of the network. This is an essential piece of information when making the strategies and CIOs would need to understand its significance.
Key takeaways for CIOs:
5G is a new technology, and it will be some time before it will be implemented full-fledged on a large scale. With that, the CIOs would need to be prepared for contingencies and multiple iterations in the standards, setting expectations accordingly with all stakeholders.
5G and Wi-Fi 6 will come together to create fireworks, in ways that haven't even been fully visualized or imagined yet. So, CIOs would need to stay updated with all developments and put in conscious effort to educate themselves on these concepts and stay abreast with what's happening around.
CIOs would need to spend considerable time and energy right now in auditing their organization's current capabilities, and prepare accordingly to be fully equipped to embrace the roll-outs of 5G and Wi-Fi 6, based on the results yielded by the audits, and what the organization decides its priorities as well as requirements are.
CIOs should look out for use-cases and encourage their workforce to be updated with the latest developments happening with 5G, Wi-Fi 6, etc.
CIOs need to plot out their requirements for skilled manpower who know how to work with and implement solutions for 5G. Based on their requirement, they could choose to hire new manpower or upskill their existing workforce. And that's where Cognixia could help you the most.
Cognixia – World's Leading Digital Workforce Solutions Company, has recently launched an exclusive 5G-RAN training program, which encompasses in-depth aspects of evolution from 4G to 5G as well as a framework for 5G-RAN architecture and protocol stack. Participants of this training will be trained in different aspects of 5G through interactive sessions with experts and practitioners. This training is ideal for participants seeking a comprehensive understanding of 5G to be able to make informed technology and business decisions as well as contribute effectively towards development strategies within their organization.

The course offers an engaging learning experience where participants can take advantage of connecting with industry experts, develop their competencies to meet industry & organizational standards, and learn all about real-world best practices. Reach out to us to know more about how our 5G-RAN training program can be customized to meet your specific requirement as well as tailored according to your workforce to deliver the most effective workforce solution for you, enabling you to stay ahead of the game with 5G.