RPA stands for Robotics Process Automation , implying usage of robotics, artificial intelligence, etc. for automating processes, reducing manual efforts, making processes more efficient and reducing scope of error. RPA enables businesses to automate mundane norms-based business processes while also streamlining enterprise operations and reducing costs, thus, allowing them to serve customers better or focus on their strengths while building better strategies to succeed in the market.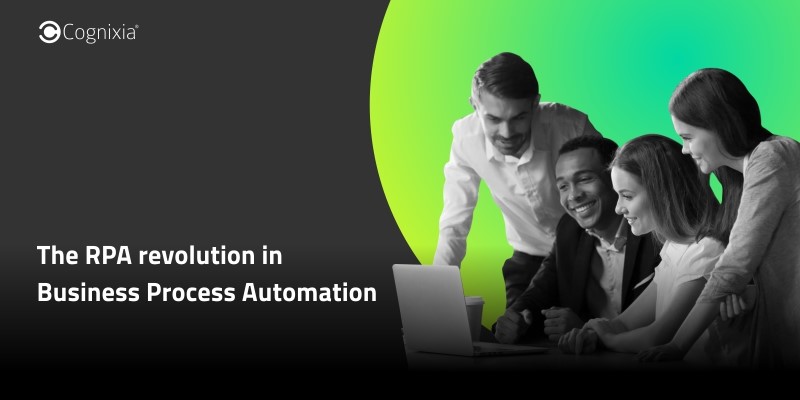 What is Robotic Process Automation?
RPA transforms the organizational environment just as the machines altered the factory floor during the Industrial Revolution. Both Robotic Process Automation and Intelligent Automation (IA) make the business processes smarter and more efficient. Along with many benefits over traditional IT implementations, the RPA tools are the best fit for combating repetitive processes and saving time.
RPA performs routine tasks with negligible to no human interaction. The RPA "robots" are commonly abbreviated as "bots" and generally require separate hardware, just like any other software. They can perform multiple tasks automatically, such as handling transactions, record maintenance, manipulating data, etc. They also support multiple applications and are compatible with multiple platforms, generally.
RPA is also helps make decisions & predictions about future outputs using intelligent automation through artificial intelligence and machine learning tools. Its adoption has been picking up steadily over the past decade for enterprise-scale deployments. For successful implementation, organizations need to evaluate the benefits they will derive from it against the costs involved and the time frames for implementation. Another very important aspect they would need to evaluate would be the requirement of skilled manpower for implementing and operating the RPA solutions.
RPA offers several advantages; in fact, it could be a game changer when gelled well with the overall strategy and goals of the organization. Apart from automating processes in an organization, RPA can:
Improve productivity
Improve efficiency
Enable virtual workforce
Reduce output
Increase accountability and compliance
Minimize errors and improve consistency
Here is how deploying RPA can benefit businesses:
Error-free operations: RPA assures you of eliminating costly mistakes, especially the ones that lead to false analytics and poor decision making. RPA helps businesses in becoming more precise in their operations and automate the monotonous processes while eliminating errors. RPA prevents the problems caused by inaccurate or missing data, helping service representatives meet customer requirements without any hassle.
Discover automated responses and triggers: RPA has scheduling capabilities. From assisting managers with semi-automatic and automatic scheduling, RPA responds and is triggered when a particular event takes place. Thus, businesses can identify specific areas which can be partly or wholly automated with the use of these triggers.
Improve communication: Businesses can replace their document creation tools with RPA, to carry out critical communication processes via its intelligence. RPA can help make all changes in documents with appropriate triggers and effect these changes throughout other materials. This process ensures the end-users receive the latest information every time as soon as possible.
Improve adaptability and flexibility: RPA brings flexibility to business operations. They are highly capable of adapting to different conditions and are useful in environments where change is a constant. RPA ensures an error-free operation, thereby making processes a lot more scalable, flexible and efficient.
Hassle-free implementation: Setting up RPA is relatively quite easy. It generally has a unique graphical user interface and does not need setting up an API. Thus, little technical expertise is necessitated in implementation.


Cognixia, world's leading digital workforce solution company offers carefully crafted, world-class RPA training solutions for your workforce. Our training programs include a thorough understanding of popular RPA tools, such as, Automation Anywhere; and also cover how to build, operate and manage bots. Our training solutions can be customized to specific customer requirements and are offered across multiple training modalities to ensure our clients get the best solution for their needs. We promise best-in-class learning experience for your workforce with the most updated curriculum. Reach out to us to know more about workforce solutions today.