Digital transformation is the buzzword everywhere these days. It is a never-ending journey. Organizations must develop an appropriate business model keeping in mind the future, and accept the fact that they need to continuously change in order to move forward by setting the right KPIs, adopting the latest technologies, and train their employees to learn & grow on this path. Organizations need to be innovative to stay competitive and relevant.
Digital transformation is a process of continuous change. Organizations that are capable of adapting to the changes in this fast-paced environment will eventually end up in succeeding at digital transformation.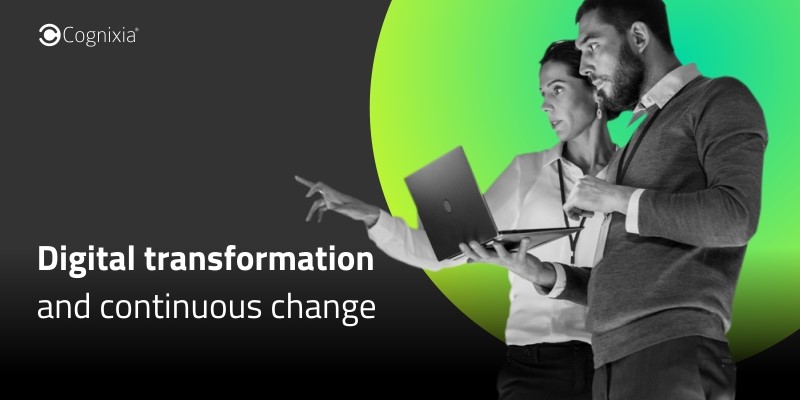 Digital Transformation – An ever-evolving process
Changes and improvement can only be achieved when they are perceived as a continuous priority. It does not apply to the SMEs or selected well-performing organizations. Instead, it applies to all organizations no matter where they are in the world. As digital transformation increasingly becomes a mainstream development and forms an integral part of business culture everywhere, it might no longer be recognized as something separate from the overall organizational culture. For this to happen, the focus needs to be on effective change management and being agile.
Saying, "that's how we have been doing it," doesn't work anymore. To keep up with the diverse range of emerging digital technologies, organizations must strive to make what they have, better.
Digital transformation doesn't need drastic measures all the time; it can even happen through small changes, one at a time. Actual innovation demands thorough evaluation of current processes and thinking outside the box. When it comes to adopting changes, organizations require data to compare where they were before and where will be by adopting those changes. This would not only help harness digital transformation, but also help organizations figure out how quickly they want to adopt the changes.
For example, data analytics is a significant concern for companies these days. A recent study found that around 90% of employees strongly support the investment in big data and artificial intelligence to help their organizations be more competitive. On the contrary, about 70% of them claimed that adopting such an initiative is a significant challenge for them too.
The good part here is that organizations can analyze their performance through the available data. Customers want innovation, speed, and convenience. Digital transformation is more about embracing new technologies and weaving it into the existing structure, culture and processes of the organization. It is an ongoing, long-term process that impacts all aspects of an organization.
Digital transformation is a massive disruptor that comes with its own set of risks and challenges, and the best way to mitigate them is to figure out what works best for the organization and constantly being on the toes to keep up with the fast-paced changes it brings. Digital transformation will involve significant business efforts and investments to migrate or implement specific strategies in any organization and help different teams get on board with the changes it brings. To succeed in digital transformation, it is essential that the right technology be deployed in the right department with an apt implementation partner. Risks and bottlenecks must be identified beforehand and plans must be made to overcome these, so as to ensure a smooth implementation of the strategies.
Bringing employees on board for digital transformation requires managers and team leaders to have open conversations with their teams and explain the strategies. It needs them to be realistic and encouraging. Here, the three As need to be kept in mind –
Assurance – Briefing the workforce about the importance of digital transformation and assure them that it will make work easier for them.
Awareness – Make sure the employees are well aware of the values that digital transformation holds both for them and the organization.
Assistance – Managers and team leaders must make sure to guide and assist the employees during the transition phase.
The whole idea of digital transformation is to help organizations grow and stand out in the competition. Successful digital transformation is digitization running across your entire organization and improving your performance. Embracing technology is the way of the future, and the sooner an organization plunges into it, the better. The quicker an organization is to respond to and embrace change, the higher the probability of its survival and growth.


Cognixia – world's leading digital workforce solutions company strives to deliver outstanding training and certification programs across all path-breaking emerging technologies for organizations and individuals, helping upskill everyone and help them on their digital transformation journeys. From machine learning to data science, ITIL to cybersecurity, and PMP to digital marketing; Cognixia offers carefully crafted training programs for workforce, which can be customized to meet specific organizational requirements. To know more about our training programs and how they could help you meet your digital transformation goals, reach out to us today.
~ Sunny Shah