"I don't need a hard disk in my computer if I can get to the server faster… carrying around these non-connected computers is byzantine by comparison."
 – Steve Jobs, late chairman of Apple (1997)
The notion of computing over a network has been around for decades. However, the term cloud computing was initially used in 2006 when the then Google CEO, Eric Schmidt spoke at the Search Engine Strategies Conference about the cloud. He introduced cloud computing as an emergent new model which can help store information in the cloud and be accessed with the right kind of browser on any device, be it a Windows PC, a Mac or a mobile device. In retrospect, his words were quite visionary, as till date cloud computing has managed to maintain all the buzz surrounding its name. Cloud computing is a framework for data and network access within a shared pool of configurable computing resources. It has grown exponentially over the past 5-10 years, especially with business giants, such as, Amazon, Google, Microsoft, and IBM taking the lead in the market by developing various forms of cloud computing. It has also garnered immense popularity amongst small and mid-sized business, enabling them access to application software with cost-effective and transformative technology solutions.
Why Amazon Web Services (AWS)?
Amazon Web Services (AWS) currently leads the cloud computing and infrastructure market share with a whopping 33% capture of the total industry spend, as of July 2020. Amazon and Microsoft have been locked in a constant tussle for the number one position, however, AWS has had the first-mover advantage, being launched in 2006. Microsoft has grown steadily since the launch of Microsoft Azure in 2010 and holds 18% of the total market share. India has proved to be a key market indicator for the growth of AWS services with the most recent competitive intent of AWS depicted with the announcement of its strategic partnership with Bharti Airtel.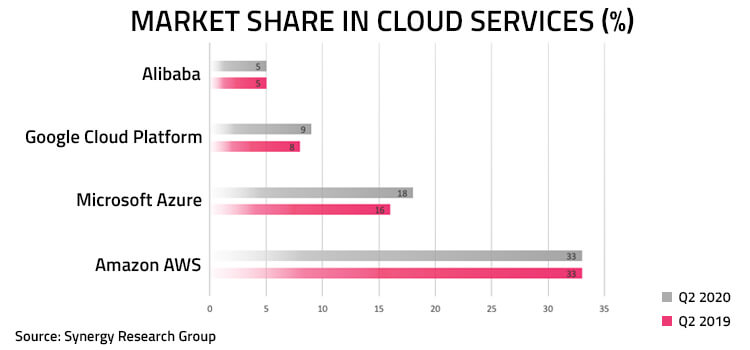 Benefits of Learning AWS
There has never been a more promising time than right now to learn AWS. As depicted above, AWS adoption has constantly increased in the past decade and promises a steady growth in the coming years. AWS cloud computing certification brings plenty of opportunities for aspirants and professionals to advance in their career and ultimately in getting a salary hike or promotion.
Below are the reasons why learning AWS cloud computing will help you fast track your career goals.
AWS salaries: Since its inception, people with the knowledge and expertise of AWS, have formed a niche crowd within the cloud computing spectrum. This is mainly down to the fact that a vast majority of businesses have adopted AWS cloud services. Professionals pursuing a career as AWS architect or AWS developer have a great future, once they learn the trick of their trade and gain more exposure and experience in the market. AWS professionals are treated as absolute gold and this can be seen by the range of salaries offered by companies. Glassdoor reports an average salary of Rs. 6,07,000 per annum for an AWS architect. The range goes higher depending on the skillset, level of experience, company name and location. However, as per the July report, the higher range is Rs. 1670K.

AWS is the most widely used platform in cloud adoption: The leading adoption and growth of AWS across industries and business sizes, have made AWS a very popular choice for professionals. Earning an AWS cloud computing certification increases your chances of enhancing your skills and also assists in landing a promotion or hike in salary. Due to the wide adoption of AWS services within industries globally, recruiters and head hunters are always in search of talent AWS professionals. AWS not only owns the majority in ownership of market share but is also holds about a third of the Infrastructure-as-a-Service (IaaS) market. AWS is most likely to witness tremendous growth in the coming years which is a very safe bet for professionals looking for growth and opportunity within this platform.
Effective learning resources: One of the biggest advantages of being the front runner in cloud computing and being introduced in the market earlier compared to others, is the abundance of learning resources available for candidates. This includes course books, manuals and practice exams. Aspiring candidates can also benefit from the vast knowledge and experience shared by the active AWS certified global community on various online social media platforms. These resources and experienced community members help greatly in the preparation of AWS certification exams and also prepares you for your career growth and advancement.
Certification credibility: Having an AWS certification proves your expertise to potential employers and is an easy way to establish expertise and credibility in the skills pertaining to your specific area and domain. The certification proves you can successfully implement your tasks as you have gone through rigorous training when preparing for the exam and certification. An added advantage for organizations which have several AWS certified employees is access to gaining The AWS Partner Network. Organizations with more certifications benefit more by accessing the tiered AWS Partner Network.
Cloud computing is the future: Cloud computing has been big in the technology and digital world. Companies are making huge investments in cloud computing solutions and this is not just limited to big companies but also small and mid-sized organizations. The growing demand for skilled AWS professionals makes earning the AWS certification an essential requirement to pave their cloud computing journey. AWS training course helps you in raising the bar and gives you a competitive edge when applying for jobs. AWS certification makes you relevant in today's dynamically moving world.
With the majority of companies investing in the adoption of cloud solutions, forward-thinking companies must technologically and digitally evolve by adapting to the prevalent cloud-based solutions. Cloud computing is making working from home easier for mid-sized and small business, in today's hour of need whilst paying detailed attention to data privacy. As companies evolve, the demand for skilled employees increases simultaneously, making AWS certification a great addition to your resume.
Cognixia – world's leading digital talent transformation company is offering cloud computing with AWS training course which discusses the fundamentals of AWS as well as cloud computing, then goes on to discuss more advanced concepts, such as, service models like Infrastructure-as-a-Service (IaaS), Platform-as-a-Service (PaaS), and Software-as-a-Service (SaaS) and Amazon Virtual Private Cloud (VPC). The course wraps up with a deep dive into a detailed discussion on the different elements of the AWS platform. This training will help you prepare for the AWS Certified Solutions Architect – Associate Level. For more information, visit here.