Artificial intelligence is transforming the way production houses cast their movies and is also helping studios color up old black-and-white movies and re-release them.
The entertainment industry is one of the largest industries in the world. And people flock in hundreds and thousands every day to get a slice of the pie. So, why would artificial intelligence be left behind!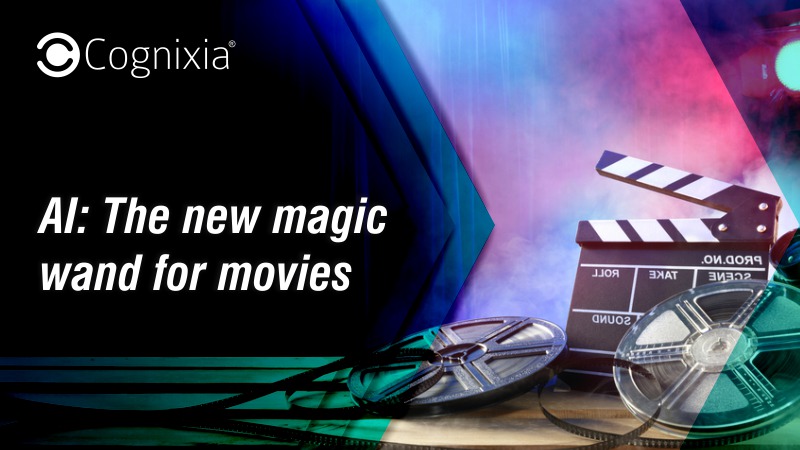 AI as the lyrics analyzer
Recently, we came across the results of exhaustive machine learning & AI efforts which helped researchers figure out which parts of Beatles songs with joint Lennon-McCartney credits were written by who. The algorithm analyzed lyrics written by Paul McCartney and those written by John Lennon to figure out patterns and eventually attempted to identify which part would have been written by which Beatle star.
AI as attendance predictor and recommender
Large production studios of Hollywood have now begun adopting artificial intelligence and machine learning to figure out audience composition, CGI and even music! For instance, 20th Century Fox – one of the biggest film studios in the world is using AI and ML to predict what the audiences want to see. It is reported that the studio is using machine vision systems to examine the footage of numerous trailers – frame by frame – and labelling the objects and events in each of them. The data generated from each trailer is them compared. This takes place on the basis of the assumption and understanding that movies with similar labels would attract a similar bracket of audience. The studio calls this system as the 'experimental movie attendance prediction and recommendation system' and it is named as Merlin. The studio has also partnered with Google to use their servers and their open source AI framework – TensorFlow to make Merlin fully functional. Merlin is a hybrid collaborative filtering pipeline that is enabled by a fully anonymized, user privacy compliant, movie attendance dataset that combines data from different sources with hundreds of movies released over the past years, along with millions of attendance records. So, for instance, Merlin would analyze the trailer of the Avengers movie and compare the data it obtains with the data from multiple other trailers, to analyze and provide insights on what kind of movies would be preferred by the audience that watched the Avengers.
AI as casting director
Los Angeles based firm, Cinelytic, uses predictive analysis, data, statistical algorithms and machine learning to analyze movie performances across the board and over time, then match it with different criteria, such as themes, key talent, etc. and then extract the hidden patterns in the data using machine learning and artificial intelligence. With this, if a studio plans to cast Dwayne 'The Rock' Johnson in its upcoming movie, Cinelytic's algorithms could help predict the outcome if Johnson was replaced by Bruce Willis or Jason Statham!
AI as the color-filler for B&W movies
A few years back, we saw the epic classic movie – Mughal-e-Azam return to the movie screens, this time in full color, instead of the original black and white reels. However, coloring old black and white footage is a very, very time consuming process and it requires technicians read up on tons of history at the very minutest levels to make accurate guesses as to what color particular objects or dresses or accessories could be! In the early days, most of the movies were shot on blue-sensitive film, which is basically a film which is sensitive to the blue end of the light spectrum and insensitive to the yellow-red end of the spectrum. Due to this, all the colors on red and yellow side of the spectrum got registered in the black and light blue/white range. Owing to this, a lot of colors were lost to the lack of technology. However, this did not deter talented minds to come up with movies that went on to be classics and enjoy huge popularity even today.
It is interesting to note that it took about 5800 hours of research and over 27 miles of film to be studied and analyzed for coloring a 1920s American footage!
However, newer techniques are emerging to ease this process, thanks to machine learning and artificial intelligence. This process employs a single frame of reference. A single image containing all the desired colors is fed to the computer, which then runs the requisite algorithm to carry out the coloring process for the entire colorless footage using the reference image. Models for this have gotten so advanced that they are now capable of differentiating between faces, torsos, background, foreground, etc.


In this way, artificial intelligence is wearing multiple hats to transform the way things are done in the entertainment business. And with time, it will take on more and more roles. If you want to join this amazing, awe-inspiring industry and engage in such path-breaking tasks, you need to start now. The first step you could take for this is to get trained and certified in machine learning and artificial intelligence to learn all the requisite skills and gather all the necessary knowledge you would need in your repertoire to build a career in this field. Cognixia's comprehensive training programs are here to help you learn everything you need to start out as a thoroughly skilled machine learning professional. Learn more about our machine learning training programs and reach out to us know more.