The IoT ecosystem is growing tremendously, treading forcefully into every industry vertical. From healthcare, logistics, and energy management to agritech, fintech and manufacturing, IoT, in confluence with AI, is set to cause widespread innovation and disruption across industries.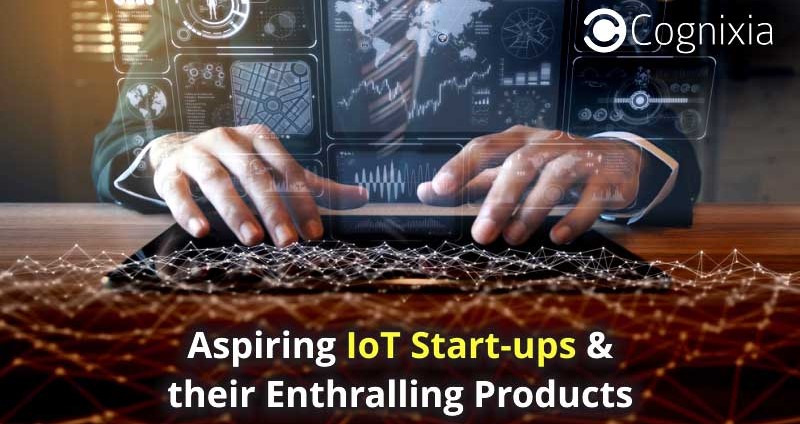 According to IDC's Worldwide Semiannual IoT Spending Guide the worldwide IoT spending will increase by a CAGR of 14% between 2017 and 2021, reaching $1.1 Tn in 2021.
Earlier, big names like Apple, Amazon, Google, IBM, Cisco, and Intel were steering the IoT bandwagon. In the recent times, startups are filling the IoT space with their effective products. Just like in the early 2000's, when internet fuelled the emergence of e-commerce startups, IoT, in this decade is facilitating the impressive growth of tech startups who are transforming the industry dynamics and business landscape.
According to the trade association of Indian IT and BPO industry, NASSCOM, IoT market will touch $15 Bn by 2020.
Internet of Things is a global ecosystem and so are the IoT startups. It is interesting to note, however, that Indian startups are going global and many global startups from the US, the EU, Singapore, and Middle East are setting their operations in India. These two factors are not only transforming India's technology ecosystem but also making the dream of digital India a conspicuous success. Following is a brief discourse on 4 IoT products from Indian startups that backs this argument:
Diabetic Retinopathy Intelligent Screening System Integrated (DRISTi) by Artelus India

Diabetic Retinopathy leads to permanent blindness. DRISTi is a deep learning and AI-based product that helps in detecting and identifying early symptoms of diabetic retinopathy. This innovative product is a platform in itself that connects endocrinologists and general physicians with patients when they are being screened on a mass scale. There are several other AI and Deep Learning based screening devices developed by Artelus India for detecting tuberculosis, lung cancer, and breast cancer. These products enable the accurate diagnosis of diseases so that preventive care can be taken pro-actively. After all, prevention is always better than cure.

Cradlewise by Chigroo Labs

An integrated and contactless baby monitoring cradle with auto-swinging and responsive rocking capabilities, Cradlewise, is an IoT marvel. The sensors in the cradle detect any discomfort in the sleeping baby and the cradle preemptively rocks so that the baby is back to sleep in no time. This device also identifies sleep patterns among babies so that the swinging and rocking in the cradle is automatically adjusted or can be customized. It also detects unsafe sleep positions or any other irregularities and alerts the parents.

This incredible device makes sure that a baby's sleep is not disturbed. Parents toil hard for their children but what's the point in toiling if our babies' do not get a peaceful sleep! Cradlewise eliminates this concern.

AjnaLens by Dimension NXG Pvt. Ltd.

Telepathy, intuition, visualization, clairvoyance—if you think these terms exist only in metaphysics and cannot be realized in the physical world, then a product called AjnaLens will prove you wrong. It is aimed at the seamless integration of digital and real world. AjnaLens is an AI-powered holographic computer that unlocks the digital content from the 2D boundaries to enter the new 3rd dimension with an edge-to-edge view at a range of 90 degrees. This helps in creating custom training instructions, work modules, and visualization in any environment.

Using the AjnaLens is like activating your Ajna Chakra, mentioned in the Vedas that is nothing but the third eye chakra responsible for telepathy, intuition, visualization, and clairvoyance.

Wagr by Mobiusworks Pvt. Ltd.

And last but not the least; there is something for the dog lovers out there. A wearable IoT device called the Wagr, attachable to the dog's collar, helps you in tracking its location and activity in real-time. Not only this, the companion app of Wagr keeps you well informed about the dog's safety and well-being. With this app and device, you can create safety zones for your pet that sends you alerts if it ventures out of the limited precincts. God created the dog as a man's best companion; devices like Wagr ensure that the man becomes the best caretaker of the dog!
These startups are leaving no stones unturned in leveraging IoT to our best disposal. Their efforts can be significantly backed up with more and more trained professionals in the IoT technology. If you are interested in contributing your share of knowledge and expertise to this IoT ecosystem by learning the IoT technologies, you can have a look at some of our IoT courses.