We live in unprecedented times – things evolve quicker than most of us usually manage to keep up, technologies advance quicker than our imagination, and most enterprises play catch up a lot of times to continue to be relevant. There is an environment of constant change and the mountains of challenges that come with it. The only key to surviving this environment is to be highly responsive, no matter the size of the enterprise. This is where agile adoption became all the rage once again and everybody wanted to be agile or at least seen as agile. While some enterprises and individuals managed to ace this agile adoption, when done right, it does yield a very powerful boost to the bottom line, after all as well as a significant competitive advantage in the market. But not everybody landed at the same point or even close. Why so? Because once an enterprise decides to embrace agile, two things could usually happen – either they be agile or they do agile. These two situations sound very similar and may even get used interchangeably. However, they are not the same. This difference between the two situations plays a deciding role in how an organization fares with agile.
What does it mean to be agile?
A simple search in the Oxford Dictionary will reveal this particular definition – "Able to move quickly and easily" for the term 'agile'. Agile in the software development world is a group of software development methodologies that are based on iterative development with the evolution of the requirements and the solutions via active collaborations among self-organizing cross-functional teams.
Some major benefits of embracing agile for different teams and individuals are:
Now, this is where the difference we mentioned earlier arises. Some organizations decide to embrace agile to manage their projects. But does this mean that everyone involved in this change – all the teams, individuals, and stakeholders- fully understood and embraced the agile methodology? They could either be doing agile or being agile – and the results they get will tell them apart.
What is "doing agile"?
If you or your team or your organization believes that by doing agile things, the company would become agile and will become super responsive to change, then you are probably just doing agile and not being agile. Organizations that are stuck in this trap would be doing everything they believe they are supposed to – daily stand-up meetings, sprints, retrospectives, etc. They would have modified their team structures to be small, cross-functional, and collaborative. But that's where the buck stopped, nothing happened beyond that.
The important thing to always remember when striving to be agile and stay agile is that agile ceremonies, tools, processes, structures, etc. are very important and they must be duly implemented, however, just implementing them would not make the enterprise agile, so expecting agile miracles with just implementation of these processes and concepts would be futile.
What is "being agile"?
Being agile would mean that you have implemented the projects that we mentioned above in doing agile but went beyond implementation to focus on changing mindsets, and the way things were getting done, and worked towards bringing about a more real change rather than just a superficial change. This would also involve applying the agile mindset and agile values to all the areas of the organization. This would involve real and effective change management. Employees and entire teams would have to be trained thoroughly to master the agile mindset and power through any challenges that they may encounter along the way.
Being agile takes time, it cannot happen overnight. It requires patience, constant efforts, and a systemic change at all levels. But if an enterprise wishes to reap some real benefits from agile, being agile would be the way to go.
What is an 'agile mindset'?
We have mentioned this term quite a few times above – agile mindset. But what is an agile mindset? An agile mindset revolves around understanding and living the four core values of agile. These four values are:
Respecting people – People are an organization's biggest asset and are critical for its success. Employees need to be working towards common and shared goals, they need to feel safe & respected while working at the organization, and they should feel empowered to ask questions as well as share ideas.
Optimizing process flows – Quality cannot be an afterthought in an agile process, it has to be weaved into the product or service at every stage of its development. When this is done, it will help identify issues and resolve them promptly. Doing this would also help maximize value and minimize waste while helping build a consistent, optimized, sustainable process workflow.
Encourage innovation – Nobody succeeded by doing the same thing everybody else did. To be successful, one needs to think differently and do something differently. To do things differently, one needs to innovate. The organization that hopes to switch employees to an agile mindset must encourage experimentation and active collaboration while being open to constructive feedback and autonomy.
Relentless improvement – There is no end goal or endpoint when it comes to agile. Agile is a never-ending process, it a constant, it is an ongoing process. So, with agile, the goal is continual improvement, building on whatever one has already bettered to make it even better, and constant retrospection, all of this becoming a permanent fixture in the organization's culture.
Now, these four values don't just need to be informed to the employees but they need to become an integral part of the organization's culture. The agile mindset and the agile processes have to come together to achieve agile success. Without the agile mindset, the organization will continue doing agile but will not be agile, and they would never be able to realize the full potential of an agile transformation.
When an organization has truly mastered the craft of being agile and made the agile mindset an indispensable, integral part of its culture, its teams would usually be:
Autonomous and empowered to make the right informed decisions
Able to quickly adapt and respond to change
Open to learning new things and adopting new practices
Committed to shared goals and a culture of collaboration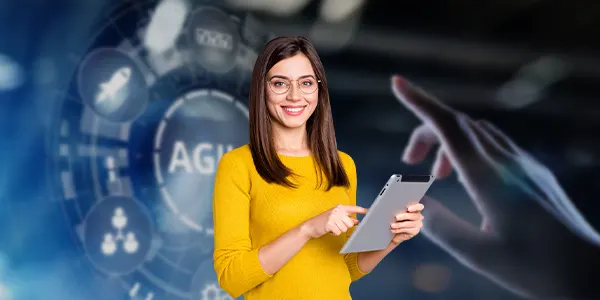 To be a valuable asset to your organization's efforts to be agile, you can pursue Cognixia's live online instructor-led training to be a Certified Scrum Master. A Scrum Master is a Scrum team member responsible for fostering an effective and productive working environment as well as guiding the other team members in understanding Scrum values, principles, and practices. The Scrum Master certification would make the credential holder an important asset to their organization as they would be equipped with the knowledge and the skills to help the team members embrace the agile mindset effectively. One can pursue the Scrum Master Certification training online, over the weekends, and get complete access to all the learning material.
Cognixia's online Certified Scrum Master training covers:
Career opportunities for certified professionals expand as they remain relevant and marketable across various industry sectors
Certified professionals demonstrate accomplishment of core Scrum knowledge to employers and peers
Certification helps in learning the foundation of Scrum and the scope of ScrumMaster's role from the most experienced professionals in Scrum
The certification helps the professional to engage with a community of Scrum experts
As a CSM, the professional will be able to fill the roles of a ScrumMaster or a Scrum team member
The CSM gains an understanding of the Scrum framework
The CSM gains access to local groups, networks, and resources available only to Scrum Alliance members