Man has always strived to ease his work. From the invention of the wheel to the formulation of AI, in some or the other way, this struggle to do more with less effort has led to almost all the inventions. Inducing cognitive intelligence into machines has revolutionized today's industries. AI, in particular has been the pivotal factor for this transformation. And bots have been one of the best creations of AI. Enterprises have leveraged the bots to serve their customers better, thus, increasing accuracy and revenue.
Introducing Bots
A bot is a software capable of understanding natural language. Place your query and get an answer. While human patience comes to a saturation point with respect to repetitive tasks, bots do extremely well in this department. Human emotion becomes a folly in several scenarios but bots are emotionless and in the current business landscape, folly-less!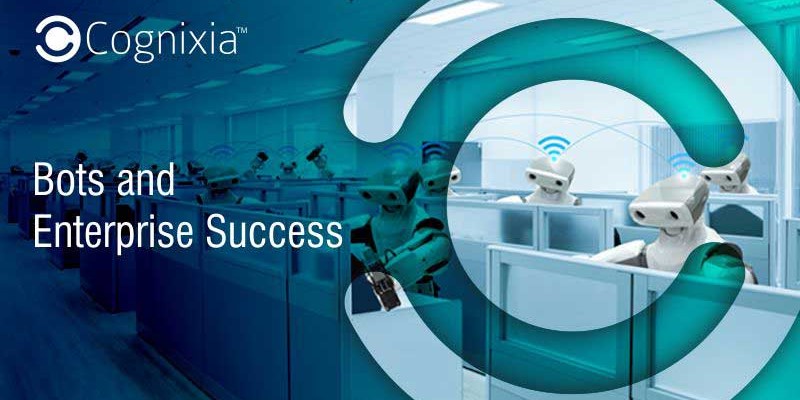 Ways in which bots can boost your business
A human being is capable of handling about 2 to 3 conversations at a time whereas for a bot, there is no upper limit. So when you are utilizing a bot, you can complement your human workforce in such an efficient manner that entering new markets and scaling up your operations become easily achievable.
Bots are perfect first point of contact. Almost all the businesses today get a large number of inquiries from both their existing and prospective customers. A customer support team is liable to be overwhelmed by such a huge number of queries, but a bot would not. So, a bot will screen calls and pass only those to the human agent that actually require the human intervention, thus saving a lot of time and effort.
In certain markets, there are a wide range of nearly identical products and services. Patrons of these markets need more help in selecting the right product or service as compared to the others. Also, in certain scenarios, customers would seek advice and turn away if they do not get it. Bots are a great help to these customers in selecting the product or service of their choice.
Millennials form a big chunk of customer segment for most of the businesses. They are impulsive and prefer to inquire and compare products in a repetitive manner, which customer service agents may find nagging at times. Moreover, millennials prefer to chat more than communicating over the phone. Thus, if your products are targeted towards millennials, having a chat bot naturally becomes indispensable for the success of your business.
Online presence has become obligatory for enterprises in this age of digital transformation. And for a successful online presence, active content marketing through online channels is important. A high customer interaction means higher probability of getting business. So, for communicating with customers through online channels, bots can make several tasks simpler and more efficient.
A marketing platform that is interactive has higher chances of reaching out to more customers. Apps and websites without bots offer a passive user experience. If you want to make your marketing campaign interactive, it is important for you to employ chat bots that can help you in reaching out to more people and converting them into customers of your business.
Currently, we are in the industry 4.0 era where automation is playing a significant role in the enterprise sphere. Gone are the days of employing a considerable amount of workforce for backend support. Tasks that are mundane and repetitive in nature are not the forte of the human mind and its intelligence. Instead, automating your business solution with a bot is the name of the game.
Bots have a bright future, and so do You!
When it comes to customer service and management, there is nothing as excellent as a bot that is well implemented. Customer satisfaction and customer loyalty play a big part in establishing the brand for any business. Chat bots have been the revolutionizing entity in the customer service industry. They are one of the most perfect manifestations of machines that eliminate the restrictions posed due to human limitations. Train your workforce in Artificial Intelligence with Cognixia's customized training programs tailoring to all your needs and help them in mastering bots as well as the technologies behind it to ensure the success of your business.
~ Sunny Shah