There has long been a widespread perception in project management that only people with an IT background or tech experience can effectively manage projects. However, the changing environment of project management calls this assumption into question. Non-IT managers can thrive in project management jobs if they have the correct skill set, outlook, and support.
In this blog, we will look at the skills and characteristics that make non-IT managers excellent project managers.
Clear up the misconception and recognize the value of non-IT professionals in this subject.
Diverse Skill Set Trumps Technical Expertise

While technical knowledge is unquestionably advantageous in certain project management settings, it is not the only factor of success. Non-IT managers bring a wide range of skills to the table, such as leadership, problem-solving, communication, and strategic thinking. These are transferable and adaptable skills to a wide range of tasks, regardless of industry. Non-IT managers frequently have a broader perspective and a more holistic strategy for project management, allowing them to see every aspect and make well-informed decisions.

Effective Communication and Stakeholder Management

Effective communication is an important part of project management. Non-IT managers typically thrive in this area since they have vast expertise working with stakeholders, cross-functional teams, and clients. Their ability to establish rapport with technical teams alongside business stakeholders is crucial. Effective communication promotes teamwork, guarantees goal and expectation clarity, and reduces misunderstandings or delays. Non-IT managers can use their interpersonal abilities to strengthen connections with team members, stakeholders, and clients, hence improving project success.

Adaptability and Learning Agility

Non-IT managers who have worked in a variety of sectors are adept at adjusting to new surroundings and learning rapidly. Project management necessitates the capacity to overcome uncertainty, deal with shifting priorities, and change plans as required. Non-IT managers provide experience from various industries, which helps their adaptation and flexibility in project management. Their capacity to acquire and apply new information enables them to flourish in fast-paced project contexts.

Embracing a Strategic Mindset

Successful project management extends beyond task and timetable management. Non-IT managers frequently have a strategic approach focused on project alignment with organizational goals and objectives. They may connect project management practices with company strategy, ensuring that initiatives add substantial value and contribute to the organization's success. Non-IT managers recognize the value of project prioritization based on strategic relevance and resource allocation, which improves project results.

Collaboration and Team Leadership

Effective cooperation and leadership are critical components of project management. Non-IT managers thrive in fostering cooperation, motivating team members, and resolving disagreements due to their expertise in managing various teams. They place a high value on creating a healthy team culture, fostering open communication, and enabling team members to deliver their best efforts. Non-IT managers recognize the importance of using each team member's talents and fostering good cooperation across departments, which leads to higher productivity and project success.
IT vs. Non-IT Managers in Project Management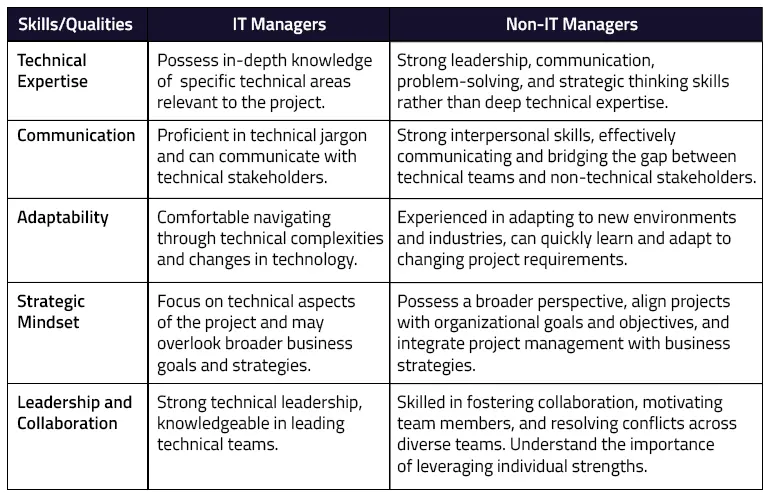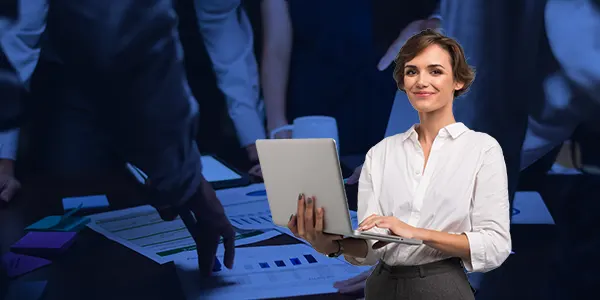 Read a Blog post: What is the role of the P3O model in project management?
Conclusion
It is no longer true that only IT specialists can flourish as project managers. Non-IT managers bring a distinct set of skills, experiences, and views to project management responsibilities. Their diversified skill set, good communication, flexibility, strategic mentality, and leadership traits help them succeed in project management. Organizations may tap into a larger pool of talent and promote project success across many sectors by breaking down prejudices and recognizing the possibilities of non-IT managers. Project management is more than just technical knowledge; it is a mix of skills, mentality, and ongoing development.
Non-IT managers can thrive as project managers in today's business world, where cross-functional teamwork and strategic thinking are valued. Embracing their qualities and skills may result in more varied and effective project teams, stimulating creativity and propelling organizational growth. Organizations should recognize and develop non-IT managers, which should provide them with the required training, support, and opportunity to prosper in project management roles. Organizations may achieve higher project success and remain competitive in today's changing market by using the capabilities of non-IT managers.
Getting a Project Management Professional (PMP) certification can help non-IT managers improve their project management skills. The Project Management Professional (PMP) certification is a recognized certification that verifies knowledge and skill in project management methodology and best practices. It offers professionals a standardized framework for project management, improves their comprehension of project management principles, and gives them a competitive advantage in the job market. Non-IT managers may demonstrate their dedication to professional progress, grasp project management concepts better, and demonstrate their ability to effectively lead and manage projects by earning a PMP certification. Regardless of technical experience, this qualification is vital in building their credibility and performance as project managers.
Learn PMP with Cognixia and upskill yourself
The Project Management Professional (PMP) certification is the most sought-after project management qualification. PMP certification enables project managers to operate remotely across several sectors and from anywhere globally.
Active professionals create the training course, and then the project management community evaluates them before releasing them to ensure that it always represents the current status of the profession. Organizations are now emphasizing the development of leadership, negotiations, and dispute settlement abilities, in addition to conventional IT and technical talents. We give the most up-to-date training suited to the industry's need for workers with the necessary capabilities through our globally recognized PMP certification.
This PMP online training includes a variety of concepts. It explains the distinctions between project management & operations management. Cognixia's PMP Certification Training has been intended to assist managers/professionals in managing projects more efficiently and effectively by utilizing the Project Management Life Cycle.
Cognixia – the world's leading digital talent transformation company – offers learners the official PMP-PMI Certification Training. We provide an extensive online PMP training program that consists of multiple project management training modules. This PMP training course will cover a wide range of topics – taking you through various aspects of project management & operations management.
The PMP certification course has been designed to help you manage big projects more efficiently and effectively with the help of the Project Management Life Cycle.
Under this course, you will learn:
What project management is
What are project management's basic characteristics are
How the strategic management works in the project management office
Project management lifecycle
Best practices – project management
The PMP certification exam