The effectiveness of devices and content platforms cannot be measured by a standard approach in all cases. There are various factors like advertisers, devices, campaign objectives which affect the KPIs (Key Performance Indicators). However, at some point in time, the majority of marketers are required to take stock of the completion and click-through rates (CTR). A report by eMarketer throws light on this.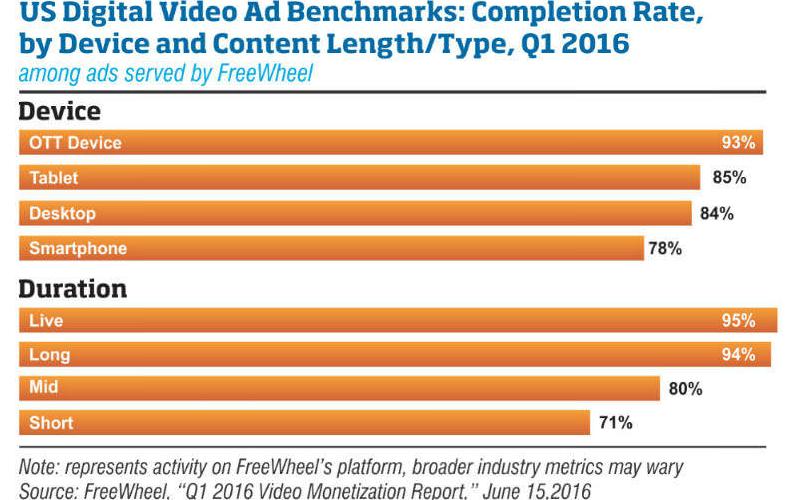 Another report shared by FreeWheel – an advertising technology firm in June 2016, shows how the completion rates of ads on its network were better with bigger screens and lengthy content. During the first quarter of 2016, the completion rates for US digital video advertisements on over-the-top devices like connected TVs were more than ninety per cent as compared to seventy-eight per cent for smartphones and other rates in between for tablets and desktops.
These discoveries seem like a sensible outcome when putting the lean-back aspect of over-the-top experience in perspective. Consider this – a consumer/user, who is sitting and viewing an ad on a large screen TV in his living room is less likely to skip an advertisement as compared to a person who is viewing it on a much smaller, tactile and mobile device like a smartphone. It was along these lines that live and long-form content also experienced higher completion rates as compared to shorter content. This is more typical in the case of over-the-top services, though.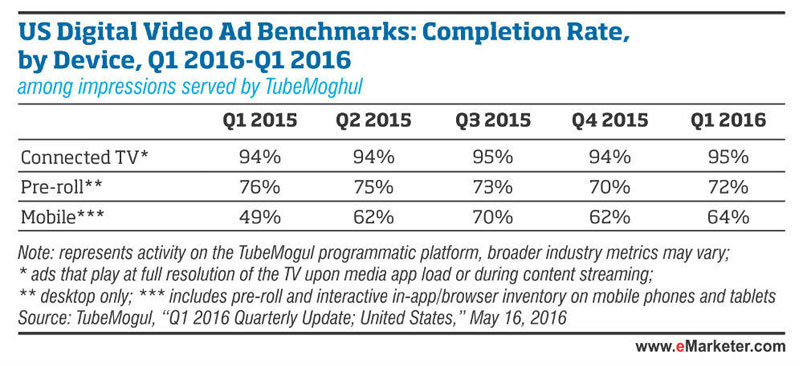 Another advertising technology firm TubeMogul shared some data on completion rates in May 2016. This data suggests that there is a correlation between devices and formats in the US digital video ads. The first quarter of this year the completion rates on connected TV were ninety-five percent whereas it was seventy-two percent for desktops and sixty-four percent for mobile devices like smart-phones and tablets. Again similar to the study put down by FreeWheel, TubeMogul was also limited to the activity on its platform.
Besides the above-mentioned studies or surveys, there was another which was conducted by Extreme Reach during the first quarter of 2016 where completion rates and clickthrough rates were measured by platform. This study showed that connected TVs had the highest completion rate of ads. Click through rates were seen to be higher with half-a-minute pre-rolls as compared to their 15-second counterparts and this did not include the skippable ads. The study also showed that completion rates were higher on smartphones than desktops or tablets.
Digital Video Ads have become a significant way of advertising in the digital world. These ads are not just limited to YouTube but have gone beyond this video streaming website to e-commerce websites, social media websites and even online news forums. A lot of work goes into designing and positioning these ads to reap maximum benefits. This is where the Digital Marketing come into play. Digital Marketing is one of the hottest fields of work these days and marketers working in it are highly sought after professionals.
Becoming a digital marketing doesn't require a degree. All it needs is a keen interest in the digital world and zeal to learn and understand its ecosystem. At Cognixia we provide one of the finest training in Digital Marketing. For further information, you can write to us